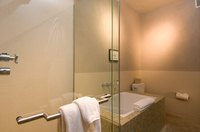 A roll-in shower by definition is a waterproof area large enough for an individual in a wheelchair to shower independently while remaining in the wheelchair. Designing a shower as a roll-in does not have to affect the rest of the bathroom design or style. Building a roll-in shower is simple and easily incorporated into the bathroom design with just a few additional steps and requirements.
Things You'll Need
Mosaic tile or acrylic base with no threshold
Positionable shower head on bar
Shower controls with lever handle
Tile or acrylic walls
Provide a space for the shower of a minimum of 36 inches by 60 inches, with a recommended size of 60 inches wide by 60 inches deep with a doorway or entryway size at least 42 inches wide.
Tile the floor of the bathroom and the shower with mosaic tiles of 2 inches or smaller to accommodate the pitch of the drain, while allowing for barrier-free entry. Alternatively, use an acrylic base for the shower floor that will sit flush with the floor of the bathroom.
Install a shower valve and hand shower on a positionable bar with the valve positioned approximately 38 inches off the finished floor. Include a lever handle on the shower valve for universal access and ease of use.
Tile the walls of the shower to a minimum of 72 inches off the finished floor, with a recommended height of 3 inches above the highest point of a shower head above this height. Alternatively, install acrylic walls to a minimum of 72 inches off the finished floor.