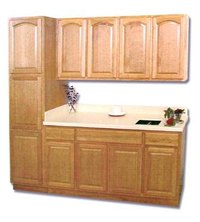 Old laminated wood kitchen cabinets get a lot of wear and tear from constant opening and closing and exposure to heat and moisture. The glossy finish of the cabinets is eventually going to get dull, cracked and discolored. One solution is to simply paint the cabinets, but if they're made of a nice wood, you might want to consider instead re-laminating them with a polyurethane gloss so you don't cover it up. It's a little more complicated than painting, but often worth the effort.
Things You'll Need
Screwdriver
Fine grade sandpaper
Can of clear high-gloss polyurethane
Several brushes
Paint stick
Newspapers
Use your screwdriver to remove all knobs and handles from the cabinets. Remove the hinges from the cabinet doors, take the hinge hardware off the doors and the cabinets.
Lay out newspaper under the cabinets and on the floor for your cabinet doors. With your sandpaper, lightly buff the surface of each door on all sides, dulling what's left of the gloss. Do the same to the cabinet units that are still attached to the walls. Dust all surfaces.
Lay your cabinet doors down on the newspaper. Open your gloss, without shaking it, and gently stir it with the paint stick. Brush it onto the cabinet doors, using slow strokes to avoid forming bubbles. Cover all the surfaces on one side. Move to the cabinet units on the walls and do the same thing. Because the cabinet units will have vertical surfaces, you'll have to be diligent about preventing drips.
Give the gloss 12 hours to dry. Then lightly sand your first coat of gloss on the doors and cabinets as before, and apply a second coat in the same manner. Allow to dry.
Turn the cabinet doors over and repeat the process of sanding and glossing twice, allowing 12 hours between each coat. Once everything is dry and glossed, return the doors to the cabinets and re-install hardware.