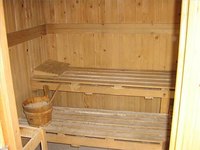 Many people think of a sauna as a luxury that can only be enjoyed at an upscale resort or a health club. However, with the right tools and materials, building a home outside sauna in your backyard is relatively easy. Once you have found a level outdoor surface on which to build your sauna foundation, it's time to select a plan and purchase all necessary materials. Read on and learn how to build a home outside sauna.
Things You'll Need
Flat Foundation of Concrete or Bricks
Sauna Blueprints
Oak or Birch Boards
Cedar Planks
Power Saw
Hammer
Nails
Nail Gun
Insulation
Select a location to build your home outside sauna. Prepare the area by laying a slab of concrete or use patio bricks to create a foundation. Use products to seal and waterproof the sauna foundation.
Find an outside sauna blueprint or construction plan. Plans can be found online or in books and magazines. If you have construction or architectural experience, design your own outside sauna using a computer-aided drafting program such as Auto Cad or render your sauna blueprints by hand.
Determine what materials you will need. Depending on the plan you have selected, the exterior of your home outside sauna will likely be constructed of oak or birch wood. These types of wood have a reputation for withstanding outdoor elements such as rain and snow. The interior walls will likely be made of cedar planking.
Look at your outside sauna blueprints and begin by cutting pieces of wood to their appropriate sizes. Build the first floor of the sauna by nailing 2-by-4 inch pieces of wood together to construct a frame. Use additional 2-by-4 inch pieces to form supports for the frame. Form a sauna floor by nailing down wooden planks.
Following the blueprints, construct the walls of the outside sauna using oak or birch boards. Nail the walls to the floor. Place insulation over the walls. Cover the interior insulation with cedar wood planks and secure in place with nails.
Using your plans, build the roof of your outside home sauna using birch or oak. Apply waterproof shingles and secure in place using a nail gun. Attach roof to the sauna structure.
Create bench seats using oak, birch, or cedar lumber and attach benches to interior walls. Most saunas have two rows of seating.
Following your home outside sauna plans and the sauna heater installation manual, install a sauna heater. You will need an outdoor power source. Make sure that the heater you have purchased has been tested and approved for home sauna use.