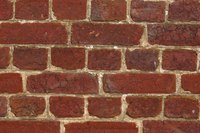 If you're tired of looking at a plain brick surface, you can change its look with a good coat of paint. Painting previously unpainted bricks is relatively easy, but the right preparation will ensure good adhesion and a lasting job.
Things You'll Need
Protective goggles
Wire brush
Hose and nozzle
Acrylic latex masonry primer
3/4-inch nap roller cover
Paint roller
Paint tray
4-inch latex brush
Acrylic latex masonry paint
Put on protective goggles. Remove any loose brick or mortar material from the surface to be painted using a wire brush.
Clean the entire surface with water. Set the nozzle of the hose to its highest pressure. Allow to dry thoroughly -- at least 24 hours.
Mix equal parts of primer and water to produce a stainlike consistency. This will allow the primer to "soak" into the brick and mortar. Using the brush, paint the edge areas that the roller will not reach, which is called cutting-in. Work from the bottom up in this case because the primer is so thin -- it is easier to "pull" thin paint upward than it is to use downward strokes.
Put a 3/4-inch nap roller cover on the roller. Pour the thinned primer into the paint tray and roll the roller in the primer. Again in an upward motion, paint the remaining surface with the thinned primer. Allow to dry thoroughly.
Apply a coat of straight primer -- no water added -- to the surface using the brush and roller. This coat should be applied from the top down. This coat will grab the previous coat and result in good adhesion. Allow to dry thoroughly.
Apply two coats of the masonry finish paint -- without thinning -- using the brush to cut in the edges and the roller to paint the remaining surfaces. The finish coats should be applied from the top down.