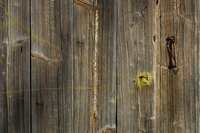 A distressed door gives your home a dramatic appearance. Distressing involves aging the door through artificial means, which makes the door look like it suffered through years of wear and tear. Darker shades of stain give the wood a deeper patina, similar to the look you find on older doors. Even modern-day doors get a distressed look with a few tools. The process works equally well on front and back doors as it does on interior doors.
Things You'll Need
Distressing tools
Fine-grit sandpaper
Rubber gloves
Respirator/mask
Wood bleach
Old rag/paintbrush
Dark wood stain
Lighter wood stain
Lacquer
Distress the door with a variety of heavy objects and items, including a hammer, paint scraper, rocks and keys. Bob Levy of Bob Levy Decorative Finishing warns against heavy chains because the chains give the door a uniform appearance. Hit the objects against the door or rub the objects on the door, giving it that worn look.
Rub the fine-grit sandpaper over the wood near the door handle. This area typically shows a lot of wear on older doors because it frequently encountered human hands. Rub the sandpaper over any area where you might expect a high amount of distressing or wear.
Wear rubber gloves and a respirator or mask as you apply an even coat of wood bleach to the door. Rub the solution on the door with an old rag or a paintbrush. The wood bleach lightens the color of the original stain and depending on the type of wood bleach used, may remove all the color from the door.
Apply a coat of the darker wood stain to any decorative or engraved areas of the wood. Rub the stain onto those surfaces with an old rag and let the wood absorb the stain for several minutes. Rub a second rag over the door, wiping off the extra stain.
Rub the lighter stain over all areas of the door. Wipe off the excess stain with an old rag. Once the stain dries and settles into the wood, paint a coat of lacquer over the door. The lacquer forms a protective barrier on the door and keeps moisture from affecting the wood.