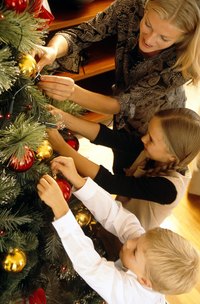 Decoupaging is a simple project that customizes and personalizes many objects. Styrofoam balls work well for decoupage projects due to their uniform shape and convenient size. Decoupaged Styrofoam balls can be used as holiday ornaments, window ornaments, mobiles and even classroom models. They can even be given as gifts or party favors.
Things You'll Need
Styrofoam ball
Wooden skewer
Styrofoam block, clay or pot of dirt
Paper embellishments
Scissors
Decoupage glue
Paintbrush
Acrylic sealant
2- to 4-inch craft wire
Insert one end of a wooden skewer into the bottom of a Styrofoam ball. Insert the opposite end of the sewer into a Styrofoam block, piece of clay or pot of soil so the skewer stands up straight and supports the ball.
Cut out pieces of paper you'll use decorate the Styrofoam ball. Photographs, newspaper, magazines, wrapping paper, tissue paper, rice paper, printer paper, construction paper or just about any other type of paper will works, though thin paper adheres more smoothly to the ball. For the least amount of wrinkling, cut the paper into pieces or strips, no more than 1 to 2 inches wide.
Cover the Styrofoam ball with decoupage glue using a paint brush. Decoupage glue can be found at most craft stores.
Press the pieces of paper into the decoupage glue, creating whatever design or pattern you wish. Because you'll be able to adjust the pieces only slightly once they're applied to the glue, plan the design beforehand in your head or on a sheet of paper. Allow the glue to dry.
Cover the Styrofoam ball, and the pieces of paper decorating it, with a second coat of decoupage glue. Allow the glue to dry. Apply a third coat, if desired. Add glitter, sequins or other embellishments to the final coat of glue and allow the glue to dry.
Spray the finished Styrofoam ball with an acrylic spray-on sealant. Spray-on sealants are available at most craft stores. Allow the sealant to dry.
Remove the Styrofoam ball from the skewer. Turn over the ball.
Add a drop of craft glue to the hole in the Sytrofoam ball where the skewer was inserted. Fold a 2- to 4-inch piece of craft wire in half. Insert the two ends of the wire into the glue-filled hole to create a hanger. Allow the glue to dry.