Things You'll Need
Acrylic paintbrush

Palette

Gloss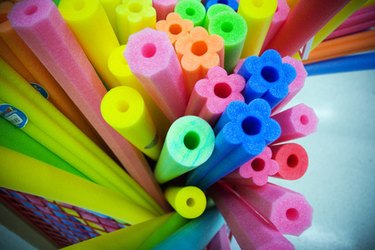 Painting with acrylics on your Styrofoam surface can make the difference between a perfectly painted piece of foam and a craft project that can not be completed because you do not have the correct paint. Unlike tempura or watercolor paint, acrylic paint has the ability to take hold of the Styrofoam. Besides the paint, you will need a gloss that can add a shine to the end product. Painting with acrylics on Styrofoam can leave your fingers less stained from an overly messy project.
Step 1
Pour the acrylic paint into an empty cup or a palette, then place the brush into the paint. Use a brush that is specifically used for acrylic paint. The indication that the brush is used for acrylic paint will be on the brush's package.
Step 2
Paint the Styrofoam surface with the brush. Coat the Styrofoam evenly, so that the surface does not have any paint clumps or expose flaws.
Step 3
Let the acrylic paint dry, and then reapply the paint to the exposed areas or the areas that were not coated evenly.
Step 4
Apply a gloss to the Styrofoam to allow the acrylic paint to stay intact and to display a shiny finish. Leave the Styrofoam in a shaded area and allow the gloss to dry. Heat will melt the gloss and leave the Styrofoam unprotected.
Tip
All of the listed items can be found at your local arts and crafts store.
Warning
It might take more time, but acrylic paint has a much smoother surface.