Things You'll Need
Wooden skewers

Acrylic paint

Low-temperature glue gun

White glue

Modeling clay

Fork

Toothpicks (colored)

Straight pins, colored heads

Craft sticks (small)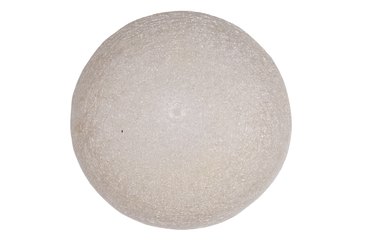 Many people commonly use plastic foam balls to create home decor, holiday decorations and art projects for children. Craft-size plastic foam balls come in a variety of sizes ranging from about 1 to 12 inches. Because of plastic foam's porous makeup, you can easily decorate these balls by inserting sharp objects such as sticks and pins. Painting or gluing plastic foam balls requires extra care, as decorating with certain substances can cause them to melt or dissolve.
Step 1
Insert a long wooden skewer into a plastic foam ball to act as a handle while decorating, so that you can easily maneuver it in all directions.
Step 2
Paint the ball with acrylic paint or another craft paint whose label specifically mentions that it is suitable for use on plastic foam. Cover the ball with at least two coats of paint to ensure that the entire surface is covered and white holes do not show through.
Step 3
Glue decorations onto the plastic foam ball using a low-temperature glue gun or standard white glue. Hot glue guns can melt the plastic foam surface.
Step 4
Rub a thin layer of children's modeling clay over the entire ball to create a smooth surface. Draw patterns in the clay by scratching the surface with a fork or toothpick.
Step 5
Insert straight pins with colored heads deep into the plastic foam ball so that only the pin head shows.Create a pattern with the straight pins or cover the entire surface with pins. Similarly, insert rows of colored toothpicks or small craft sticks into the ball's surface for a spiky effect.
Step 6
Connect several balls together by inserting one end of a toothpick into one ball and the other end into another ball and pressing the two balls together, so that the toothpick does not show.
Step 7
Dry the balls after decorating them by inserting the long wooden skewer handles into a deep, rectangular plastic foam block. Once they're dry, pull the balls out of the block by the skewers and remove the skewers from the balls.