Decoupage comes from the French word decouper, meaning to cut out. Decoupage is the art of cutting out paper, or fabric, and laying the pieces on a background before gluing and sealing them in place. Mod Podge is an all-in-one glue, sealer and finish that can be used for the art of decoupage. Created by Plaid, Mod Podge comes in a variety of formulas that allow it to be used on wood, glass, canvas, fabric, plastic and Styrofoam.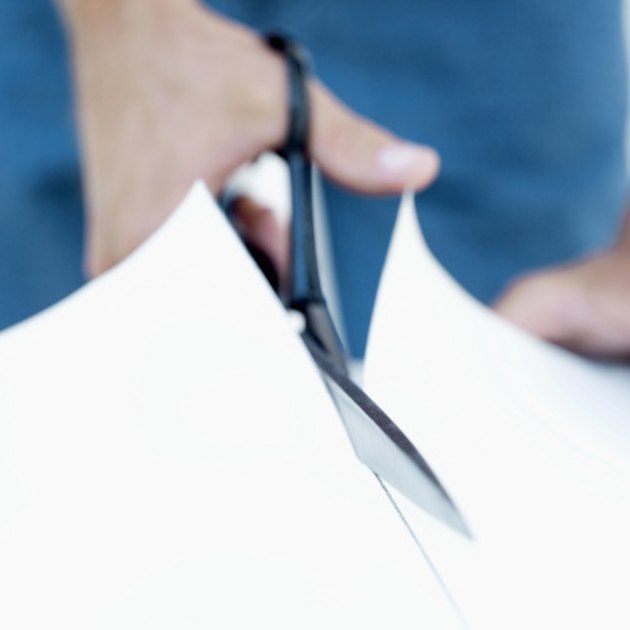 Sculptures and Decorative Household Items
Purchasing art sculptures to display in your home or garden can be expensive, but you can create your own with a little creativity and some decoupage skills. Visit garage sales and thrift shops to find inexpensive sculptural figurines. Look past the color and design styles and focus on the size and shape of the figurine to find something you like. Spray paint the figurine a solid color to match your home decor. Use magazine pictures, scrapbook paper or wrapping paper to find images you like. Glue the images to the painted figurine with the Mod Podge. This same treatment will work for lamps, mirrors, vases, candleholders and other decorative household accessories.
Clothing and Accessories
Use your decoupage skills to breathe new life into your wardrobe. Use patterned fabric, vintage magazines and picture books, scrapbooking paper and other colorfast images to add a fresh sense of style to shoes, belts, hats and glasses. When the toes of your favorite pair of boots start to look so worn you can't wear them, create a new look by covering the entire boot with images, or cut out a few individual images that you can decoupage onto your footwear to strategically cover scuffs. Decoupage the frames of an old pair of eyeglasses or sunglasses using images in colors that will set off your eyes and rejuvenate your scratched and worn frames.
Bags and Cases
Whether you want to rejuvenate an old and worn purse or enhance a new guitar case, you can use the art of decoupage to create expensive looking bags and cases. Cut out colorfast images of flowers and glue them sporadically across a purse or cut out and adhere your initials to monogram your very own customized briefcase. Use sheet music with your favorite lyrics and decoupage them to your guitar or instrument case. If you are feeling really adventurous, decoupage your guitar to achieve your own personalized rock-star look.
Casts
If you have ever broken a bone, you know that the cast you have to wear never really complements any outfit you sport. Use decoupage to create a work of art that will reflect your personality. Cut out magazine photos of flowers, art, photography, fashion or whatever suits your style and cover your cast with them in a vibrant or subdued collage. If you are unfortunate enough to have to wear your cast over the holidays, using wrapping paper for your decoupage project might get you in a festive mood. However you wrap it, decorating your cast with decoupage will give you a craft project to work on while you heal.