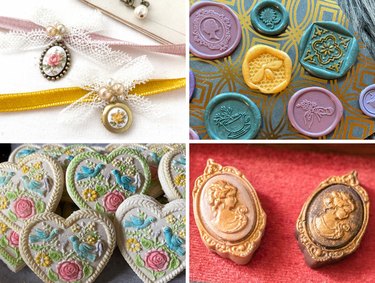 Ready to toss aside mass-produced Valentine's Day cards and try something totally different inspired by days of yore? If you've got a penchant for all things vintage, the Regency Era (which gave us the idyllic aesthetic embraced by ‌Bridgerton‌) and Victorian Era are bursting with romantic inspiration that deserve extra consideration when February rolls around.
After all, Valentine's Day cards as we know them today can be traced back to the Victorians, who overwhelmed post offices throughout Great Britain by sending avalanches of valentines following the introduction of uniform affordable postage (known as the Penny Post) in 1840. And while our favorite ‌Bridgerton‌ characters might have lived before this widespread integration of Valentine's Day trends, they were certainly no strangers to passion, romance and, of course, candy-hued pastels.
So get ready to embrace the flowery whimsy of days gone by and channel your inner Lady Whistledown with these ideas for an unforgettable—and very vintage—Valentine's Day.
1. Cobweb Valentine's Day cards
Valentines during the Victorian Era often featured 3D or movable components that concealed and revealed images of Cupid, star-crossed lovers, adorable animals and everything in between. Cobweb cards are one prime example: These cards typically included thin, delicately cut, cobweb-esque paper that could be pulled to show off portraits, landscapes and other lovely seasonal scenes. TikToker @sincerelymolly, who decided to DIY Victorian-inspired cobweb cards, offers insight into her creative process.
2. Decorated heart biscuits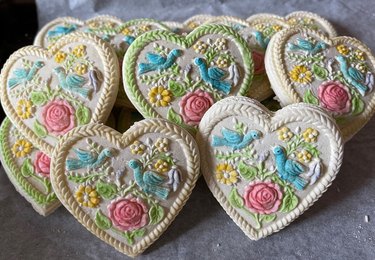 What's Valentine's Day without a few sweet treats? Etsy baker LilJoBakeShop creates and sells these breathtaking floral heart cookies by the dozen. Although they're made with a traditionally German springerle style, we think they'd fit right on a dining table in the Bridgerton family's London home. Featuring fluttering blue birds, intricate flowers and flavors like lemon and vanilla, they're a dreamy treat for February.
3. Victorian Valentine's Day garland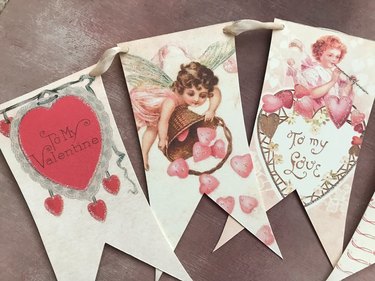 Ready to get the house all decked out in Valentine's Day decor? No vintage-y February is complete without a charming garland made from paper cards and ribbon. Etsy seller CoraPearlDesign presents garland options with and without sparkle and two-meter ribbons. Wouldn't these images of Cupid, happy children and hearts look sweet along the mantel?
4. Whimsical valentine headband
UK-based crafter and jewelry-maker @rositabonitauk created a stunning piece of wearable Victorian valentine art with this headband. Complete with charms depicting envelopes, hearts, doves, roses and more, this headband would make the perfect accessory for your Valentine's Day (or Galentine's Day!) party—create one of your own with a simple headband, hot glue, bendable wires and seasonal charms galore.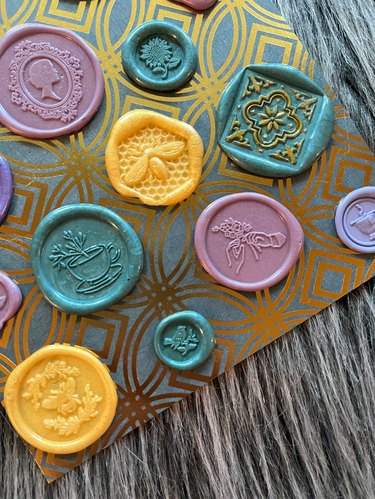 Want to send a letter to your secret love this Valentine's Day? Do it ‌Bridgerton‌ style with these adhesive wax seal stamps inspired by Kate Sharma herself. Made by PegasusPapercrafts on Etsy, these stunning stamps have self-adhesive backs—so you can get that freshly stamped wax look without any extra tools. You'll feel like a real-life viscountess as you affix these colorful creations to envelopes.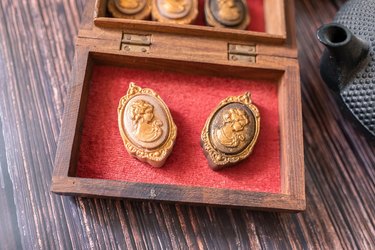 Give the gift of suds this Valentine's Day with a set of Victorian-inspired glycerin soaps featuring lovely, ornate cameos. Simply choose your soap quantity and designate a scent—vanilla, licorice or both—before submitting your order to Spain-based Etsy maker CostureroReal. These soaps are so beautiful that your loved one might not even want to use them!
7. Floral choker necklace
Treat your sweetheart (or yourself) to one of these dainty, decidedly elegant choker-style necklaces that would surely make Daphne Bridgerton swoon. Etsy jewelry-maker rosyposydesigns crafts stunning pieces using velvet ribbons, vintage lace and enchanting charms. To finish off the Valentine's Day look, check out her selection of brooches and antique-inspired fabric corsages.
You'll need a place to put all those cobweb Valentine's Day cards and love tokens—so why not DIY a vintage valentines box? This craft from TikToker @andiebatts is a few steps up from the shoebox mailboxes many of us made to collect candy and valentines from classmates in elementary school. Andie uses paper lace, ruffles, flowers and ribbon to add plenty of Victorian allure.
9. Enchanting Valentine's Day wreath
You might associate wreaths with Christmas, but they're just as beautiful for other holidays. Creative TikToker @debbiehowe649 shows off a Victorian Valentine's Day wreath made with plenty of pink flowers and a vintage card smack-dab in the middle. Want one of Debbie's creations for your own front door? She offers handcrafted Victorian Valentine's Day wreaths for sale on her Etsy shop, Pink Magnolia Wreath Co! If traditional flower bouquets aren't your thing, a wreath might be the perfect romantic alternative.