Candles made from butter that you can actually eat? You'd ‌butter‌ believe it. If this trend sounds too good to be true, think again: Butter candles are very real, and they're making major waves on foodie TikTok videos. If your interest is piqued and your taste buds are tingling with anticipation, you're in the right place. We've rounded up three fascinating TikTok videos that break down the basics of making butter candles while highlighting unique food pairings.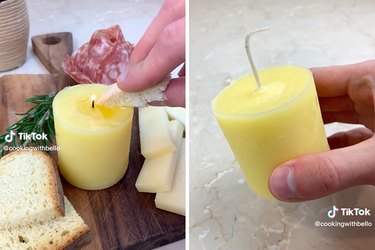 1. Charcuterie Board Butter Candle
The first butter candle how-to comes from @cookingwithbello. This cook simply melts butter, mixes in assorted herbs and black pepper, filters out the herbs and pours the melted butter into a halved soda can with a candle wick. Once the concoction cools, voilá: an indulgent and flavorful butter candle made from a recycled mold! Waste not, want not. We love that this creator uses their butter candle to complement a charcuterie board.
Food-Safe Butter Candle Wicks
Here's something important to think about before making your own butter candle: Always use a food-safe wick as opposed to a regular candle wick to err on the side of caution. Food safety first!
2. Steak Dinner Butter Candle
Next up is a butter candle from @alexusrenee___, who uses what looks like a shot glass to create their candle—another sustainable, reusable mold! It might be on the smaller side, but it's clear that this candle is still loaded with buttery, herby flavor. We're also mesmerized by the meal this TikToker cooks up: steak, shrimp, mashed potatoes and asparagus with a gradually melting butter candle to round it out. Our mouths are watering just thinking about this pairing.
3. Bread and Butter Candle
Finally, @ainttooproudtomeg demonstrates how to make a sizable butter candle in a plastic cup. This seems to make removing the candle pretty easy, as the thin plastic can simply be cut and peeled away. Meg loads up her softened butter with roasted garlic for an utterly tantalizing flavor combination (we can almost smell it through the screen!) before letting the mixture cool and popping her completed candle into a carved-out bread loaf. She rounds out the video by dunking chunks of bread directly into the luscious, melty butter candle. Simply perfect!
In all their forms and flavors, we hope butter candles are here to stay!