Brighten up your weeknight dinner with kale pesto pasta and lemon garlic shirmp. It features a kale-based pesto, which is ideal if you're not a fan of traditional pesto or want to try something new. It's also a great way to sneak in leafy greens! Top things off with lemony garlic shrimp for a meal that sounds fancier than it really is. Read on for the full recipe.
Kale Pesto
Things You'll Need
4 cups baby kale, packed, stems removed

3 teaspoons garlic, minced

1/4 teaspoon salt

1/2 cup fresh parsley, packed

Juice of 1/2 lemon

1/2 cup olive oil

1/4 cup toasted walnuts or sunflower seeds

1/3 cup grated Parmesan cheese (optional)
Step 1
In a food processor, add the kale, parsley, salt, lemon juice and minced garlic. Add the Parmesan cheese, if using.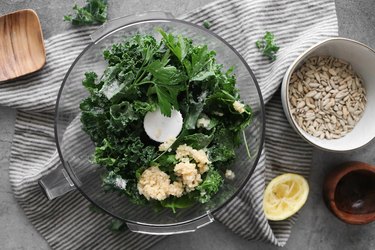 Step 2
Pulse until the kale is completely chopped up.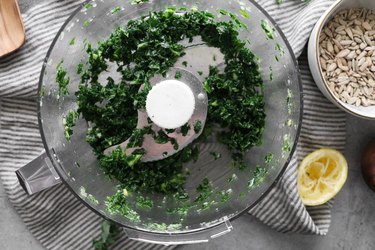 Step 3
As the food processor is running, slowly add the olive oil.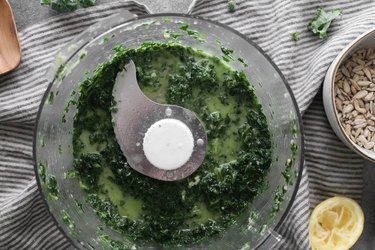 Step 4
Add the toasted walnuts or sunflower seeds. Pulse until the nuts or seeds are finely chopped, pausing to scrape the sides as necessary. Taste the pesto and add more salt or lemon juice, if necessary. Chill in the refrigerator as you cook the shrimp.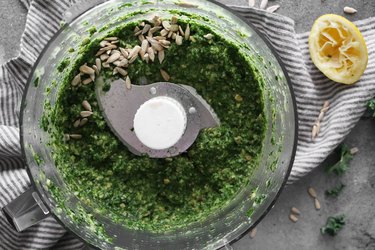 Lemon Garlic Shrimp
Things You'll Need
1 pound raw shrimp (frozen or fresh)

4 tablespoons butter or olive oil

1/2 teaspoon salt

1/4 teaspoon ground black pepper

Juice from 1 lemon

3 teaspoons minced garlic

2 to 3 tablespoons fresh parsley, chopped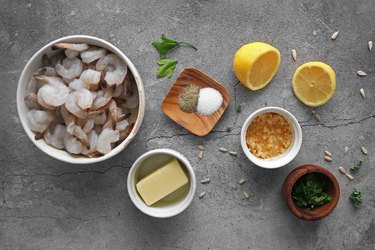 Tip
If using frozen shrimp, defrost according to the package's directions.
Step 1
In a large pan over medium-high heat, warm the butter or olive oil. Add the minced garlic and cook for 30 seconds, or until fragrant.
Step 2
Add the shrimp, lemon juice, salt, pepper and parsley. Cook for 2 to 3 minutes on each side, or until pink.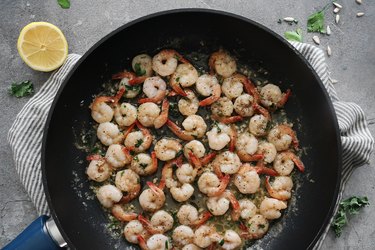 Kale Pesto Pasta With Lemon Garlic Shrimp
Things You'll Need
8 ounces pasta of choice

Kale pesto

Lemon garlic shrimp

Lemon wedges or slices, for garnish

Fresh parsley, for garnish
Tip
If you eat a gluten-free diet, use your favorite gluten-free pasta. You can even use rice instead.
Step 1
Cook the pasta according to the package's directions. In a large bowl, toss with kale pesto.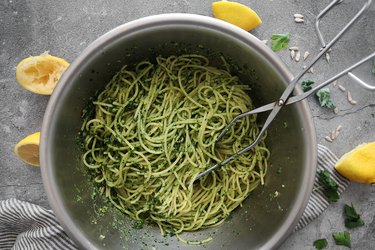 Step 2
To serve, top the kale pesto pasta with lemon garlic shrimp. Alternatively, you can toss the shrimp and pasta together. Garnish with lemon slices (or wedges) and fresh parsley.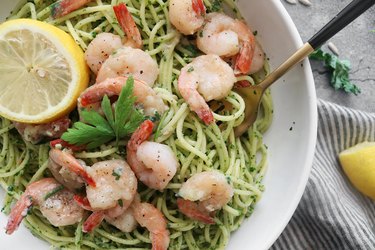 If you'd like to incorporate even more greens, sauté chopped baby kale in olive oil for about 5 minutes. Toss with the finished pasta dish and enjoy.