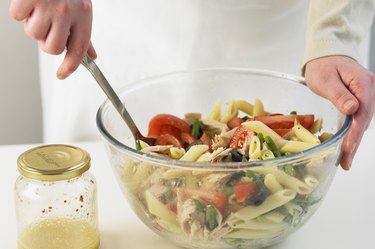 Start to Finish: about 3 to 24 hours Servings: 4 to 6; can easily be doubled or tripled Difficulty Level: Beginner
Green salads turn limp as leftovers, but a cold pasta salad gets better on day two. Using tender-crisp vegetables, soft pasta and a tangy vinaigrette adapted from Julia Child's recipe, this salad can be served as a side dish or main course.
Ingredients
1 tablespoon salt
8 ounces of pasta (small shapes such as elbows or rotini; you may also use spaghetti)
4 carrots
1 pint cherry tomatoes
2 zucchini
2 bell peppers, any color
4 ounces of Genoa salami (optional)
4 ounces of pepperoni (optional)
8 ounces of provolone cheese
1 shallot
1/2 teaspoon Dijon mustard
Pinch of salt
Pinch of white sugar
2 tablespoons of red wine vinegar
1 tablespoon lemon juice
1/3 cup olive oil
Ground black pepper
Directions
Bring a large pot of water to a boil over high heat; your pasta package should tell you how much water you'll need. Add the salt. Pour the pasta into the boiling water and stir it with a wooden spoon. Cook the pasta according to the package directions, but test a piece before removing the pasta: you want it to be soft, not al dente. Drain the pasta in a colander and rinse it under cool water.
Fill the pot with several inches of water and set it over high heat to boil. Meanwhile, peel and dice the carrots. Cook them in the boiling water for 2 minutes. While they cook, fill a large bowl with cold water and a few handfuls of ice.
After 2 minutes, use a slotted spoon to transfer the carrots from the boiling water into the ice water. This process stops the carrots from cooking any further and keeps them crunchy. Let the carrots sit in the ice water for about 10 seconds, then scoop them out and onto a paper towel-lined plate.
Wash the tomatoes, zucchini and peppers. Halve the tomatoes and cut the zucchinis and peppers into bite-size chunks. If you're using pepperoni and/or salami, cut the meat into bite-size pieces and add them to the bowl as well.
Mix the cooled pasta and vegetables in a large bowl.
Dressing and Assembling
Finely mince the shallot. Place it in a large bowl and add the mustard, salt and sugar. Whisk these ingredients. Stir in the vinegar and lemon juice and whisk again.
Pour in the olive oil as slowly as possible, whisking the dressing vigorously as you do. Add one grind or pinch of pepper. Dunk one piece of pasta into the dressing to taste it and make seasoning adjustments as necessary.
Pour half of the dressing over the bowl of pasta and vegetables and toss to coat. Cover the bowl and refrigerate it for at least a few hours but preferably overnight.
Before serving, cut up the cheese and add it to the salad. Stir everything and taste. If the salad tastes dry or the flavor is too mild, drizzle in a little of the reserved dressing at a time until it's balanced.
Tips and Adjustments
To feed a crowd, multiply everything -- double or triple the ingredients. This recipe will yield enough to adequately serve as a side dish for 10 or 20 people, respectively. But cold pasta salad is endlessly customizable whether you're feeding one or a dozen. You can halve the pasta and double the vegetables, or do the reverse.
Make a roasted vegetable salad. Double the vinaigrette recipe and use half as a marinade for eggplant, asparagus, zucchini, peppers and onion wedges. After one hour, grill or oven-roast the vegetables until they are soft and golden brown, then add them to the pasta.
As a time saver, use store-bought Italian dressing, balsamic vinaigrette or even pesto in place of homemade dressing.
Top a finished salad with fresh basil, crumbled bacon, a squeeze of lemon juice or shaved Parmesan cheese.