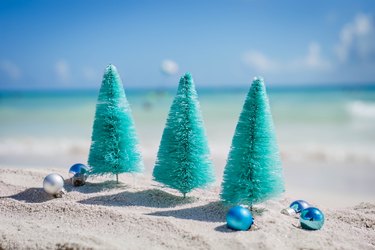 Sometimes, you just need a little Christmas spirit, and the fact that it's July is no reason to deny yourself the joy and fun of the holiday season. Besides, celebrating Christmas in July has officially gone mainstream! 'Tis the season to watch holiday movies in your pj's while snacking on gingerbread cookies shaped like palm trees without judgement.
After all, the first rule of Christmas in July is: There are no rules. You don't have to shop for gifts or go to the airport or participate in any family traditions—you're totally free to celebrate the parts of the holiday season that you love the most. So, gather your most festive friends for a Christmas party complete with a beach-themed white elephant gift exchange or fire up your favorite playlist of Christmas songs and deck the halls with a kitschy tree made from beach balls. Read on for a roundup of recipes, crafts and decor ideas to give yourself the gift of Christmas cheer in the middle of summer.
1. Build gingerbread beach houses
Making gingerbread beach houses is the perfect activity for a Christmas-themed July party whether the guests are 5 or 50. (Kids love playing with frosting, and adults love the idea of having a beach house, so everyone wins.) Your finished houses might not be as impressive as the one @susiemakescakes shared on Instagram, especially if you make yours out of graham crackers and a jar of frosting, but they'll be delicious anyway. Use pulverized pretzel or cookie crumbs for the beach and blue frosting or Jell-O to create water.
2. Make DIY Christmas in July decor
You might be celebrating Christmas in July, but your local Target is celebrating back-to-school season. So, you're unlikely to find Christmas decorations in stores, and it would be such a hassle to unpack the boxes you just put away in January. Check out @hometalk's TikTok for a collection of DIY Christmas decor ideas that you can make using things available in craft stores year-round.
3. Snack on watermelon Christmas trees
Most of us don't have access to fresh tropical fruit in December, which means we've all been missing out on the joy of eating juicy watermelon Christmas trees. Check out @chefchrischo's simple TikTok demo to learn an easy method for cutting a forest of Christmas trees out of a melon. For a party or Christmas-themed BBQ, take this treat to the next level by displaying a bunch of watermelon trees on a charcuterie board in the shape of one large tree. "Decorate" the tree with berries and small pieces of mango and pineapple.
4. Decorate with beachy sea glass trees
How beautiful are these sea glass Christmas trees, available in a range of color combinations from Etsy seller CoastalByJennifer? They strike the perfect balance between summery and Christmasy. Decorative trees made from sea glass also make lovely July gifts for anyone who loves Christmas year-round.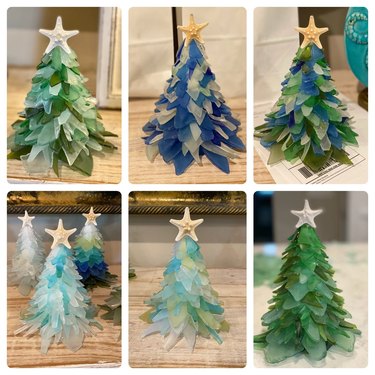 5. Sip Christmasy cold brew
A thick cup of eggnog or a steaming mug of hot cocoa with peppermint marshmallows doesn't really hit the spot on a steamy July day. Instead, try a festive iced drink with the flavors of Christmas, like this deliciously Grinchy white chocolate cold brew with creme de menthe creamer from TikToker @livcakes77.
Ever wondered about the origins of Christmas in July?
Its popularity has grown thanks to Hallmark and social media, but the concept of Christmas in July is nothing new. A girls' summer camp in Brevard, North Carolina is credited with starting the "holiday" way back in 1933. Keystone Camp still celebrates Christmas in July every summer!
Reasonable people can agree that Christmas cookies are an absolutely non-negotiable part of any Christmas celebration, including one taking place during summer. Skip the cookie cutters shaped like snowflakes and candy canes and cut your favorite cookie dough into shapes that are on-theme. Think a sugar-cookie Santa Claus wearing sunglasses or palm tree cookies decorated with strands of Christmas lights and ornaments made from sprinkles. Make them with a palm tree cookie cutter from Etsy seller rockcitycookies.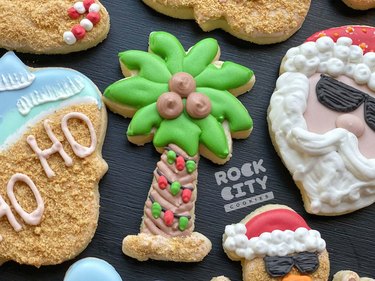 7. Play holiday movie games
No one understands the appeal of Christmas in July more than the Hallmark channel, bless them. Thanks to their Christmas in July programming, you could easily spend days lost in a marathon of Hallmark movies.
Add a layer of festive competition to your next Christmas movie marathon with these wooden Hallmark movie bingo boards from Etsy seller TheCraftyChickCoLLC. Each set has a different layout so you can compete with your viewing buddy to see who's going to get bingo first. As you watch the small-town carpenter dressed in flannel beat out the big-city businessman to win over the girl (just in time for Christmas Eve!), you could be a winner too.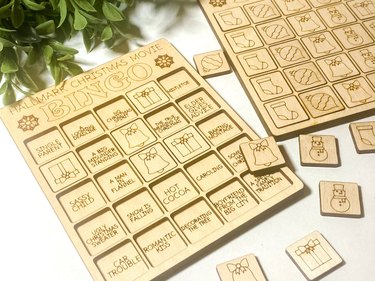 8. Make upcycled DIY holiday art
Making your own sustainable Christmas decor from driftwood is the kind of Christmas craft that might make you feel like the heroine of a Nancy Meyers movie who just swept in from her own private beach. (You could also use reclaimed wood if you don't live near water and can't collect your own driftwood.) Check out this demo from TikToker @sustainmycrafthabit to make your own beachy Christmas tree art using hot glue and fabric. She used festive Christmas fabric, but you could use any piece of scrap fabric you have available.
9. Get Christmas in July party inspiration
Sometimes, you just want to collect fun ideas for a holiday party without having to go through the work of actually planning and hosting a party. TikTokers have you covered, showing off the clever details of their own summertime Christmas-themed parties. Look at videos like the one @carolinaashworth shared of her family's Grinchmas in July celebration, complete with themed snacks and a movie screening in the backyard. Who knows, maybe you'll find some perfect Christmas in July ideas of your own!
Whether you're going all out with a party or feeling more "Hallmark movie marathon for one" vibes, get your Christmas in July celebrations going now—and soon you'll be feeling the holiday spirit of pumpkin spice season!