When Nancy Meyers was directing her 2003 movie "Something's Gotta Give," she couldn't have known that she would be inspiring a TikTok trend nearly 20 years later. The lead characters of her movies and their beautiful homes have always been aspirational, but now the coastal grandmother aesthetic is officially everywhere.
It's all about timeless elegance dressed down for the beach or farmers' market, a la Diane Keaton's character in "Something's Gotta Give" or Meryl Streep in "It's Complicated." Think wide-leg linen pants, white T-shirts, buttery cashmere cardigans, straw hats and totes. Even Anne Hathaway has gotten in on the trend, posting an Instagram shot of herself in cream pants, a white button-down, sunglasses and a bucket hat with the caption, "I have been ready for #coastalgrandmother chic since before TikTok was born."
Bringing the coastal grandmother look into your home should make it feel lighter, brighter and cozier, like an expensive Hamptons beach house that's designed to feel casual and comfortable. And you don't need the apparently unlimited budget of a Nancy Meyers character to recreate the style.
1. Fresh Flowers Everywhere
No self-respecting Nancy Meyers heroine would have a home without fresh flowers in every room. Opt for big, lush blooms, like hydrangeas and peonies in every color of the rainbow. If you can't afford a steady supply of fresh flowers (because you're sadly not a Nancy Meyers character), supplement the occasional bouquet of real peonies with silk flowers. They'll let you maintain the coastal grandma look year-round and make your space feel cheerful even in the dead of winter.
Artificial peonies: $23.26 for 10 at Etsy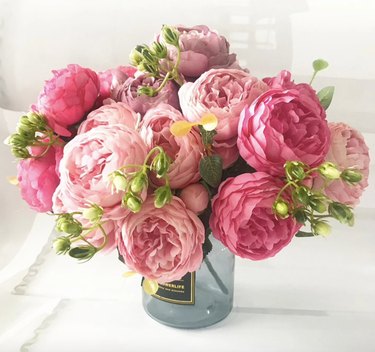 2. Cover Furniture With White and Beige
White, cream and beige is the signature color palette of the coastal grandma aesthetic – essentially, the colors of sand. Transform your space in an affordable and nonpermanent way by covering your sofas and armchairs with fitted covers in light, sandy shades. White or beige covers brighten up a room, and they're much easier to clean than a true white sofa.
Ivory armchair slipcover: $35.99 at Etsy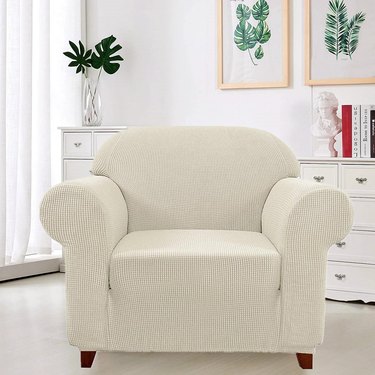 3. Double Up on Pillows and Throws
When you look at your bed or sofa, can you see at least 75 percent of the fabric? If so, you don't have nearly enough throw pillows and cozy blankets to be a true coastal grandma. Stock up on mismatched pillows and throws in shades of cream, blue and brown or choose ones that will add a pop of bright color to the room. Focus on rich, touchable textures, like oversized knits, silks and cashmere.
Velvet pillow covers: $14.99 for 2 at Amazon
4. Use Nautical Stripes Sparingly
Blue and white stripes are a staple of beach house decor and the coastal grandmother style. But your home may start to look like a preppy yacht club if you go overboard (pun intended) with nautical stripes. Incorporate them sparingly with striped pillows or a striped rug, like the one Diane Keaton's "Something's Gotta Give" character has in her beach house.
Nautical striped rug: $101.47 - $149.54 at Etsy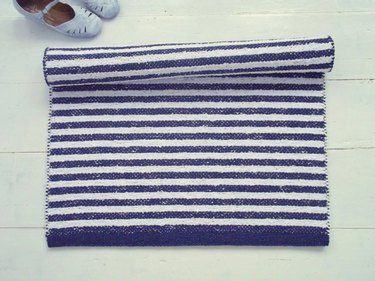 5. Bring in Baskets and Woven Materials
Natural and woven materials are very on-trend for the coastal grandma look. Think jute rugs and woven placemats. Use woven rope and straw baskets to store extra blankets, magazines, shoes, kids'/pets' toys and other stuff that accumulates in your home.
Cotton rope basket: $27.99 at Amazon
6. Let There Be (White) Light
Most of us don't actually live in beach houses with natural light flooding in through the windows. Keep your space light and bright by swapping out dark window coverings for filmy white curtains to maximize any daylight and by changing out any dark lamp shades with white ones. Bring in more lamps if a room still feels dim with all the lights turned on.
Sheer white curtain panels: $20.99 at Amazon
While the general palette is neutral, the coastal grandmother style also allows for some bright pops of color. Hang a large piece of colorful art as a focal point in the living room or bedroom or create a gallery wall with several smaller framed pieces of artwork and family photos. Colorful woven wall hangings are also on-trend.
Abstract art prints: $83.00 for set of 3 18 x 24 prints at Etsy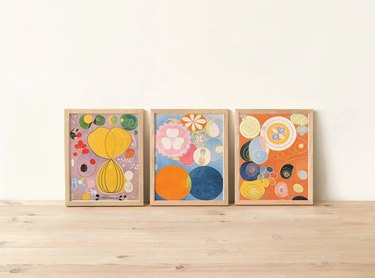 8. Show Off Colorful Kitchenware
Even if you live off takeout, pretend you're a chef by using your most appealing cookware as decor in your kitchen. Hang old copper pans from a wall rack. Pull out a brightly colored Dutch oven and leave it out on your stove. Display colorful mugs or pottery on a floating shelf instead of hidden away in a cabinet.
Enameled cast iron Dutch oven: $79.90 at Amazon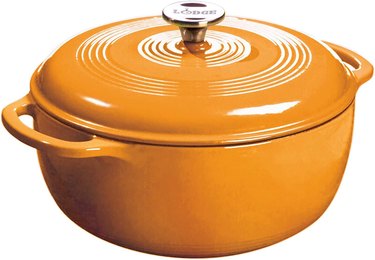 Maintain the "just got back from the farmers' market" vibe in your kitchen all the time by using real (or realistically fake) produce as decor. In the middle of an island or countertop, set a wide, decorative fruit bowl filled with bananas and whatever other fruit you happen to have on hand. Store spices in hand-labeled jars on a decorative wooden spice rack. Fill glass bowls with lemons and limes to use as centerpieces in the dining room and living room.
Handmade wooden fruit bowl: $55.25 at Etsy
Homes in Nancy Meyers movies always look lived-in and full but never messy. Tables or shelves that look cluttered are really artfully designed to display small, decorative objects. You won't see piles of paperwork or tangles of cords in a Meyers character's living room. Clear all "real" clutter out of sight. Display clusters of candles, art books and objects you've found in antique stores on tabletops and shelves.
Decorative wooden knot: $28.89 at Etsy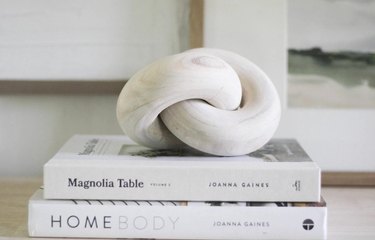 Coastal Grandmother Music
Get into the coastal grandma headspace by playing a trend-appropriate playlist while you redesign. Try Lex Nicoleta's Spotify playlist. It's the perfect blend of songs that feature in Nancy Meyers movies—like "This Will Be (An Everlasting Love)" by Natalie Cole—and songs that just evoke a sunny day by the water. Any Beach Boys, Motown or yacht rock playlist will also set the mood.