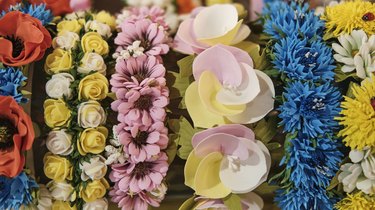 What's more whimsical than a flower crown? Few hair accessories offer the simple charm, natural delight and classic aesthetic of a flower crown—particularly a homemade flower crown. Whether you're looking for an easy DIY, whipping up something to wear for a special event or hoping to repurpose fresh flowers and greenery from your garden, we've got a roundup of the most marvelous floral adornments imaginable. Gathered from social media makers and artists, these tutorials will leave you utterly enchanted and ready to create your own flower crown.
1. Simple Clover Flower Crown
Our first tutorial comes from from TikToker @secondbreakfastgarden, who demonstrates how to make a flower crown using clovers and a straightforward looping and knotting technique. With patience, clover stems create a sturdy headband without the use of floral wire or other support. The result is understated yet decidedly lovely.
Next, TikToker @sophie_liese works with colorful wildflowers to make a brilliant braided flower crown. The outcome is a ready-to-wear wonder full of yellow with touches of blue, purple and white. Can you imagine how lovely this naturally crafted headpiece would look with the inclusion of fresh-picked daisies or lilacs?
Now for a detour from traditional flower crowns: TikToker @linitrinh uses origami techniques to create beautiful paper flowers in assorted colors (complete with small green leaves). Each flower is then carefully glued to a simple headband and allowed to dry. This might not be a classic DIY flower crown tutorial, but we're totally enamored with the results.
Next up, a flower crown rooted in Hawaiian culture—an absolutely stunning ‌lei po'o‌, aka a head lei. This flower crown comes from TikToker @eco.mindful.lei, who uses Moa ferns, bromeliad flowers and other gorgeous yard cuttings to create a magnificent ‌lei po'o‌ that pays homage to native Hawaiian plants. What a beauty!
5. Dandelion Flower Crown
We might not all have access to lush flower gardens or fields of wildflowers, but most of us can round up a few pesky weeds. Yes, we're talking dandelions! TikToker @feralfairy888 creates a flower crown using vibrant yellow dandelions and a simple knotting technique. If you're looking to rid your yard of dandelions but don't want to toss them, this makes for a fantastic natural (and wearable!) upcycling project.
For another twist on the traditional flower crown, TikToker @_robinthebank creates a delightful crochet flower crown with daisies and a pale green base string. Of course, you'll need some crochet skills to pull off this design—but it's perfect for crafty types who prefer long-lasting flower crowns that won't require a trip to the florist.
Okay, now we're getting ‌really‌ boho. This dried flower creation from @avigailadam1 on TikTok was actually made for a soon-to-be bride—and we can only assume that the delicately crafted floral crown stole the show on wedding day. Made with a whole slew of dried flowers and accented with greenery, the result is magical enough for a fairy princess.
8. Rose Halo Flower Crown
If you adore the appearance of spray roses, you'll fall in love with this DIY project from TikToker @sunriseblooms, who gathers an array of flowers and raffia to get started. Raffia is wrapped around flower stems to connect each piece, then knotted for a finished look. Whether you're making crowns for bridesmaids or dressing up a simple hairstyle, the resulting lush flower crown is a total head-turner.
See? You don't have to be a professional florist to make your own flower crown! We hope you're feeling inspired to start braiding, knotting, twisting and designing. Gather up those dandelions, pick a pile of peonies, grab some greenery and get started—the hair accessory of your dreams awaits!