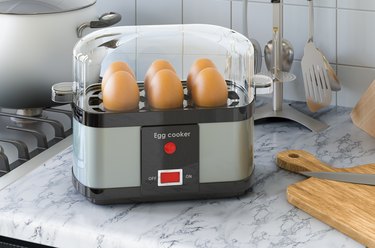 Boiling eggs may be simple in theory, but the truth is, unless you're some kind of egg wizard, they often come out overdone, forming those unappetizing-looking green rings around the yolks that indicate they're overcooked. Not to mention, boiling them on the stove can take what feels like ages while requiring your close attention, making it difficult to multitask. This is where an egg cooker can be an egg-cellent investment.
Egg cookers (for the most part) are electric countertop appliances that use steam to rapidly cook eggs, while some egg cookers are designed for use in the microwave. The most basic egg cookers will allow you to quickly make hard- or soft-boiled eggs, but some fancier electric egg cookers are capable of making eggs in a variety of styles, including poached, scrambled, over-easy and even omelets. And if you hate peeling eggs boiled on the stove, many egg cookers cook eggs in such a way that their shells easily slide off—so you no longer have to worry about tiny little fragments remaining or making a mess. Whether you're an egg lover or a casual egg eater, an egg cooker will make your life in the kitchen easier.
What to Consider When Purchasing an Egg Cooker
​Egg Capacity:​ Virtually all egg cookers can cook multiple eggs at once, so it depends on your needs. Compact egg cookers can usually cook four eggs at once, while larger egg cookers can cook up to a dozen or more. However, keep in mind that hard-boiled eggs spoil more quickly than raw eggs, so if you're not planning on eating tons of eggs within a relatively short period, the ability to cook large quantities at once may not be as important.
​Size:​ Generally, egg capacity and egg cooker size are directly related. If you've got a gourmet kitchen with ample space, a larger egg cooker capable of cooking large batches of eggs may not be a bad idea, but if you're tight on counter space or cupboard space, a compact option probably makes more sense. You don't have to pay more for what you don't need.
​Microwaveable Versus Electric:​ Most egg cookers are electric appliances that will sit on your countertop, but some don't need to be plugged in—but do require a microwave. Microwaveable egg cookers tend to be less fancy than electric egg cookers, but usually take up less space. While it may be difficult or impossible to make an omelet using a microwavable egg cooker, most are usually capable of making scrambled eggs.
​Controls and Features:​ Many egg cookers, especially the most compact ones, have very simple and basic controls to get the job done, but more advanced cookers may include features such as lights and audible alerts to let you know when your eggs are done cooking. If you're a busy bee in the kitchen, these extra features may help you keep your rhythm.
​Automatic Shutoff:​ Some egg cookers will shut off automatically once the job is done as a helpful safety feature and to ensure your eggs don't overcook.
​Other Cooking Options:​ The more basic egg cookers will enable you to cook hard-boiled, soft-boiled and poached eggs, but more advanced egg cookers may come with accessories for cooking a wide variety of egg styles, including scrambled eggs, fried eggs and even omelets. If you love all kinds of egg styles or simply value versatility in an appliance, it's something to consider.
With these factors and criteria in mind, here's our list of the best egg cookers in 2022.
The Best Overall Egg Cooker
Cuisinart Egg Central Egg Cooker
Cuinsart's high-end egg cooker can cook up to 10 eggs at once using two different tiers enclosed within its egg-shaped dome. It's perfect for steaming eggs in their shell to make hard-, medium- and soft-boiled eggs, but that's not all it can do. It also comes with a removable tray that lets you poach four eggs at once or make a two-egg omelet. The egg cooker includes a 180-milliliter measuring cup for measuring water (the amount of water used determines the cooking time) and the cooker features a simple on-off switch, a blue LED light, an audible alert when the eggs are finished and a standby mode that prevents the eggs from overcooking. The measuring cup also includes a piercing pin to make it easier to remove the egg shells. Cuisinart's egg cooker combines speed, capacity, versatility and thoughtful design, making it hard to beat.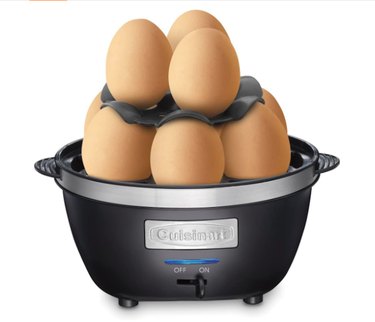 Runner-Up Best Overall Egg Cooker
This next-best egg cooker includes nearly everything we love about Cuisinart's egg cooker, except that it can't cook as many eggs at once. Dash's egg cooker can cook up to six eggs at a time, but in spite of its middling capacity, it has a lot to offer. It covers the basics, like cooking hard-, medium- or soft-boiled eggs, but also allows you to make poached eggs, scrambled eggs and individual omelets all in a matter of minutes, thanks to a separate poaching tray. The cooker features automatic shutoff to prevent overcooking and a loud alarm to alert you when your eggs are ready. Plus, it comes with a long cord to make it easier to reach your kitchen outlets. The non-electrical pieces are dishwasher-safe and the egg cooker comes in a variety of colors.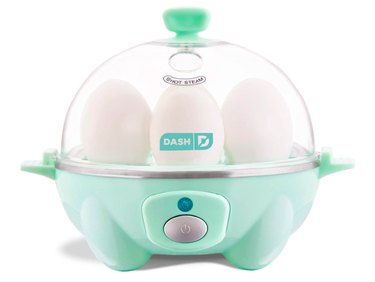 The Best Large-Capacity Electric Egg Cooker
If you're a bona-fide egg lover or simply want to meal prep in large batches, the Bear Egg Cooker is your friend. It can boil up to 14 eggs at once, making it ideal for putting together party platters (devilled eggs, anyone?) and saving you time. It features a double-tier rack that holds seven eggs on each tier. The egg cooker shuts off when your eggs are ready to prevent overcooking and the indicator light also turns off to let you know your eggs are finished. In addition to boiling eggs, it also handles poached eggs and small omelets via a separate omelet tray. You can even use the omelet tray to steam other items such as vegetables and seafood, if you're willing to experiment. The egg cooker comes with a measuring cup that includes a piercer to make it easy to remove egg shells. The only caveats are that the cooker is a bit difficult to store, owing to its tall dome shape, and there's no sound to alert you when your eggs are ready.
The Best Microwavable Egg Cooker
Nordic Ware Microwave Egg Boiler
Instead of plugging into a kitchen outlet, this egg boiler goes straight into the microwave and steam-cooks hard-, medium- and soft-boiled eggs in ten minutes or less. Thanks to its design that shields the eggs from the microwave, you don't have to pierce the egg shells before putting the eggs inside. The microwave heats the water, allowing your eggs to steam-cook without direct contact with the microwave, eliminating any worry that they may explode while producing evenly-cooked eggs without hotspots. You can cook only four eggs at once, but the upside is that the cooker is non-electric and dishwasher-safe—although it usually creates little mess anyway, so a quick hand-wash will usually suffice. Since microwaves vary in size and power, it may take some experimenting, but once you figure out what works best with your microwave, you'll get consistent results each time.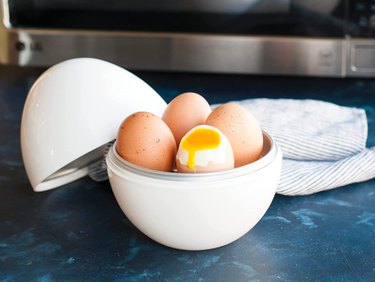 The Best Budget-Friendly Electric Egg Cooker
Copper Chef Electric Egg Maker
This budget-friendly egg cooker is ideal for those who don't want to, ahem, shell out a lot of cash, but don't be fooled by the low price tag—this egg cooker is no yolk. It's compact and clocks in at under 2 pounds, and yet, it cooks up to 14 eggs at once, thanks to its two-tier design. With the touch of a button, you can make perfect hard-, medium- and soft-boiled eggs, but that's not all; the egg cooker also comes with a poaching insert and omelet ring to make up to four poached eggs or two omelets at once. It also includes a measuring cup. Other points in its favor include automatic shutoff to prevent overcooking and dishwasher-safe parts. There's no audible alarm to let you know when your eggs are finished cooking, though.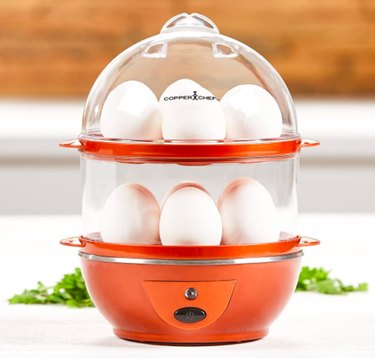 The Best Egg Cooker for Egg Bites
Hamilton Beach Egg Bite Cooker and Poacher
For anyone who loves the delicious, savory egg bites you can get from coffee shops like Starbucks, you can save money by making them at home with the Hamilton Beach Egg Bite Cooker and Poacher. It uses the sous vide method to make two English muffin-shaped egg bites at a time, right on your countertop. The tray molds the shape for you and allows you to customize your egg bites with cheese, sausage, bacon crumbles, spinach or whatever you desire. In addition to making egg bites, the egg bite cooker can also make poached eggs. It's easy to use and features a power light that indicates when the cooker is turned on and another light that turns on when your egg bites are done cooking. The non-stick tray is dishwasher-safe for easy cleanup and there aren't a lot of pieces to keep track of, making this the easiest way to make egg bites at home.