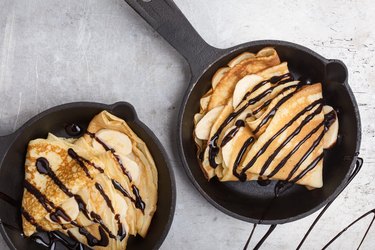 Crepe pans are just for making crepes, right? Well, you'd be surprised. While these specially designed shallow pans are pretty much essential to achieving that thin, delicate and delicious layer of batter that differentiates crepes from American-style pancakes, you can also use crepe pans to make omelettes, tortillas, pancakes, bacon and even griddle sandwiches.
But who are we kidding? You want crepes. And if you're not prepared to book a trip to France to get authentic crepes that are just oozing with flavor, you're in luck. We've rounded up the best crepe pans on the market so you can replicate that sweet (or savory) crepe goodness at home. Bon appétit!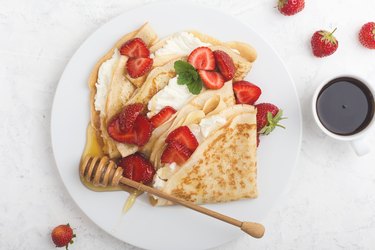 What to Consider When Purchasing a Crepe Pan
A good crepe pan should have a smooth, thick bottom, low walls, and a handle that doesn't get hot to the touch. Other factors to consider include:
​Materials​: The most common types of crepe pans are cast-iron, carbon steel, aluminum and nonstick. Each material has its own advantages and drawbacks:
​Cast-Iron​: Cast-iron is overall the best material for crepe pans thanks to its durability, even heat distribution and ability to become increasingly nonstick the more it's used. You can pretty freely use sharper utensils that would normally leave scratches when cooking with a cast-iron crepe pan. However, cast-iron does need to be seasoned and properly maintained. Don't ever plunge a hot cast-iron crepe pan into cold water, for instance, because that can lead the porous material to crack. If properly handled, however, cast-iron can last a very long time, even multiple decades.
​Carbon Steel​: Carbon steel is another good choice since it shares some qualities with cast-iron, such as durability and resistance to deformation. Like cast-iron, it also needs to be seasoned and maintained. The main differences are that it's smoother, thinner and generally more expensive than cast-iron. Its smoothness helps it remain fairly nonstick, which is a plus. However, since it's thinner, it heats up more quickly and as a result, doesn't distribute heat quite as well as cast-iron, so your crepes may not be as evenly-cooked.
​Aluminum​: Aluminum is inexpensive and lightweight, but due to its softness, it's also more prone to warping. If you go with an aluminum crepe pan, look for one with a thicker bottom and thicker walls, which will be more resistant to deformation and potentially better for even heat distribution.
​Nonstick​: Crepe pans with nonstick coatings are generally the easiest to clean and maintain, but unlike cast-iron, they are susceptible to damage from metal utensils. The service life of a nonstick pan largely depends on the thickness and quality of the nonstick coating. Six to 10 years is about the average service life of nonstick pans, but the right type of coating can definitely increase this. Titanium coating can last up to 25 years with proper care and maintenance, for example. However, titanium coating won't come cheap. Ceramic coating is less expensive, more resistant to scratches and more environmentally friendly, but it doesn't stand up well to significant temperature differences, and as a result, has a shorter service life. If you get a crepe pan with a ceramic nonstick coating, using warm or hot batter will be much better than pouring cold batter into the hot pan.
​Size​: Most crepe pans fall between 7.5 inches and 16 inches in diameter, but for home use or novice crepe makers, 10 to 12 inches is sufficient. While a larger size can mean bigger crepes, it can also make them more difficult to flip.
​Weight​: While you don't want your crepe pan to be too heavy for you to handle, in general, heavier is better than lightweight. While a heavy pan can take longer to heat up, it will distribute heat more evenly and will be better at staying hot even after you pour cold batter onto it. Crepe pans that weigh somewhere between 3 pounds and 5 pounds are usually a safe bet.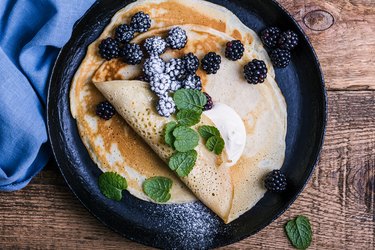 Don't Forget About Crepe Spreaders
Before we get to our list of the best crepe pans, another thing to keep in mind is how you spread and shape the batter once you've poured it. To achieve more perfect results (that means thin and uniform), you'll need a crepe spreader. Most crepe spreaders are made from wood or stainless steel, with wooden ones being more popular. To get started, we recommend the Indigo True Original Crepe Spreader and Spatula Set, which comes with three spreader tools to make crepes of different sizes, as well as a special crepe spatula to make flipping and serving easier. It's available at Amazon.
Now, with these considerations in mind, here are the best crepe pans in 2022:
The Best Overall Crepe Pan
Lodge Cast-Iron Griddle & Hot Handle Holder
While not explicitly marketed as a crepe pan, Lodge's cast-iron griddle is perfect for making crepes thanks to its thick bottom and low side walls. Lodge is a U.S. brand well-known for their heavy-duty skillets and cookware, and this griddle is no exception. Its half-inch side walls make it easy to spread crepe batter, and wedge your spatula tool underneath the crepe to flip it over. Because it's made of cast-iron, it also distributes heat very evenly—although this can mean it takes a bit longer to heat up and cook (the silver lining is that cast-iron is more forgiving than other quickly-heating materials if you've turned your back on the pan for a moment too long).
It comes pre-seasoned, but you can get extra mileage out of it if you season it some more and properly maintain it. Clocking in at almost 4 1/2 pounds, it's on the heavier side—but remember, that's generally good for even cooking. The pan measures 10 1/2 inches in diameter and comes with an optional silicone hot handle grip to protect your hand from temperatures up to 450 degrees Fahrenheit. Overall, Lodge's cast-iron griddle earns its spot at the top for its impressive mix of quality and value. It's the best crepe pan that doesn't call itself a crepe pan.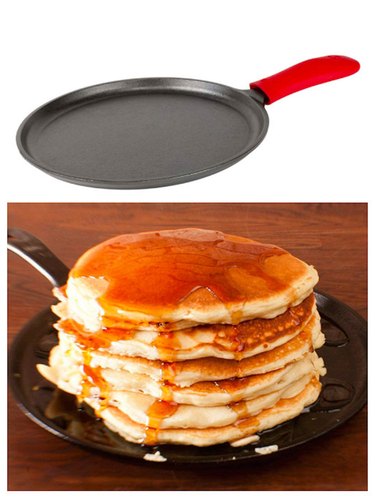 Woll Diamond Lite Nonstick Induction-Ready Crepe Pan
The next best crepe pan is made in Germany and comes with a significant increase in price, but it's justified. Like the Lodge model, it features extremely low side walls that are advantageous when it comes to spreading batter and flipping. Its cast aluminum body is reinforced with an ultra-hard, diamond-embedded nonstick coating that's resistant to cutting and scratching, so you don't have to avoid using metal utensils. The super nonstick coating is also PFOA-free and anti-corrosion.
The pan comes affixed with a sturdy handle in one of two options: stainless steel or Bakelite (which is more comfortable to grip) and the entire pan is both oven-safe up to 500 degrees Fahrenheit and suitable for induction cooktops. The pan measures 10 1/4 inches in diameter and, unlike many other crepe pans, is dishwasher-safe. It weighs approximately 2 1/2 pounds. While it's definitely a much bigger investment than our top pick, it just has so many things going for it, warranting the runner-up spot.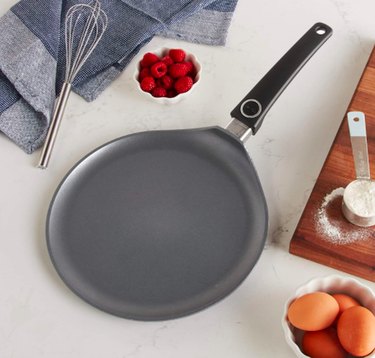 The Best Cast-Iron Crepe Pan
Le Creuset Enameled Cast-Iron Crepe Pan With Rateau & Spatula
As mentioned earlier, premium cast-iron doesn't come cheap, so this cast-iron crepe pan from Le Creuset earns the dubious honor of being the most expensive pan on the list. However, it really represents the best of the best when it comes to cast-iron cookware. Its French-made design features a super smooth round cooking surface with low, gently sloping side walls (all the better for spreading batter and flipping), plus an ergonomically-angled handle that keeps your grip away from direct heat. It also comes with a batter spreader.
The pan's robust cast-iron body is safe to use on any cooktop, including gas, electric and induction, as well as an open flame. Le Creuset recommends letting the pan cool for a few minutes before washing. Above all else, remember not to plunge it straight into cold water while it's still hot. As long as it's properly cared for, this high-end crepe pan can last you decades.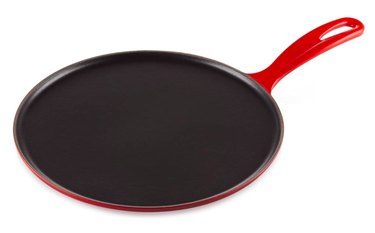 The Best Carbon Steel Crepe Pan
De Buyer Mineral B Round Crepe Pan
Another French-made model, the De Buyer Mineral B crepe pan is made from carbon steel and is coated in a signature beeswax finish that protects against oxidation. It's environmentally friendly, containing no added chemicals and is PTFE- and PFOA-free. Once seasoned, it naturally develops increasingly nonstick properties the more it's used. The pan's handle is longer than average and ergonomically angled to make it easier and more comfortable for flipping, stirring and sautéing.
Its bottom is also on the thick side, which allows for constant and even heat distribution and helps it resist warping. However, its side walls are a bit taller than those of the first three models on the list, which can be both a pro and a con: While this makes the pan more versatile because you can cook more types of dishes in it without your ingredients flying out, it can also make it slightly more difficult (but still manageable) to spread batter and flip. It's not dishwasher-friendly, but it is oven-safe for up to 20 minutes at 400 degrees Fahrenheit, another plus if you want to use it to cook dishes other than crepes. It's available in three sizes: 9 1/2 inches, 10 1/4 inches or 12 inches in diameter.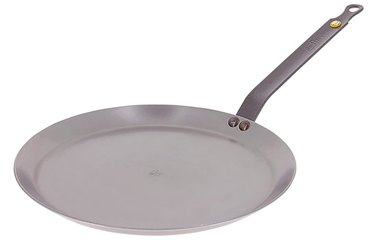 The Best Nonstick Crepe Pan
Cook N Home Nonstick Heavy Gauge Crepe Pan
For its affordability and effective nonstick surface, the Cook N Home crepe pan is a solid option. It's made with an aluminum core that helps with heat distribution and prevents hotspots. Measuring 10 1/4 inches in diameter, it features an ergonomically-angled cool-grip handle. It's lightweight and super easy to hand wash, but if you're not in the mood, it's also dishwasher-safe (there won't be much, if anything, to wipe off anyway). The only caveat is that it's not induction-ready or safe to use in the oven, but other than that, it works on all gas and electric stoves.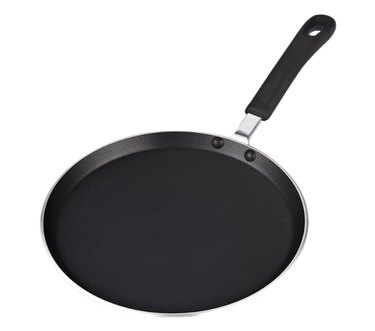 The Best Crepe Pan for Induction Cooktops
Cuisinart French Classic Crepe Pan
It wouldn't feel like a complete list without mentioning Cuisinart, probably the best-known French-inspired American brand that's almost synonymous with quality cookware and kitchen appliances. Cuisinart's French Classic Crepe Pan is very solid in all aspects, but its triple-ply aluminum and stainless steel construction makes it especially well-suited for induction cooktops (although you can certainly use it on other cooktops, as well). It features Heat Surround technology that allows for even heat distribution, not only on the bottom nonstick cooking surface but also on the side walls. Its elegantly curved stainless steel handle remains cool to the touch and is more comfortable for your wrist than lower, straighter handles. The pan measures 10 inches in diameter and is dishwasher-safe. It's not scratch-resistant, however, so you may want to avoid using metal utensils with it.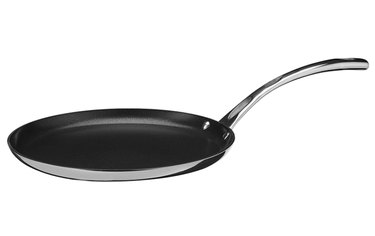 The Best Electric Crepe Pan
CucinaPro Electric Crepe Maker
This one's a bit of a cheat since it's not exactly a traditional crepe pan (or really a pan at all), but it's definitely worth a look for crepe-making novices. While it sacrifices the versatility of most crepe pans, if you want excellent crepes or blintzes (of course you do), it does its one job exceptionally well. Its 12-inch aluminum plate makes crepes that are slightly on the larger side for home kitchens, and its five temperature settings allow you to regulate heat more precisely.
Other thoughtful features include an on/off ready light that lets you know when it's hot enough to cook on, and rubber feet on the bottom for stability. Plus, it comes with a batter spreader and recipes for crepe batter, mushroom crepes and blueberry blintzes to help you get started. Also, we lied—not only can you use it to make crepes and blintzes, but also tortillas, huge pancakes, bacon or other breakfast items, so there's that. Come on, you know you want it.