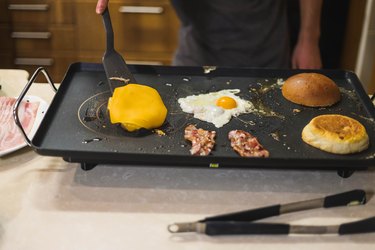 If you've ever made pancakes two at a time in a frying pan while trying to feed a hungry group around the breakfast table, the appeal of an electric griddle is obvious. It's an at-home version of the flat-top cooking surface short-order cooks use in places like diners and sandwich shops. It lets you easily prepare all sorts of things—fried eggs, bacon, sausage patties, pancakes, crepes, French toast, hash browns, grilled cheese, burgers, meats, quesadillas, sautéed veggies and more—on one surface, without working a bunch of skillets on multiple stove burners.
While most electric griddles today have a lot of similarities in design, there are a few important things to think about when buying an electric griddle. And there's lots of variation where performance is concerned, so seek out a reliable recommended product.
Things to Consider When Purchasing an Electric Griddle
​Capacity:​ Typical electric griddles usually have about 200 to 250 square inches of cooking surface. Smaller ones generally offer cooking surfaces of 75 to 100 square inches, while oversized models have around 300 square inches or more of cooking surface. If you only cook for one or two people, a compact electric griddle will probably suffice. If you have a particularly big (or particularly hungry) family, or if you like to make breakfast or brunch for guests, you might prefer an extra-large electric griddle.
​Size:​ Beyond the size of the cooking surface, consider the size and weight of the entire appliance. After all, you will have to use it on your countertop and store it somewhere. Is there a lot of excess material framing the cooking surface? How tall are the legs, and do they detach or collapse? Is it designed for portability? And how much does it weigh? Some electric griddles weigh only around 5 pounds, but others weigh in at over 20 pounds.
​Style:​ Standard electric griddles have one flat, rectangular cooking surface. But there are products like reversible electric griddles that have a flat cooking surface on one side and a grill pan-style cooking surface on the other, doubling as an indoor grill. Some models have two separate cooking surfaces and can fold closed, also functioning a press or panini grill.
​Features:​ Most electric griddles available today have many of the same features, but double check to make sure you're getting the ones you want. These include things like a nonstick cooking surface, a removable drip tray for catching oil and grease, a removable power cord and dishwasher-safe components for easier cleanup (many electric griddles are even submersible after removing the power connection). A "keep warm" setting is a nice feature, too.
​Price:​ As is usually the case with kitchen appliances, the prices for electric griddles vary widely. You can pick up a budget-friendly model for somewhere around $25 to $30, or you can splurge on a high-end piece that runs many hundreds of dollars. Somewhere in the neighborhood of $100 is pretty normal, though. But some of the best electric griddles are sold at bargain prices, and remember that a high price tag doesn't automatically signal high quality and performance.
These factors will help you choose the right electric griddle for your needs and preferences. With that said, we've selected the best electric griddles in 2022: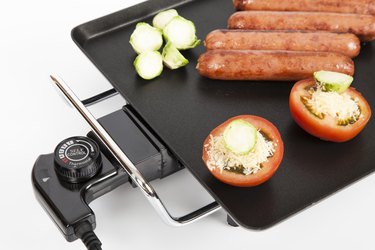 The Best Overall Electric Griddle
Zojirushi Gourmet Sizzler Electric Griddle
This electric griddle has a cooking surface near the larger end of the typical range (237.5 square inches). It's also at the higher end of the standard price range, but it has a lot to offer. That includes durability and exceptional performance—especially its rapid and even heating and its reliability when it comes to maintaining temperature. Its temperature settings range from "keep warm" (176 degrees Fahrenheit) to 425 degrees Fahrenheit.
The ceramic cooking surface with a titanium-enhanced nonstick surface readily releases food—even eggs and melted cheese—and is easy to wipe clean, plus it provides exceptional heat conductivity. The cooking plate and body are immersible, and the whole thing is easy to disassemble at cleanup time. Relatively high sides help prevent splattering, too. It also comes with a lid to accelerate cook time and help keep food warm, as well as a stainless steel spatula.
The extra-long 6-foot power cord is convenient, and at 12 pounds, it's a hefty model, but not unduly heavy for this appliance category. This product also has a helpful safety feature: The indictor light stays on the entire time the machine is on. With many other electric griddles, the light goes off when it's fully preheated, leaving no visual indication of a hot surface.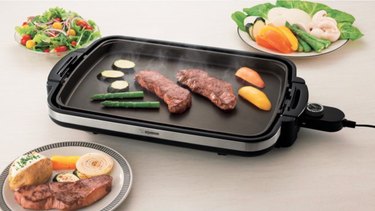 The Best Budget Electric Griddle
BLACK+DECKER Family-Sized Electric Griddle
If you're looking for an electric griddle at the lowest end of the price range that also delivers great performance, choose this affordable product from well-known manufacturer BLACK + DECKER. It has a 200-square-inch cooking surface (enough space for 8 servings) with effective nonstick capabilities. And, importantly, it distributes heat and cooks food evenly.
As for temperature, this appliance goes up to 400 degrees Fahrenheit. A helpful channel along the border collects excess grease to prevent your food from floating in it as it cooks. The base is submersible once you remove the power probe for simple cleanup, and this model also includes a removable drip tray that collects grease and makes it easy to dispose of.
At just over 5 pounds, this is as about as light and portable an electric griddle as you can buy, too. One drawback—a relatively minor one, especially considering the low price—is the notably short power cord; you'll either need to use this electric griddle right next to an outlet or use an extension cord.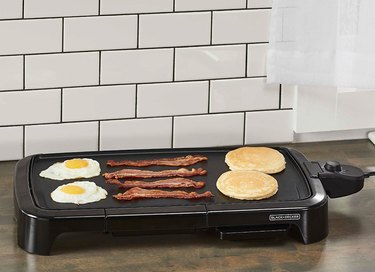 The Best High-End Electric Griddle
Wolf Gourmet Precision Electric Griddle
For any serious cook wanting to splurge on a high-end, high-performance, high-quality nonstick electric griddle that can last a lifetime, this is a great choice. The thick cast aluminum cooking surface heats up extremely quickly, reaching up to 450 degrees Fahrenheit. Built-in precision heating elements heat the 204 square inches of cooking surface perfectly evenly, delivering a flawlessly even cook every time.
This model has a unique stainless steel, dishwasher-safe vented lid. It not only speeds up cooking, but also helps keep food warm (there's a 150-degree-Fahrenheit "keep warm" feature) and lets you steam food on the griddle. Plus, since it reaches a higher temperature than most electric griddles, you can also sear food on it. The temperature knob allows for precise control of cooking temperatures, and there's a convenient preheat indicator light.
A half-inch rim collects excess grease during use. There's also a stainless steel, dishwasher-safe removable drip tray. At 21 pounds, this is no lightweight appliance. But it's an elegant and versatile one you'll be happy to give a permanent home on your countertop, so don't worry about hoisting it.
The Best Compact Electric Griddle
If you just want a little griddle, meet the Liddle Griddle® from Presto. This affordable, space-saving option has just under 90 square inches of cooking surface, which is adequate for three to four servings of food. So, if you only cook for one or two, or if your kitchen is a little short on countertop or storage space, this product is for you.
The die-cast aluminum nonstick cooking surface performs well when it comes to heating quickly and evenly, and it easily releases sticky food and wipes clean. There's a low-heat warming setting, and the temperature goes up to 400 degrees Fahrenheit. A built-in channel gets the excess grease out of the way while you cook.
With the power cord and user-friendly temperature-control knob removed, the appliance is fully submersible in water. This compact piece only weighs 3 pounds, too, so it's easy to stash and remove from any space you find to store it.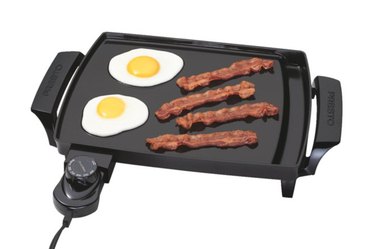 The Best Extra-Large Electric Griddle
Costzon Countertop Teppanyaki Grill and Electric Griddle
If you frequently prepare food for a crowd, this oversized electric griddle will quickly become a favorite piece of cookware. With 315 square inches of cooking surface, there's plenty of space for over 12 servings of food at one time. The premium nonstick coating works well, and it heats efficiently and evenly all along its extended length. There are five temperature settings for heat control.
In addition to using this product to cook, you can use it as a warming tray and serving station at your gatherings, too. There's a cool-touch handle at each end to facilitate moving this large piece around, and it has nonslip feet to keep it steady on your counter or dining room side table. Impressively, it only weighs 6 pounds.
The drip tray slides out easily for cleaning. And, as an added bonus, this electric griddle comes with six wooden spatulas and two egg rings. Whether you're making a big brunch, feeding your kids and their friends grilled cheese sandwiches for lunch, hosting a dinner, having a Korean barbecue party, or otherwise preparing food for a group, this handy electric griddle makes life easier.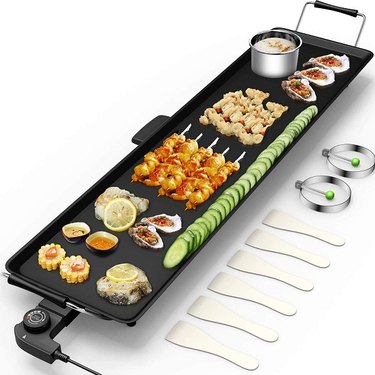 The Best Reversible Electric Griddle and Indoor Grill Combo
Cuisinart 5-in-1 Electric Griddler
It's easy to fall in love with this exceptionally versatile stainless steel Griddler from Cuisinart, a favorite brand in kitchenware. It has two reversible, 99-square-inch, nonstick, dishwasher-safe cooking plates. One side of each plate is a flat griddle surface, and the other side is a grill pan surface with raised ridges. The appliance opens for using both surfaces simultaneously, and it folds closed to work as a press or contact grill.
So, you get a standard-size electric griddle, an indoor grill, a grill pan, a griddle-grill combo, and a panini press. It's a great price for all of that, too. The panini press-style handle and hinged floating cover make it easy to close over foods of varying thickness. Red and green indicator lights let you know when the appliance is on and fully preheated.
This product comes with a dishwasher-safe scraping tool for cleaning the cooking plates, and there's a built-in drip tray. The interface is easy to use and includes a digital display. It's an attractive, compact electric grill and griddle you can use in so many ways and for so many foods, you'll want to keep it out on your counter. But, if you do need to move it around, it only weighs 8 pounds.