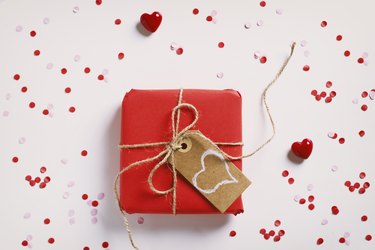 February 14th will be here before you know it, so don't let the Feast of Saint Valentine sneak up on you without clever, thoughtful gifts for the women in your life. Flowers, wine and chocolate are must-haves, but there are plenty of other items she'd likely love to unwrap too. That's why we shopped for the best of the best Valentine's Day gifts for her, each of which you can add to your online cart today to arrive long before the big day.
No matter who you're buying for—your wife, girlfriend, friend, mother, sister or even yourself—any woman is bound to appreciate the 12 gifts we picked out. They range in price point, style and seriousness, but they all say "I was thinking of you" this holiday.
Scroll on for 12 fool-proof Valentine's Day gifts for her. (Don't worry; we'll let you take credit for thinking of them.)
1. POMP Quito Pinks Fresh Flowers
Valentine's Day 101: flowers are always a good idea. POMP offers an array of wow-worthy bouquets that you can add to your online shopping cart right now. This burst of pink flowers would be a winner, as would any of their other arrangements, whether created with classic roses or a variety of blooms. If February 14th snuck up on you this year—oops!—POMP offers nationwide next-day delivery. (Phew!) You can feel good about this purchase too, as their flowers have all been hand-raised on family-owned farms.
2. Cozy Earth Stretch-Knit Bamboo Kimono Robe
There's a reason Oprah is a fan of Cozy Earth. (Their items routinely make the cut for her "favorite things" lists.) Chances are, if Oprah gives the thumbs up to this robe, so will whoever you're buying it for. This design is available in ivory, black or gray and sizes extra-small to extra-large, with a stretch-knit fabric, flattering drape and pockets. The breathable viscose material, which features an enhanced weave and fiber, ensures she'll stay just the right temperature, even through freezing February nights or hot flashes. It'll be her new go-to piece to wear around the house—all thanks to you.
3. Hand-Carved Heart Serving Spoon
While a serving spoon may not seem like the most exciting Valentine's Day gift, this isn't just ‌any‌ serving spoon. This heart-shaped design is hand-made by a collective of artisans in rural Kenya and carved from African wild olive, a durable and seriously beautiful hardwood. She'll be sure to feel the love when you give her this one-of-a-kind spoon. Let this be part one of her gift though; after unwrapping the present, treat her to a home-cooked meal, then use the spoon to dish up her plate.
4. Gleaming Primrose Vanity Tray
There's a reason this elegant vanity tray is one of Anthropologie's best-selling items of all time. Its exquisitely detailed border and mirrored glass evoke a vintage feel that feels right at home in a variety of interior design styles. Choose between the small or large size, or treat her to a set with one of each. Maybe she'll place the tray on her dresser, organizing her most-often-used fragrances and jewelry. Maybe she'll use one to serve you both glasses of Champagne. Maybe she'll place one in a bathroom, adding a hint of glamour to the space. There's no wrong way to use this tray, so chances are she'll adore it.
5. Lele Sadoughi Jet Pearl Airpod Pro Case
Consider this Airpod case a gift for both of you. She'll have a stylish home for her tiniest piece of tech, and you'll never have to hear, "Honey, have you seen my Airpods?" ever again. Win/win. This design is both pretty and practical. It's made with buttery cow leather and ladylike faux pearls, closes shut with a magnetic snap, ensuring the little earbuds stay safe, and features a charging hole at the bottom so she'll have hours of uninterrupted listening time. The dog clip key chain allows her to clip it somewhere she'll always know where to find it, too.
6. Written in the Stars: Astrology Chart Class
If you have a horoscope-obsessed astrology fanatic on your hands, this experiential gift would be sure to delight her. No matter what she knows about her sun, rising and moon signs, she'll learn heaps more with a 75-minute one-on-one with expert astrologer Emily Klintworth. In the appointment, Klintworth will chart her personal forecast, month by month, for the year ahead. To gift this class, simply book a date and time you think would work for her, and write a note about it in a special from-the-heart card. Don't worry too much about the date and time—she can always reschedule if needed.
7. Custom Foiled Notebook
There's nothing quite as satisfying as cracking open a fresh notebook. She'll especially love doing so with a monogrammed one that was made just for her, like this Papier design. With a cover featuring a bold initial and shimmery gold accents, she can jot down her biggest life goals or everyday grocery list—whatever she wants. First, select her initial and paper choice, choosing between lined, plain or dotted, then click 'customize' to add lines of text at the top and bottom of the notebook. It's pretty, it's personalized, it's practical, and it won't blow your budget.
8. Theragun Mini 2.0 Handheld Electric Massage Gun
Massages are great. Being able to work out your sore muscles and painful knots at home at any time, some would say, is even better. Whether she's an athlete or simply aches from the wear-and-tear of everyday life, this Theragun Mini 2.0, a smaller handheld version of the best-selling massage gun, would be a much-appreciated gift. This pocket-sized edition comes with three attachments and three speeds so that she can massage on the go with its ultra-quiet, deep-penetrating technology. If you're lucky, maybe she'll let you borrow it occasionally.
9. The Sill Hoya Heart Cactus
There's no plant more apt to be an ideal Valentine's Day gift than the Hoya Heart, thanks to its green heart-shaped leaves. This mini plant, with a single leaf cutting, measures between two to three inches tall and arrives in a nursery grow pot nestled in the planter of your choice (you can also opt for the nursery grow pot only). Since it's petite, it won't feel like a burden or yet another dependent. If her thumb isn't even the faintest shade of green, don't worry. This is a cactus; the more she ignores it, the better it'll fare, as succulents usually succumb to over-watering.
10. Brooks Wine Better Together Chocolate and Wine Bundle
Few things pair together better than wine, chocolate and Valentine's Day. Brooks, a sustainable, biodynamic winery in Oregon, knows that. That's why they've done the hard work for you, taking the guesswork out of "will this wine pair with this chocolate?" This sommelier-approved bundle includes a bottle of their bright and juicy 2019 pinot noir with two jars of Woodblock chocolate. This gift pack ships nationwide, so it'd make an equally great gift for long-distance parents, newly engaged friends or just because.
11. Where Should We Begin - A Game of Stories
Leave it to Esther Perel, the globally-renowned psychotherapist known for her work with couples, to create the most thoughtful conversation card game. There's no winner or loser with this game though. Instead, with the help of 200 conversation suggestions, you'll learn (even) more about each other. Here's betting there are stories you haven't heard and dreams she hasn't divulged, which you'll get out of each other with prompts like "share something that's changed your worldview" and "a rule I secretly love to break." Play it together or play with friends during your next dinner party. If in-laws or co-workers are involved, you can easily remove the risqué topics, since the cards are color-coded.
12. Lindye Galloway Madelyn Stemless Wine Glass Set
If her wine glasses have seen better days—maybe they're mis-matched, cloudy or barely hanging on from her grad school days—she deserves a new set. Add this set of four stemless glasses from Lindye Galloway to your online cart. They're textured, which adds visual interest and camouflages finger smudges, and dishwasher-safe, so you're not tasking anyone with hand-washing them after indulging in a bottle or two of your favorite gamay. Stemless glasses are ideal for red wines (the heat from your hands can warm up chilled wines) and situations when you don't care to be too precious with a stemmed glass, like a backyard dinner party or cozying up to a campfire.