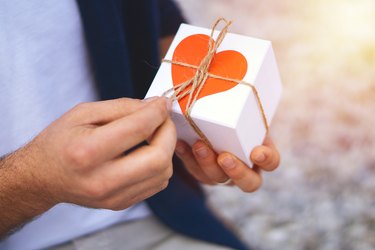 Feeling clueless as to what to get the man (or men) in your life for Valentine's Day? You're not alone. Maybe you blew through your best gift ideas during the holidays, or maybe he's hard to buy for. That's where we come in. To make this day of love your most memorable one yet, we shopped for the best of the best Valentine's Day gifts for him. They range in style and price points, but they'd each be a practical and fashionable addition to his home, pantry or closet.
If you've lost track of the days—oops, did February 14th sneak up on you again?—opt for a gift from Amazon. There are plenty of options from Amazon below that can be delivered fast, especially if you have a Prime membership. Whatever you get him, pair it with a sincere card and perhaps a homemade dinner that you cook together. Chances are, no matter what you get him, he's bound to love anything that comes from the heart.
Whether for your boyfriend, husband, father, brother or any other man you love, here are 12 thoughtful Valentine's Day gifts he's sure to appreciate.
1. Courant Catch:3 Wireless Charging Station
The best gifts are the ones that you secretly benefit from too. (Shh, don't tell him that!) Take this Courant wireless charging station and valet tray, for instance. He'll love having one sleek place to keep all of his essentials, while you won't have to hear "have you seen my keys?" ever again. Win/win. With this charging catch-all, which is available in many colors of both linen and leather, he can charge his phone and Airpods while simultaneously having a home for his other essentials, like keys and wallet, too. The fact that it looks chic on a desk or bedside table is just a bonus.
2. Therabody Wave Series Wave Duo
Shopping for an athlete? This one is for you. If your fella is already a Theragun superfan, consider this Wave Duo his next obsession. Also made by Therabody, the Wave Duo is a portable vibrating muscle relief device that targets all his (and your!) tight areas on your back, neck and spine. It releases soreness while reducing tension and improving movement—and maybe, just maybe, you'll be off the hook from rubbing his neck.
3. WhistlePig 10-Year-Old Rye Whiskey
If you have a whiskey aficionado on your hands, add this small batch of rye whiskey from WhistlePig to his collection. It's been aged 10 years, so no matter how he takes his whiskey it'll treat him (and you and all your guests too, if he's willing to share) to a bold, spicy and layered flavor. Even the pickiest of whiskey drinkers will be impressed. Take it from us, or take it from Wine Enthusiast, which gave it a rating of 96 points, making it one of the highest-rated rye whiskeys of all time.
4. Vintage National Parks Puzzle
For a Valentine's Day gift you can enjoy together, consider giving him this 1,000-piece puzzle, which features retro-style logos and poster designs for various national parks. Not only is it a keep-it-forever gift, but it'll encourage you to put down your phones, turn off the TV and spend quality time together. Better yet? Plan your next visit to a national park—Yellowstone maybe, or how about Zion?—as you're figuring out which piece goes where.
5. Minnetonka Men's Pile Lined Hardsole Slipper
Perhaps you want to treat your Valentine to something he wouldn't buy for himself, like a cozy pair of slippers. This Minnetonka Moccasins pair is a classic. It comes in 11 colors, but the style has stayed consistent for decades, so you know it's a keeper. The hard sole allows them to function both indoors and outdoors, so they're just as great for keeping his toes warm on your cold hardwood floors as they would be while walking the dog or grabbing the mail.
6. MLB Stadium Blueprints
Any baseball superfan would be delighted to receive a blueprint of his favorite stadium. It's thoughtful, unexpected and oh-so-cool. Simply select his team's stadium from the dropdown—which includes Dodger Stadium, Wrigley Field, Yankee Stadium and Fenway Park, for starters. These blueprints are printed on museum-grade archival paper and can be finished in a black frame for an additional fee. They're intricately detailed and make a beautiful addition to a home office or gallery wall. Even if you don't share in his love for America's pastime, you have to admire how elegant this would look on any wall in your house.
7. Topo Designs Rover Pack Classic
Whether your Valentine is an avid hiker, casual camper or a bike commuter, this Topo Designs backpack would be a win of a gift. This is Topo's most iconic daypack design, which is available in a slew of color combinations, from neutrals to vivid colors. With its drawstring cinch closure, adjustable side water bottle pockets, spacious main compartment and padded internal laptop sleeve, it'll come in handy day after day, whether he's headed to work, out for a hike or anywhere else.
8. Red Clay Hot Sauce and Hot Honey Whole Shebang Variety Pack
Hot, hot, hot! This hot sauce and hot honey variety pack is for both spicy and sweet Valentines. If your other half is always spicing up his dishes, surprise him with this pack of three Red Clay hot sauces (including their Original Hot Sauce, Carolina Hot Sauce and Verde Hot Sauce) and two honey sauces (the mild Hot Hot Honey and sweet Spicy Peach Honey). No matter your preferred spice level and no matter what's for dinner, it's bound to add a kick to your at-home cooking adventures.
9. Nike Men's Court Legacy Next Nature Shoes
We've never met a man who'd turn down a fresh pair of kicks—especially a cool, classic, retro design like these Nike gymnastic shoes. They're versatile for all kinds of outfits and (bonus!) you can select a design that he'll not only love but that you'll love to see him in. Choose between a variety of color combinations, from white with a cerulean swish to gold with a white swish, amongst others. All of the available designs are bound to have him feeling extra stylish.
10. Marshall Uxbridge Voice With Amazon Alexa Bluetooth Speaker
He'll love you forever (as if he wouldn't already!) when he unwraps this Marshall Bluetooth-enabled speaker. It blends a vintage vibe with of-the-moment technology, as it features Amazon's Alexa voice assistant for precision and intuitive control. Since it's compact, this plug-in speaker can move from room to room, delivering warm, rich tones no matter where he puts it. This is the priciest option on this list, but he's worth it, right?
11. Ostrichpillow Eye Mask
You know you've reached a certain stage of adulthood when the greatest gift of all is a good night's sleep. This Ostrichpillow eye mask helps achieve those precious zzzs. With 3D ergonomics, it adapts perfectly to the shape of his head, while the contoured eye cavities won't place pressure on the eyelids. This ultra-soft eye mask provides complete darkness and machine washes wonderfully, so it'll look like new night after night.
12. Momofuku Original Chili Crunch Multipack
You may not be able to visit a David Chang restaurant to celebrate Valentine's Day, but you can treat him to Momofuku's chili crunch variety pack instead. The three-pack includes the original, black truffle and extra spicy chili oils, all of which will make your home-cooked meals feel a bit more restaurant quality. Add a drizzle to eggs, pasta, pizza, noodles, sandwiches—you name it. It's a gift that'll be sure to spice up your dinners, and maybe your life too.