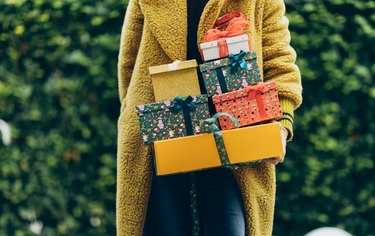 As a professional online shopper (AKA Commerce Editor), you would think that I would complete my holiday shopping well ahead of time, scoring the best Black Friday deals on all the gifts on my list, but that is certainly not the case. When procrastination gets the best of me, I turn to Amazon for last-minute gifts with lightning-fast shipping. (Tip: Look out for the 'Arrives Before Christmas' label next to the 'Add to Cart' button.)
Editing hundreds of shopping articles this year has left me with a long mental list of gifts that I would buy (or in a few cases have already bought) for my loved ones. I've included a wide range of Amazon products that are broken down by personality type to help make your last-minute shopping as seamless and as stress-free as possible. Godspeed, fellow procrastinators!
This inflatable travel pillow might be slightly embarrassing to use in public, but if you have a hard time falling asleep on long-haul flights, it's totally worth it. It inflates in just five breaths thanks to a high-efficiency, dual-valve design and tucks away into a drawstring bag when not in use. There are openings for your face and arms, and it can be used a number of different ways, whether you prefer to rest with your face down or to the side. It also comes with an eye mask and ear plugs.
For the Photography Hobbyist
I bought this hybrid instant film camera for my husband, who is single-handedly keeping the disposable camera industry afloat. Unlike earlier generations of Instax cameras, this one allows you to preview and edit the images you've shot before deciding whether to print them or not. It has 10 different lenses and 10 film effect options, so there are countless ways to art direct your photos. The analog-style camera can shoot in landscape or portrait mode and has a built-in selfie mirror. Using the free app, you can print photos that you took on your smartphone or save printed images to your smartphone to share them on social media.
For the Hydration Enthusiast
Is there such a thing as a status water bottle? If so, this Stanley tumbler is definitely it. The 40-ounce Adventure Quencher features double-wall vacuum insulation to keep beverages hot or cold for hours. You can sip water from the straw, wide-mouth opening, or by removing the full-cover top. It's made from BPA-free 18/8 stainless steel and is dishwasher-safe for easy cleaning. The travel tumbler fits in most cup holders and has a convenient handle for toting it around. It comes in 12 eye-catching color options and multiple sizes if 40 ounces is too much for your gift recipient to handle.
Funky candles are having a moment—in fact, we recently dedicated an entire article to them. If you're in a time crunch and can't go the handmade route, these two-packs of bubble candles are a great option. Each boxed set comes with one white candle and another that's either blue, green, pink, purple or yellow, depending on which one you choose. They're made of soy wax and feature various floral scents. Whether the gift recipient opts to burn them or simply use them as decor, these trendy bubble candles are sure to be a hit.
I've been thinking about these compact travel blankets since we first featured them in a roundup of Nordstrom Black Friday deals in 2021. Rumpl's Original Puffy measures 52 inches by 75 inches but fits into a drawstring bag that's only 7 inches by 16 inches when packed. The blanket is machine-washable and water-, odor-, and stain-resistant. The lightweight insulation provides plenty of warmth and the materials it's made of are 100% recycled. This style is suitable for one person, and you can even turn it into a cozy cape thanks to a clip and corner loops. It's sold in 19 different colors and patterns, so you're bound to find something your gift recipient will happily take along to the ice skating rink or campsite.
I have owned this expensive-looking (yet surprisingly affordable) electric kettle for several years. While it doesn't have any fancy features such as temperature precision, it does bring 27 ounces of water to boil in about five minutes. It's sold in matte black or chrome, complete with a heat-resistant cork handle and knob. It's great for making pour-over coffee or a cup of tea, and it's pretty enough to leave out on my countertop when it's not in use.
Anyone who's ventured into the aesthetic side of TikTok knows about these drinking glasses. This set includes four can-shaped glass cups, four bamboo lids, four glass straws and two cleaning brushes. The glass can withstand temperatures between -68 degrees and 212 degrees Fareinheight, so they're suitable for hot and cold beverages. The glasses are dishwasher-safe but the bamboo lids should be washed by hand after each use. Just imagine the swirls of cream while sipping cold brew from these incredibly boujee-looking drinking glasses!
For the Adventurous Home Cook
You don't need a lot of space to cook authentic stone-baked pizzas. The Ooni Koda 12 gas pizza oven measures 24.4 inches long, 15.5 inches wide and 11.7 inches high, so you can place it on something as small as an outdoor bistro table. It reaches 950 degrees Fahrenheit in 15 minutes and cooks 12-inch, personal-sized pizzas in just 60 seconds. Beyond the pizza oven body, the set includes a cordierite stone baking board and a gas regulator and hose to connect to a propane tank. The legs fold up to make it easy to store and the entire unit weighs approximately 20 pounds.
If your gift recipient is always picking up a new hobby, get them this epoxy resin kit for beginners. It's got everything they need to get started, including epoxy resin and hardener, six resin pigments, four different-shaped silicone coaster molds, measuring cups, mixing sticks, faux gold flakes, disposable gloves, droppers, tweezers, silicone sticks and three types of mica powder. The resin is crystal clear and the pigments are easy to blend. Overall, this kit offers great value and hours of creative fun.
Charcuterie boards are great and all, but they don't rotate. A Lazy Susan provides all of your guests with equal access to the brie, prosciutto, figs, crackers and whatever else you include in your spread. This white marble turntable with subtle gray veining measures 12 inches in diameter. The attached base is weighted for stability and has three felt pads to prevent it from scratching your dining table. Gift this Lazy Susan to the hostess with the mostess to use at their next dinner party or holiday event.
This harvest basket is ideal for carrying fruits, vegetables, flowers and tools to and from the garden. It's made in the U.S. and features heavy-duty wire mesh, pine ends, birch dowels and a steam-bent 0ak handle. The basket has a 16-quart capacity and measures 19.25 inches long, 11 inches wide and 7.25 inches deep. The wire mesh makes it easy to rinse your bounty with a garden hose and allows the water to drain quickly. It's sturdy and well-made, able to carry everything from lightweight lettuce to heavy potatoes. It could also serve as a magazine or log holder during the winter months.
Have you ever played an outdated version of Trivial Pursuit with your family, only to be stumped by questions about things that happened decades before you were born? This family-friendly board game solves that problem by including questions that correspond to different generations, including Baby Boomers, Gen X, Millennials and Gen Z. You advance around the square-shaped board by answering trivia questions from each of the four generations—the winner is the first person to make it all the way around. Trivia categories include TV/Film, Pop Culture, Music, Headlines, and Slang/Slogans, but there are also action cards that require you to act, hum or dance.
For an heirloom quality gift that won't break the bank, opt for this Le Creuset pie bird. What's a pie bird, you ask? Well, it's a hollow tool placed in the center of a pie to release steam and prevent the filling from bubbling over. This one is made from premium stoneware to provide even heat distribution and has a royal blue glaze that's nonporous, non-reactive and scratch-resistant. It's also resistant to stains and flavor absorption, so it holds up over time. This 5-inch bird can withstand temperatures ranging from -9 degrees to 500 degrees Fahrenheit, meaning it's safe to use in the freezer, oven, microwave, broiler and dishwasher. Pick one up for the avid baker in your life, and hopefully, they'll reward you with delicious pie this holiday season.
This Tommy Bahama model was named the "Best Beach Chair Backpack" in a roundup we published over the summer. During my trip to Oahu in August, I saw them everywhere I went and vowed to invest in one for myself someday. The five-position reclining chair can lay completely flat if you want to get some sun or take a nap. It also boasts an insulated cooler and storage pouch on the back for keeping your hard seltzers nice and cold. Next to the right armrest, there's a cup holder and cell phone pocket, and on the backside, you'll find a convenient towel bar. The backpack straps are padded for comfort, and the chair can support up to 300 pounds. While pricey, this beach chair is certainly worth the splurge.
This funky hanging planter will give your gift recipient disco fever. Measuring 8 inches in diameter, the planter comes with a 25-inch chrome chain that's quick and easy to attach once you take it out of the retro-inspired packaging. There's no drainage hole, so you may want to leave your plant in its original container and take it out of the planter to water it. Light dances all around the room when the sun hits the disco ball planter—it's truly a dazzling sight!