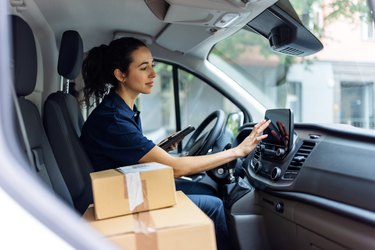 Holiday traditions, like tipping mail carriers, will never go out of style. Mail carrier Christmas gifts are also nice and can be more personalized than a few dollar bills in an envelope. People often struggle with this, though, because they do not know how much to give a mailman for Christmas. What is the appropriate amount to give postal carriers?
How to Tip Your Mailman or Mailwoman
Can you tip your mailman? Believe it or not, tipping mail carriers is technically against the law. That's right: Federal regulations forbid postal workers from accepting cash and cash equivalents. They are permitted to accept gifts worth $20 or less, however. Some people ignore or simply don't know this rule, and according to some sources, close to 40 percent of people surveyed claimed that they tipped their carrier.
Many mail carriers will leave holiday cards in mailboxes on their route that include the carrier's name and possibly even his address. While some municipalities frown upon this, it is not an uncommon practice. It can be helpful for people who want to provide tips or gifts if they don't know their carrier's name.
Noncash Gifts for Mail Carriers
Don't give your mail carrier cash or a cash equivalent if you want to stick to the law. You can choose a thoughtful gift priced at $20 or less, which is likely what you might want to spend anyway. There are plenty of creative, inexpensive postal carrier gifts that you might consider.
One is a pair of touchscreen-compatible winter gloves. Another idea is a tumbler with the words "first class mail lady" (or mail man), and a third nice gift is everyone's favorite: tasty holiday goodies, like cookies.
Other Guidelines for Holiday Tipping
It may be helpful to review suggested tip amounts for all the people who help you out during the year. For USPS tipping, you should give only gifts under $20. If you get regular FedEx or UPS deliveries, you might want to give them around $15 or gifts up to $25.
For your hairstylist, plan to give her the cost of one haircut if that is in your budget. Otherwise, your stylist will appreciate $20 to $100 depending on how often you frequent the salon. For manicurists, $10 to $50 or a small gift is fine. If you have a babysitter, it's nice to give him an extra evening's pay plus a small gift from your child. Give teachers and day care providers gifts but check with them first about their policies.
Do you have a housekeeper? Give that person one week's pay for her services. If you live in an apartment, consider giving the doorman $20 to $100, the custodian $30 to $100 and anyone else who assists you regularly $10 to $50. Dog walkers should get the cost of one session, and you can give the groomer up to half the price of one session; small gifts are another option. Do not give out more than you can afford but try not to forget anyone on the list who has been kind to you over the past year.