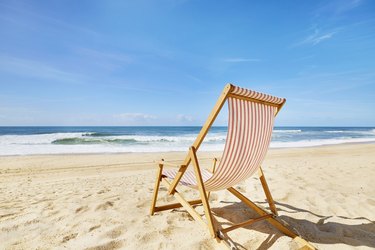 The right beach chair can add a lot of comfort to your beach day. Sure, beach chairs can be cumbersome to carry, but they don't have to be. Most beach chairs fold for easy transportation, and some come in the form of a backpack so your hands are free to carry all your other beach gear.
Beach chairs are way more than just a low-to-the-ground, flimsy place to park yourself while enjoying the view. They've come a long way and now offer all kinds of bells and whistles to make your beach day even more enjoyable. Although, you can still buy a basic, flimsy type of chair for cheap if that's what you prefer.
If comfort and convenience are what you're after, you might want to consider a reclining beach chair that offers several reclining positions—especially if you have back pain or if you want to live your beach life in maximum relaxation mode. The best beach chairs offer several other features, like cupholders or cushioned headrests. You just need to decide what's worth paying for and what isn't.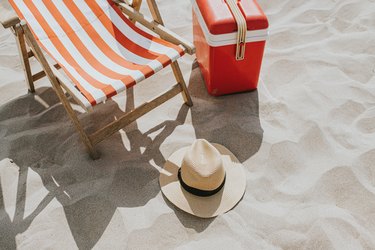 What to Consider When Purchasing a Beach Chair
‌Comfort:‌ You bring a chair to the beach because it's a more comfortable seating option than the sand, so you might as well buy one that's actually comfortable. Not all beach chairs are created equal. Some have more padding than others, some recline, some have a built-in pillow and others just offer the basics of a chair. Not only should your beach chair be comfortable to sit in, but it should also be comfortable to carry.
‌Portability:‌ Most beach visits require lugging all your beach gear from the car or from home. If you have to walk a bit to get to your beach spot, you might want to consider a backpack beach chair so you can have your hands free for the rest of your beach essentials. If portability isn't an issue, you can consider all the beach chair options without worry.
‌Price:‌ The price of a beach chair can range from as low as $15 to upwards of $150 or more. The chairs on the lower end tend to be pretty flimsy without any bells and whistles, while the more expensive chairs are typically sturdier, more comfortable and will likely have some extra features. You can get a solid, long-lasting beach chair for somewhere in the $50 range.
‌Extra Features:‌ Extra features aren't always necessary on a beach chair, but they can certainly be nice to have. You can find beach chairs that have cup holders, multi-position recline, storage pockets, sun canopies, pillows, foot rests and even built-in coolers.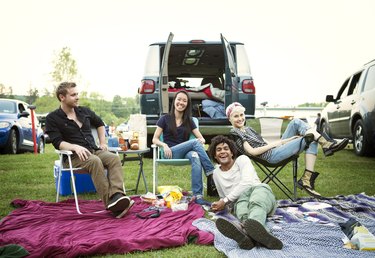 The Best Overall Beach Chair
It's hard to beat a lightweight chair that offers hands-free portability, a cup holder and a storage pouch. The Rio Beach Backpack Chair is our top pick because it's designed to bring you as much joy as a beach chair should.
It has four easy to adjust reclining options; an attached storage area on the back for your sunscreen, keys, phone and other beach essentials; a convenient cup holder and an adjustable pillow.
The aluminum frame is rust-proof, which is essential for a chair that you'll have so close to water. Even for tall folks, the chair is comfortable with a seat height of 11 inches and a weight capacity of 240 pounds. Choose from royal blue, navy, striped or lime green.
The Best Budget Beach Chair
There aren't any special perks with this beach chair (other than it keeping your butt off the sand), but it's an affordable option that also happens to have a summery design. The basic folding chair is compact and comfortable and weighs less than 5 pounds for easy portability.
The low-profile lounge chair features a heavy-duty, rust-resistant steel frame and durable, weather-resistant polyester fabric. It's cheap enough to buy one of these chairs for the entire family without breaking the bank. Its weight capacity is 225 pounds.
The Best Lightweight Beach Chair
Your walk to the beach will be a little less excruciating with the Helinox Beach Chair that clocks in at only 4 pounds. Its lightweight aluminum alloy poles can hold up to 320 pounds, and a comfortable headrest allows you to secure a pillow for optimum relaxation.
The seat is made of durable polyester that'll get you through summers at the beach, and it's machine-washable for added convenience (which is great, because we all know how messy the beach can get).
This beach chair can also double as a camping chair, packing down into the included carrying bag more compactly than most camping chairs. It does require a bit of assembly, but it's quick and easy—the poles practically assemble themselves, and then all you have to do is pull the mesh over the ends of the poles.
The Best Beach Chair Backpack
It may seem pricey, but you get what you pay for with the Tommy Bahama Beach Chair. Not only is this deluxe five-position reclining chair comfortable to lounge in for a full day at the beach, it lays completely flat so you (or your kiddo) can take a nap. You can also comfortably wear it on your back for your walk to the beach.
It features an insulated cooler and storage pouch on the back so your beverages and sunscreen are just a small reach away. There's also a side pocket cell phone holder and a cup holder for aforementioned beverages, as well as a towel bar for your beach towels. The lightweight, rust proof and durable aluminum frame and 600-denier polyester fabric can hold up to 300 pounds.
The Best Beach Chair for Kids
It doesn't get much cuter than this personalized umbrella set for kids. It's a great place for your child to sit at the beach (so they don't have to keep stealing your chair), but it's also ideal for hanging by the pool or any summer outing. Plus, they'll feel pretty cool that they have their very own chair.
The foldable chair comes with an attached umbrella that's adjustable to provide shade at any angle, and the most exciting part is that it can be personalized with your child's name. The chair is available in blue or pink and can hold up to 66 pounds.
The Best Beach Chair With Canopy
If you're committed to enjoying the beach but also committed to sun protection, this chair is a great option. The backpack-style chair features a four-position reclining backrest with an adjustable sun shade canopy to give you shade when you need it. Backpack straps offer hands-free carrying.
The chair also has a cup holder, a large storage pouch, a pillow and ventilated seating with mesh paneling—that way your back gets some of that ocean breeze. This chair is a little heavier that others on our list at just over 10 pounds.
The Best Beach Chair With Footrest
As a beachgoer, if you dream of relaxing on a chaise lounge while watching your family frolic in the sand, your dream can come true with Sport-Brella's beach chair. It features a footrest that can easily be unclipped when you don't want to use it, as well as a full coverage umbrella with UPF 50+ protection and the ability to swivel three ways for maximum sun coverage.
It also has a cup holder and insulated storage pocket with a built-in bottle opener. The lounger weighs about 10 pounds, comes with a carrying case and can hold up to 250 pounds. There's also an option for a beach chair without a footrest at the same price.