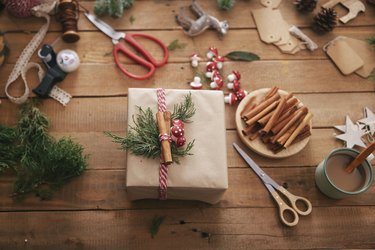 eHow is all about exploring hobbies and making things from scratch, but we don't shy away from trying out new products that enrich our DIY lifestyles. Our editors spend countless hours writing and reading about trending products in the cooking, crafting and gardening spaces, making sure that our picks are actually worth buying. This holiday season, we've decided to put our shopping expertise to good use by compiling a list of gift ideas. These are either products we've personally tested and loved or gifts that we're hoping to spot underneath our own trees. Keep scrolling for 10 editor-approved gift ideas that are bound to be a hit with the creative people in your life.
Diana Aydin, Managing Editor
1. LovelyLittleUglies Polymer Clay Chicken Earrings
One of my favorite hobbies is searching for quirky jewelry on Etsy. And these hand-painted dangling chicken hoops from LovelyLittleUglies do not disappoint—they make such a memorable, one-of-a-kind gift. Made from polymer clay with a glossy finish, they're super lightweight (a big thing in the world of dangling earrings!) and the 25-millimeter gold-plated hoops keep their shape wear after wear. Plus, they come in fun colors and patterns to wake up just about any wardrobe. Bonus: These earrings are a great holiday party conversation starter—just think of all the poultry jokes you can make!
2. Chamberlain Coffee Cold Brew Singles, Variety Box
We all know that one person who only drinks iced coffee even in winter, and is always trying to get hot coffee drinkers to join them in their cold coffee shenanigans. Spoiler alert: I am this person! So it makes sense that one of my favorite gifts is Chamberlain Coffee's Cold Brew Singles Variety Box, from everyone's favorite YouTuber Emma Chamberlain. These travel-friendly coffee bags are ingenious and adorable. It's like a tea bag (but coffee) that you steep in a cup of water overnight in the fridge. The results the next morning? Soooo good! Just add ice. The Variety Box comes with five organic coffee flavors and is super giftable thanks to the whimsical packaging. Pair it with Chamberlain Coffee's Can-Shaped Cup Set and you've just brewed the perfect present!
3. The Homebody Society Custom Address Stamp
Several of my friends have purchased homes, gotten married or made cross-country moves over the past year—and these custom address stamps make for small but incredibly useful go-to gifts. The Homebody Society offers a huge array of personalizable stamps (with varied fonts, designs and wood handle options), so a digital gift card might be the way to go if you want your recipient to have total creative control. Stamps—and a whole slew of other products, from engraved wooden spoons to laser-engraved ornaments—are made by artisan Kelly Parker Smith in Belleville, Illinois. The best part? You'll get to see the fruits of your gifting when a thank you card arrives in the mail, stamped and sealed!
4. Taste of Mokaya 12-Piece Box
I live in Grand Rapids, Michigan—also known as Beer City, USA. Grand Rapids is situated within 30 minutes of more than 40 incredible craft breweries, but it also houses my all-time favorite artisan chocolate shop: Mokaya. This family-owned cocoa dreamland and cafe is known for its inventive, vibrantly painted truffles and other sweet treats that incorporate everything from local craft beer flavors (evident in the shop's Beer Flight Truffles, which are always flying off the shelves) to imported ingredients. For $35, you can sample a little bit of everything with the 12-piece Taste of Mokaya collection—it even comes with a truffle and bonbon guide.
Kelsey Pudloski, Commerce Editor
5. Boska Ceramic Fondue Pot Set
First, there were charcuterie boards, then there were butter boards. In 2023, I'm advocating for fondue boards—elaborate spreads of various foods that I can dunk into gooey, melted cheese. This modern fondue set is designed for four people and includes a 44-ounce, dishwasher-safe ceramic pot, an oak base, four fondue forks and a burner. The pot is even safe to use on a gas stovetop if you want to speed up the melting process. Gift this set to the cheese or chocolate lover in your life and you're sure to score an invite to their next dinner party.
6. PunchyStuff Punch Needle Coaster Kit
I have four nieces and nephews and have purchased many kids' craft kits over the years. I'm not a huge fan of kits from big-box stores that contain a million little pieces and hard-to-read instructions. This beginner-friendly punch needling kit from the PunchyStuff Etsy shop was designed and curated by a Chicago, Illinois-based fiber artist, and would be a great gift for preteens and beyond. All of the materials are included in a drawstring project bag, and you can opt to purchase the kit with or without a punch needle. It yields three 4-by-4-inch coasters in a flower, smiley face and check pattern. A full set of instructions is included, and the gift recipient will also get access to quick-start videos that make the craft super easy to pick up.
7. Luzdiosa Candle Warmer Lamp
If you have a candle lover on your holiday shopping list (it's me, hi), but aren't sure what their favorite scents or brands are, a candle accessory is a solid option. I dedicated an entire article to this vintage-inspired candle warmer lamp, which I first came across on TikTok. It's a safer alternative to an open flame, especially if you have pets or young children, and adds instant cozy vibes. A 50-watt halogen warming bulb gradually melts the wax, releasing its scent. There's a dimmer on the cord and enough space between the wooden base and fluted glass lampshade to accommodate jar candles. You get an extra halogen bulb with your purchase and can opt for a clear or golden-hued lampshade. I use mine almost every day, especially now that the sun sets so early in the evening. It's the perfect winter pick-me-up!
Spencer Hall, Commerce Editorial Assistant
8. Brieftons Quickfold 5-Blade Spiralizer
I received this as a Secret Santa gift and love it for its wide range of possibilities. In college, I was spoiled by dining hall food that was both delicious and nutritious, and even now, I'm often craving something light and full of vitamins (that isn't just a cold salad). Enter the Brieftons Quickfold Spiralizer. It's been great for making veggie noodles and pasta out of zucchini (my #1), carrots and peppers, which is mostly what I use it for, although I've also had some success using it to make onion rings in the air fryer. The spiralizer is pretty easy to use, and cleanup is a cinch. Even if you're not vegetarian (I'm not) or allergic to gluten, the veggie noodles you can make with this are not only eye-catching but also a unique, tasty way to "disguise" veggies for people who aren't big on them.
9. KitchekShop Portable Cordless Mini Food Processor
While this isn't the exact same mini food processor from TikTok that I tested (that one's currently out of stock), this one from KitchekShop has the same merits: portability and convenience. If you're like me, you sort of enjoy cooking but would like it more if you could speed up processes like slicing and chopping. And if you don't typically have to make enough food to feed many people, it can be hard to feel motivated to try something new. Not so with a mini food processor! It's so easy to chop or even puree fruits and veggies to make salsas, applesauce and even hummus, and since cleanup is a breeze, it's easily worth the little effort required to whip up something fresh and tasty, even if it's just for one or two people. This is a great gift for newbie foodies who like to try new recipes but don't need to make a ton of food or those who are short on kitchen storage space.
Catherine Flanagan, Director, Operations
10. CUCKOO CR-0655F 6-Cup Micom Rice Cooker
If you are looking for a quality rice maker, look no further than the Cuckoo rice maker. As one of the top, most-trusted brands in Korea, you know that the end result will leave you with the best and most flavorful rice. The 6-cup model is good for a two-person family, and the 10-cup option is great for a four-person family. Both rice cookers have multiple cooking modes, so you know that you'll have perfectly cooked rice with superior taste and texture, regardless if you cook brown rice, white rice, quinoa or even a mix of all three. My favorite feature is the Keep Warm button, which allows you to leave the rice in the pot for up to 24 hours with little-to-no difference in freshness, taste and texture. Seriously, I can never go back to another rice cooker. Cuckoo has spoiled rice for me for life.