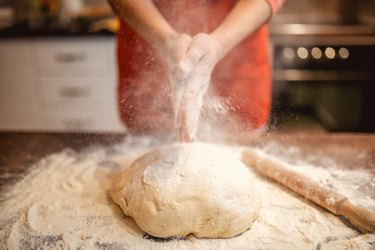 Why bake your own bread, when it's so easy to just buy a loaf? There are a lot of possible answers to that question. One is that store-bought bread is often barely adequate, and we don't all have the luxury of living near a good artisanal baker. More importantly, though, baking your own bread is deeply satisfying in ways that are hard to express. If you haven't baked your own bread before, or only just took it up during the pandemic, here's a guide to a dozen of the top baking tools you'll need to turn out loaf after loaf of enviable, Instagram-worthy homemade bread.
1. Sofease Original Danish Dough Whisk
Forget your granny's wooden spoon. As European bakers will affirm, ‌this‌ is the ultimate tool to use for hand-mixed doughs and batters. The multiple loops—made of heavy-gauge stainless steel—cut easily through stiff doughs, bringing your wet and dry ingredients together with efficiency that rivals a stand mixer. There are lots of these Scandinavian whisks available, but we like the Sofease for its extra-long handle and for the gap-free join where the loops meet the handle (no place for gunk and bacteria to stick). Eventually, you'll need to turn out your dough on a floured countertop and knead it, but the dough whisk will bring you to that point quickly and easily.
2. OXO Good Grips 3-Piece Mixing Bowl Set
Along with the dough whisk, you'll need an appropriately-sized mixing bowl for your ingredients, and you can't go wrong with this set of three from OXO. The 5-quart size holds enough dough for three to four loaves (depending on size); the 3-quart is good for smaller batches, and the 1 1/2-quart size is useful for whisking liquid ingredients together before adding them in. They're lightweight, easy to handle, and the non-slip bottom helps them stay in place while you're mixing your bread. They aren't the cheapest mixing bowls, but they're well designed and well made, which is why they were one of our top picks in that category.
3. Frieling Brotform Banneton Bread Proofing Baskets
If you want to turn out an artisan loaf that looks truly bakery-worthy (or Instagram-ready), you're going to need a ‌banneton,‌ or proofing basket, like these ones from Food52. Made from natural cane—a very sustainable material—they support your dough at its most fragile (while it's rising) and give it the distinctive rings that are the hallmark of an artisanal ‌boule‌. Once the dough is risen, you'll carefully invert the basket onto your baker's peel (more on that below) and slide it onto the baking stone in your oven (we'll get to that, too!) to bake up tall and crusty. They're available in round, oval, rectangular and baguette versions and in multiple sizes to suit whichever type of loaf you usually bake.
4. Baker of Seville Bread Lame
Doubtlessly you've noticed that professional bread bakers slash their loaves with decorative cuts. Their purpose is actually practical, because those slashes give the bread room to expand without "blowing out" the crust and becoming misshapen. You can slash your bread with a really sharp knife, if that's what you've got, but the pros use a simple tool known by its French name, the ‌lame‌. The actual cutting is done by actual old-school razor blades (spoiler: they're razor-thin) mounted to a lightweight handle.
This one from the Baker of Seville is an excellent choice, with its stainless-steel handle and easy thumbscrew for changing blades. You can attach the blades so they're straight (for standard cuts) or curved (for the deeply undercut "ears" you see on artisanal loaves), meaning you essentially get two tools in one. Oh, and it's guaranteed for life.
5. Heritage Acacia Wood Pizza Peel
Like a ‌lame‌ or a ‌banneton‌, this is for anyone who's keen to bake artisanal breads at home (an obsession many of us developed during the pandemic). A peel is the wide paddle you'll see bakers and pizza-makers using to slide their loaves or pies into their big commercial ovens, and it's a decidedly useful thing for home bread bakers as well.
When your bread has risen fully, dust the wooden peel generously with flour, cornmeal or semolina and turn the dough out of the ‌banneton‌ onto the peel. Slash it with the lame, and then use your peel to slide it into the oven and onto your baking stone or steel. This particular example is made from beautiful, durable, sustainable acacia wood (you'll want to leave it out as a decoration between uses), and was a top pick in our recent roundup of pizza peels.
6. Cucina Pro 5/8-Inch Cordierite Rectangular Baking Stone
The final piece in the artisan-loaf puzzle is a baking stone (you may know it as a "pizza stone;" it's the same idea). This is a thick slab of a heat-absorbing material that acts as a surrogate for the stone or stoneware hearth found in many traditional and commercial bread ovens. This one from Cucina Pro is an excellent example of the type. It's a hefty 5/8 inch thick and measures 14 by 16 inches, so it will fit most home ovens.
Preheat the stone for about an hour, while your bread rises, then slide your loaf from the peel directly onto the hot surface of the stone. Your bread will bake up light and crusty, and the stone's heat retention will cushion the impact of the oven's burners cycling on and off. You can take it out between uses (it's thick enough not to break easily) or just leave it in place, where it will help eliminate any "hot spots" your oven might normally have.
7. USA Pan American Classics 1-Pound Loaf Pan
So what if you aren't into fancy-schmancy artisan loaves, and just want to bake regular loaves for slicing and sandwiches? You can't go wrong with this offering from American Pan, which is our overall favorite loaf pan. It's made of sturdy aluminized steel for durability and heat distribution; plus, your loaves will release easily from the pan thanks to the company's patented Americoat nonstick surface. The big handles at either end of the pan make it easy to grip even with oven mitts on, and it carries a limited lifetime warranty.
8. KitchenAid Pro 600 Series 6-Quart Stand Mixer
It's perfectly possible—and very satisfying—to make bread by hand, and our ancestors did it for thousands of years. That doesn't necessarily mean you'll ‌want‌ to do it that way, and if you'd rather bring in some mechanical assistance, we don't blame you one bit. KitchenAid stand mixers aren't purely a wanna-bake-bread purchase and you can use them for lots of other things.
If you're going to get one, go for the gusto and get a lift-bowl model like this Pro 600 series unit. Aside from the larger bowl and more powerful motor, they use a special spiral-shaped dough hook that works just like the ones in those big professional mixers. It'll handle larger batches without the dough climbing up the hook, and provides an altogether better bread-baking experience than lesser models.
9. Zojirushi Home Bakery Virtuoso Plus Breadmaker
The alternative to a stand mixer, if you want mechanical assistance, is a dedicated bread maker. It's less versatile, but it brings that set-and-forget convenience to your bread-baking game. If you're going that route, there are many low-cost bread machines that will give you a passable loaf of bread, but Zojirushi's Virtuoso Plus is one of the very few that will give you ‌outstanding‌ bread.
With 15 separate cycles for different types of loaves (including gluten-free), plus three memories for programming your own cycles, you can tailor the baking process for each loaf. The rectangular pan bakes normal-looking loaves of up to 2 pounds (not the oddly square loaves you get from most machines), and the loaves bake perfectly, thanks to the Zojirushi's unique design with a second heating element in the lid for even heating. No more gummy, doughy loaves!
Of course, if you prefer, you can also simply have the machine mix up your bread for you and then bake it conventionally in the oven. It's our absolute favorite no-compromises bread machine.
10. Five Two Silicone Oven Mitts (Set of 2)
What goes up must proverbially come down, and what goes into the oven eventually has to come out. When that moment arrives, you'll want a pair of good oven mitts, and it's hard to do any better than these ones from Food52. The popular site canvassed members of its (really active) community to find out what they wanted in an oven mitt, and incorporated that feedback into this design.
The end result was a silicone mitt with superior heat resistance (up to 650 degrees Fahrenheit), a long cotton cuff to protect your arm from burns, and a comfy liner. It's machine-washable as well, and should last through many years of avid baking. There are cheaper oven mitts out there (lots of them!), but these are among our very favorites.
11. "The New Artisan Bread in Five Minutes a Day" by Jeff Hertzberg and Zoë François
Once you're all geared up, you're going to want some recipes to try. There aren't many starting points better than this one, a 2013 update of the original 2007 bestseller. The product of an unlikely partnership between a doctor and a trained baker, it focuses on the low effort, no-knead style of bread-making (a great starting point for any novice bread baker, or anyone who's pressed for time). Millions of these books have been sold, which tells you everything you need to know about how well the whole process works.
12. "Mastering Bread: The Art and Practice of Handmade Sourdough, Yeast Bread, and Pastry" by Marc Vetri and Claire Kopp McWilliams
No-knead breads, despite their popularity, are only one of the many, many styles of artisan breads. For a broader look at what other kinds of bread you could be making (and techniques you could be using), you'll need a bigger-picture book, like this one from legendary baker Marc Vetri. It covers everything from sourdough bread to bagels to rich brioche and challah, and provides tons of professional-grade insight into all aspects of bread baking.
If you're looking for alternatives, Ken Forkish's "Flour, Water, Salt, Yeast" and Peter Reinhart's "The Bread Baker's Apprentice" are also very good and very informative, and have their own legions of fans. Better yet, take a look at all three, if you can, and decide which baker's writing style and recipes are the best fit for you personally.