This spicy cajun shrimp dip is the most creamy, cheesy, and delicious appetizer that's perfect for summer entertaining. It's an easy and quick dish to make that's just bursting with flavor and spice. Make this spicy cajun shrimp dip today!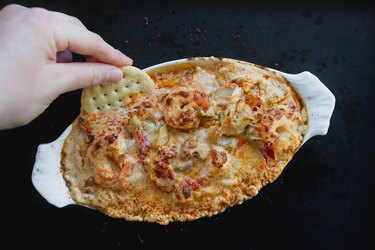 Things You'll Need
2 teaspoons paprika

1 teaspoon cayenne pepper

1 teaspoon dried oregano

1 teaspoon dried basil

1 teaspoon dried thyme

1 teaspoon onion powder

1 teaspoon garlic powder

5 tablespoons unsalted butter

1/2 small red onion, diced

2 garlic cloves, minced

1 small red pepper, diced

3 medium celery sticks, diced

1-pound (450 grams) shrimp, cleaned

8 ounces (226 grams) cream cheese, at room temperature

1/2 cup sour cream

4 ounces (113 grams) parmesan cheese, grated

Salt and pepper, as needed

Crackers and toasted bread, for serving
Step 1: Make the Cajun Spice Mix
Pre-heat the oven to 350 degrees Fahrenheit (180 degrees Celsius). Lightly grease a medium-size baking dish with a little butter and set it aside on a baking tray.
Mix together the paprika, cayenne pepper, oregano, basil, thyme, onion powder and garlic powder in a small bowl until combined. Set the cajun spice mix aside until needed.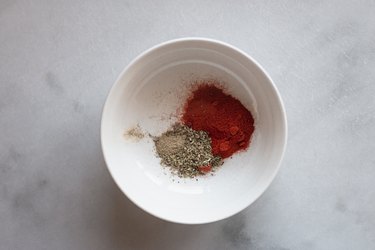 Step 2: Cook the Vegetables
Place the butter into a medium non-stick skillet set over medium heat. Heat until it begins to foam. Add in the onion and garlic. Cook until the onion is beginning to turn translucent, about 3 minutes.
Add the diced red pepper and celery along with the cajun spice mix, and set aside earlier. Continue to cook for a further 5 minutes, or until the vegetables have begun to soften and brown.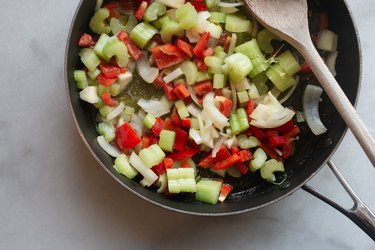 Step 3: Add the Shrimp and Cheese
Add in the shrimp and cook for a further minute. Set the heat to low.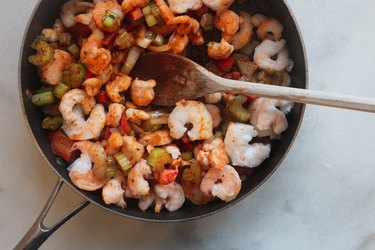 Stir in the cream cheese, sour cream and three quarters of the parmesan cheese until evenly mixed. Season with a pinch of salt and pepper, to personal taste.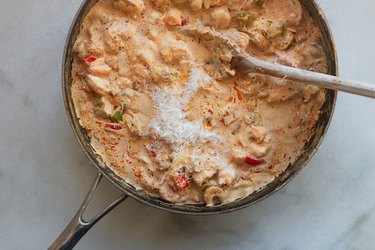 Step 4: Bake
Pour the mixture into the baking dish then sprinkle over the reserved parmesan cheese.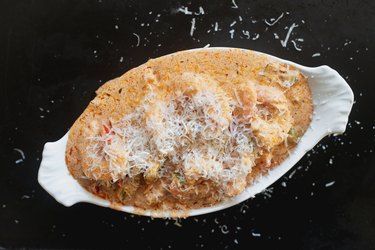 Bake for 20 minutes, or until golden brown, fragrant, and bubbling. Carefully remove the dip from the oven and allow to cool for 5 minutes before serving.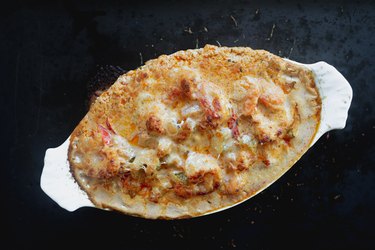 Step 5: Serve
Immediately serve the dip while it is still warm alongside crackers or slices of toasted bread and enjoy!