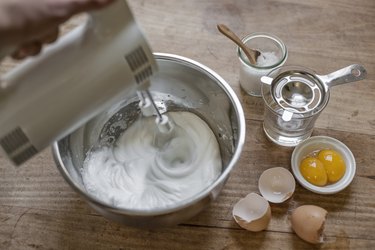 It's easy to overlook the simple things. That's why you'll obsess over finding exactly the right countertop and stove for months before the reno, read dozens of reviews before picking out a chef's knife, and yet find yourself with a random collection of silverware or coffee cups or mixing bowls. Yet those are things you'll use every day, and care in their selection is just as important as it is with the big-ticket items.
Consider mixing bowls. If you cook or bake at all, you'll use them several times a week for anything from boxed cake mixes to tossing shrimp in a marinade, and you may even serve food in them sometimes. Giving some thought to a tool you'll use almost every day makes sense, so here's our quick guide to the best mixing bowls.
What to Consider When Purchasing Mixing Bowls
Any old bowl is a mixing bowl if that's what you've got, but ideally, you'd choose a set based on your needs and projected usage. Do you need just a few common sizes or a massive set? Should they nest in the minimum of cupboard space, or come with lids and a range of useful, but shelf-filling, accessories? All of those things matter. Even aesthetics count, because if your mixing bowls can double as serving bowls you won't need two sets.
Aside from those basic questions, here are some other things to think about when you're buying mixing bowls:
​Materials:​ The bottom-line requirement for mixing bowls is that they be non-reactive, meaning they won't chemically interact with your foods. Possible options include a range of plastics, tempered glass, ceramics, stainless steel, porcelain or glazed pottery, and even wood or bamboo. Each material has its limitations: plastics warp and stain, steel becomes dented, wood can crack and degrade over time, and glass, porcelain and pottery can all break or shatter. Ultimately, it's about choosing a material with strengths and weaknesses you're comfortable with.
​Weight:​ A closely related topic is weight. Lightweight bowls are easy to handle, and you'll appreciate them when you have to lift the whole stack down (or up) from a cupboard in order to pick out the one you want. On the other hand, they can be flimsy, and they're prone to sliding around while you're mixing in them. Heavy bowls stay put while you work but can be a struggle to maneuver (especially when they're full) or to hold against your chest in the approved movie-grandma style while you hand-mix your batter.
​Versatility:​ What we mean by this is their ability to transition seamlessly from one use to another. Can they go in the microwave? How about the dishwasher? Are they safe for low-temperature oven use (keeping food warm, or reheating it), or for melting ingredients gently over boiling water, or for going into the freezer? Can they be used with lids for storage, or double as salad or pasta-serving bowls at the table? These are all secondary to their main role as vessels for mixing, but they bring a lot of value to the equation.
​Special Features:​ These are the little touches that raise a bowl from utilitarian to brilliant. If you mix a lot of cakes, for example, you'll appreciate bowls that have a pouring spout for your batter and a comfortable handle on the opposite edge (and a spatula-friendly shape for getting all the batter out). Silicone grips are a nice addition to bowls that are oven-ready. A non-skid base is a thoughtful way to keep bowls (especially lighter ones) from skidding around while you're trying to mix things. None of these are fundamental to the bowl's primary purpose, but in day-to-day use they make a big difference.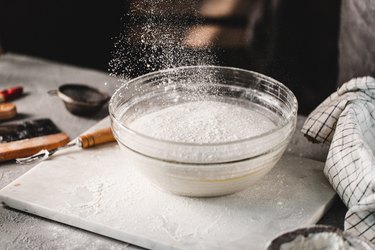 The Best Overall Mixing Bowls
Duralex 10-Piece LYS Mixing Bowl Set
We could also call this the "most versatile" mixing bowl set because all 10 pieces are constructed of tempered, heat-resistant glass. The simple design is appealing and attractive, and you'd happily serve guests from them. Despite their deceptive thinness and apparent fragility, tempered glass mixing bowls are microwave-safe, freezer-safe and dishwasher-safe. They'll handle having boiling water poured into the bowls, and can go from the freezer to the microwave without incident.
This is actually two sets in one: You get five full-sized mixing bowls (0.5-quart, 1-quart, 1.5-quart, 2.5-quart, 3.5-quart); as well as five smaller bowls (1-ounce, 2-ounce, 4-ounce, 6-ounce, 10-ounce). The smaller bowls can be used for things like beating an egg or whisking a marinade, but their best use is for pre-measuring the ingredients you'll use. Professionals measure everything before they ever start a recipe (they use the French term "mise en place," non-cooks can think of it as "getting your ducks in a row"), and it's an excellent habit that can improve your baking and cooking. When entertaining, you can also use the larger bowls for snacks and the smaller one for dips.
​Material:​ Tempered glass

​Pieces:​ 5 small bowls from 1 to 10 ounces, 5 large bowls from 0.5 quarts to 3.5 quarts
​Microwave-Safe:​ Yes

​Dishwasher-Safe:​ Yes

​Special Features:​ Freezer-safe, chip-resistant, nest perfectly for compact storage

The Best Minimalist Mixing Bowls
OXO Good Grips 3-Piece Set
Can you buy more mixing bowls for less money? Absolutely. But if what you're looking for is a durable, minimalist set with lots of thoughtful design touches, it's hard to beat this low-key offering from OXO. The three sizes—1.5, 3 and 5 quarts—are well-chosen for baking purposes, but they'll also work for anything from salads to snacks in front of the TV. The non-slip base keeps the bowls still while you mix, and the steep sides keep batter from flying all over your kitchen. Each bowl also has a pour spout for batter and the kind of comfortable handle you'd expect from this brand. They nest conveniently for storage, and are available in a full-color set or a white set with colored handles, as well as the standard white with black.
​Material:​ BPA-free plastic

​Pieces:​ 1.5-quart, 3-quart and 5-quart bowls

​Microwave -Safe:​ No

​Dishwasher-Safe:​ Yes

​Special features:​ Non-slip base, pour spout, comfortable handles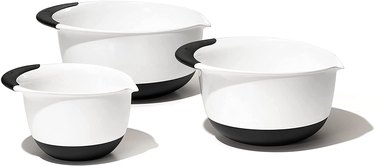 The Best Value Mixing Bowls
Cook With Color 12-Piece Set
This set represents a really solid value proposition. You get six bowls in a useful range of sizes (from 0.33 quarts to 5.8 quarts), plus tight-fitting lids for each bowl so they can be used for storage. As the company's name suggests, they're also available in a lot of color combinations (14 of them) to suit any kitchen. So, while they'll nest and take up minimal space in a cupboard, they're also colorful enough to be equally at home on an open shelf (especially if your personal style is bright and breezy). You can serve from them as well if you wish.
​Material:​ BPA-free polypropylene

​Pieces:​ Six bowls (0.33 quarts, 0.74 quarts, 1.37 quarts, 2.22 quarts, 3.69 quarts, 5.8 quarts) plus lids

​Microwave-Safe:​ Yes

​Dishwasher-Safe:​ Yes, top rack

​Special Features:​ Freezer-safe, tight-fitting lids, multiple color combinations available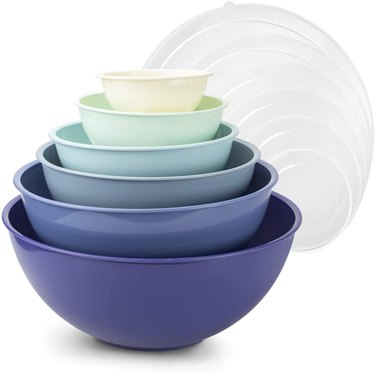 The Most Stylish Mixing Bowls
The Pioneer Woman 10-Piece Set
"Stylish" is a very subjective term and if your personal style leans toward Scandinavian minimalism or the sleekness of brushed steel, you won't care for these at all. These bowls lean into the TV personality's nostalgic, retro-inspired style, with bright, colorful floral patterns. They look like something you'd find in an idealized farmhouse from the 1940s, except they're made from modern, lightweight melamine instead of the heavy, arm-busting earthenware that great-grandma had to cope with. To be clear, these are not the most practical option. They're not microwave- or dishwasher-safe, and they're best suited for mixing by hand (you can use a mixer, but the finish may show some wear). That being said, they're serviceable within those limitations, have tight-fitting lids for storage and they're attractive enough to serve from.
​Material:​ Melamine
​Pieces:​ 5 bowls, from 6 inches to 10.5 inches in diameter, with corresponding lids

​Microwave-Safe:​ No

​Dishwasher-Safe:​ No
​Special features:​ Non-skid base for mixing, nests for storage, includes lids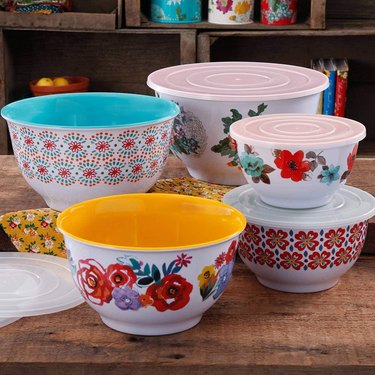 The Best Starter Mixing Bowls
Joseph Joseph 9-Piece Set
There are always moments in someone's life when it's appropriate to find an "everything you need to get started" gift, whether that be a set of dishes, that first set of pots and pans, or mixing bowls and tools to prepare the food that goes into (and onto) the other things. This set is that exact kind of starter kit. It contains only two actual mixing bowls, a 0.5-quart bowl with measurements inside and a 4.8-quart larger bowl for big batches. The other pieces include a full set of measuring cups, a tablespoon, a wire-mesh strainer and a colander. The whole set nests perfectly to save space (and time, when you set out to bake something because everything is right there). Put this together with basic sets of cookware and bakeware, and you're off to the races.
​Material:​ BPA-free polypropylene

​Pieces:​ Large and small mixing bowls, strainer and colander, full set of measuring cups

​Microwave-Safe:​ No

​Dishwasher-Safe:​ Yes (except mesh strainer)

​Special Features:​ Convenient handles, non-skid base, pieces nest tightly for storage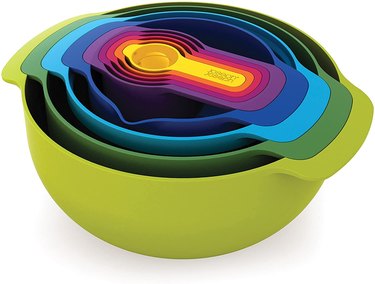 The Best Eco-Friendly Mixing Bowls
Chef Craft Eco Bamboo Fiber 6-Piece Set
Aside from stainless steel, which recycles beautifully, it can be hard to assess the environmental impact of your mixing bowls. If that's a top-of-mind concern for you, Chef Craft has a set that just might be what you're looking for. The company makes heavy use of natural materials including wheat straw and bamboo, and this set is made primarily of bamboo fiber with melamine as a binding agent. This 6-piece set gives you dishwasher-safe bowls ranging from 0.25 quarts to 4.5 quarts (suitable for almost any baking project), and are available in three different colors. More to the point, most of the mass of each bowl is biodegradable, so they'll contribute less to landfills and will break down in years rather than centuries.
​Material:​ Bamboo fiber, melamine
​Pieces:​ Six bowls; sizes .25, .5, 1, 2, 3, and 4.5 quarts
​Microwave-Safe:​ No
​Dishwasher-Safe:​ Yes
​Special Features:​ Biodegradable at end of life, nest for storage