Let's be honest: a big reason why you go to The Cheesecake Factory is the stellar bread basket. And if we're being honest we'll also admit that the first time we had this awesome brown bread, we were shocked that it was even better than the other loaves -- it was the sleeper hit of the bread offering. It's not the one you'd expect to like the most, but there you are reaching for it first before anyone else can get their greasy hands on it. So it'll be no shock to your friends that you want an entire basket of just the Honey Oat Bread. And it's a much easier recipe that you might imagine. Time to make some bread!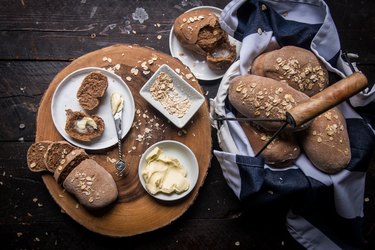 Things You'll Need
1 ½ cups warm water

2 ¼ tsp instant dry yeast (1 package)

2 tablespoon sugar

2 cups bread flour

1 ¾ cups whole wheat flour

1 tablespoon cocoa powder

2 teaspoons espresso powder

1 teaspoon salt

2 tablespoons butter, softened

1/4 cup honey

2 tablespoons molasses (not blackstrap)

3 tablespoons oats
Step 1: Proof the Yeast
Heat the water to 110° F (check your yeast packet to make sure this is the correct temp that the yeast needs; always default to the temperature on the yeast package rather than the one in the recipe). Add the yeast and allow to sit for 5 minutes until it starts to get foamy.
Step 2: Mix Dry Ingredients
Add both types of flour, sugar, cocoa powder, espresso powder and salt together in the bowl of a stand mixer.
Step 3: Add the Yeast
Add the yeast to the dry ingredients, mixing until most of the dry ingredients have been moistened.
Step 4: Add Wet Ingredients
While the mixer is running on low, add the softened butter, honey, and molasses. Mix until well incorporated and the dough gathers around the blade, about 10 minutes.
Tip
Blackstrap molasses is not as sweet as other molasses; it's very bitter and dense and can not be substituted when baking recipes that only call for "molasses."
Step 5: Rise the Dough
Add the dough to a well oiled bowl, cover and allow to rise until doubled in size, about 1 hour. (It can take up to three hours -- the colder the room, the slower the rise.)
Step 6: Divide
Add to a lightly floured surface and cut into 6 equal sized balls.
Step 7: Form Into Loafs
Form each ball into a log about 2 inches wide and 6 inches long. Add to a baking sheet. Brush with water, sprinkle with oats.
Step 8: Bake
Bake at 350°F for 25 to 30 minutes or until the loaves are cooked through.