A haunting Halloween? Been there, done that, got the pictures to prove it. A pink Halloween, on the other hand, is the newest trend in October home decor. It's pastel goth meets Dutch pastel aesthetic meets Elle Woods meets the Pink Ladies...well, you get the idea! Basically, it's all about combining sweet pink tones with creepy-crawly Halloween imagery to create an interesting visual balance. We're talking pink ghosts, fuchsia jack-o'-lanterns and pink spiderwebs.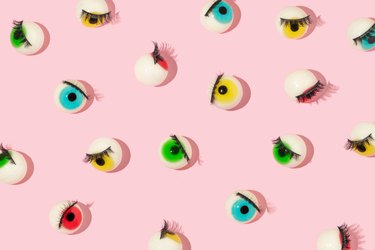 These decorations might be a better complement to your home's existing color scheme than black and orange, frankly. Who doesn't need a pop of pink in their day-to-day life? Plus, pink Halloween decor doesn't start looking outdated on November 1st…it's perfect for those of us who don't get around to putting away our pumpkins and ghosts until Thanksgiving. Most importantly? It's just a really, really cute approach to the season.
Here's how to achieve pink Halloween vibes. Happy haunting!
A pink witch's hat is just as chic as traditional black. Consider it a must-have accessory for any pastel goth phase.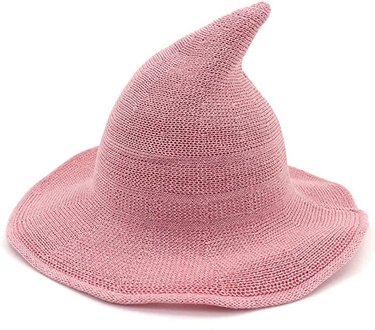 If only real spiderwebs came in shades of pale pink. In your home, they can. Make small spiderweb garlands using tones of pink and orange yarn to hang across shelves during the Halloween season. Or, block off a doorway during a Halloween party by weaving a giant pink web across it using yarn or ribbon.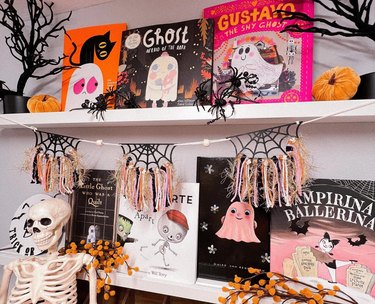 Treats taste better when they look festive. That's just science. For a party, make cute spider cookies by sticking black licorice into pastel pink macarons. Tint white buttercream with food coloring to make pink shades and then pipe it onto cupcakes to create zombie or ghost faces. Tinted white chocolate is also a key ingredient for making pink Halloween candies. Use it to cover candied apples or shape white chocolate into Halloween molds to hand out as party favors.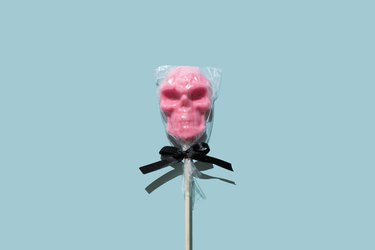 4. Decorate with cute, cozy pumpkins
Handcrafted pumpkins in shades of baby pink are appropriate for the season without screaming "Halloween decor." Keep these snuggly little babies out until you're ready to replace them with holiday decorations. Buy knitted pink pumpkins from an artisan or small business owner on Etsy. Or, if you have basic knitting skills, follow an online tutorial to learn how to make your own pumpkins from pink yarn.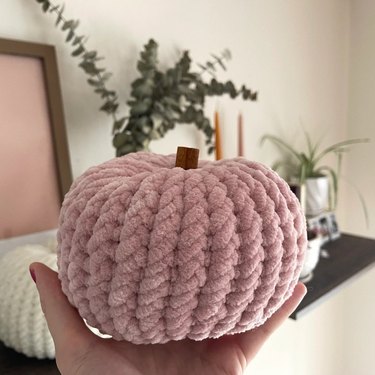 5. Lay out pink tableware
Halloween is the perfect season to play with using fun and whimsical tableware. Set your table with a pink tablecloth and napkins and then lay out a black spiderweb table runner to create some pleasing contrast. For a pink Halloween party, pick up pink disposable plates and cups decorated with ghouls, bats and other Halloween icons.
6. Light the night with (what else?) pink!
Pumpkin candles, set of 3
You can't achieve true ‌Hocus Pocus‌ vibes without candles. Decorate for Halloween with the DIY bendy candles (made with pastel taper candles) that have been all over TikTok or buy cute fall-themed candles from artisans. Cluster candles together as a quick Halloween centerpiece or use them for spell-casting—your choice.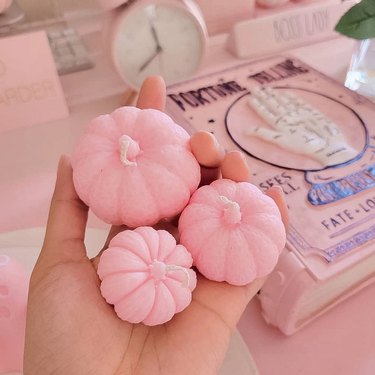 7. Print some new temporary art
In the dark days of the early 2000s, you would have to visit a store or place an online order to buy a new piece of wall art for Halloween. Today, all you need is a printer that's loaded with ink and a few bucks to spend on Etsy. The popularity of pastel and pink Halloween trends means that plenty of artists have made pieces to fit your theme. Choose a few prints that will fit in the frames that are already hanging on your walls.