Let's be honest: The world gets pretty dark sometimes. You can't control what happens out there, but you ​can​ make your home so bright and cheerful that you're instantly comforted when you walk through the door. The Danish pastel home decor trend that has been blowing up on TikTok is the perfect way to bring more color into your life. Danish pastel style is characterized by pastel colors, light Scandinavian furniture and light walls.
Shades of cotton candy pink, pastel blue, mint green and sunny yellow can elevate your space and your mood at the same time. The more pastels you add, the more you'll feel like you're living in a private candy shop – which sounds kind of great, right?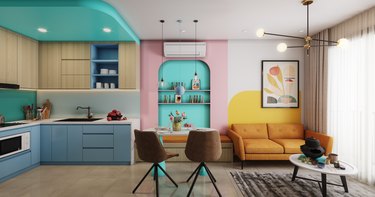 If you're like most people, your favorite photos and wall art are probably displayed in primarily black or metallic frames. They're classic neutrals, so the work of art stands out. Framing photos and artwork with pastel shades brings more color into the room, and pastel frames won't necessarily distract from the art they display. They might even complement it. For example, frame a picture that has a lot of green in it with lilac or another soft shade of purple. If you have existing wooden frames, sanding and repainting them is a one-day DIY project.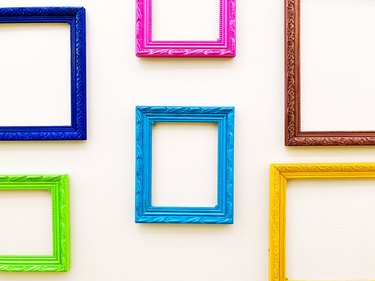 2. Change Out Pillows and Blankets
Bringing in new throw pillows and blankets is one of the quickest and most affordable ways to change your living room's visual impact. Adding cozy textiles in a variety of luxe textures (velvet, faux fur, chunky knits) also makes a space feel instantly homier. Pull off any removable covers from your current pillows and recover them. Accentuate a neutral gray or beige sofa with pillows in shades of cotton candy pink, pastel yellow and deep orange to mimic the colors of a sunrise, or buy a variety of pillow covers in different shades and textures of just one pastel hue.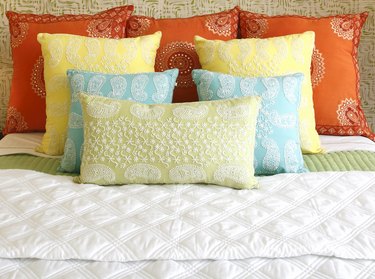 3. Repaint Chairs and Side Tables
One person's trash could be your next dining chair. Sanding and painting wooden furniture is a must-try project for fans of colorful, mismatched boho style (think Monica's kitchen on "Friends"). Grab chairs and tables from yard sales and thrift shops and paint them in shades of pale blue, mint green and lemon yellow. Leave them looking pristine or create more vintage vibes by sanding your newly painted furniture in random areas to make them look like they've been sitting around your kitchen table for years.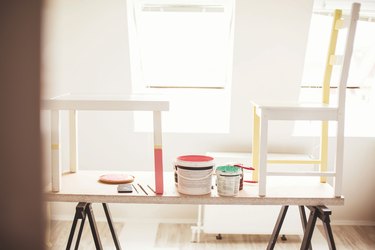 4. Swap Out Knobs and Hardware
It takes zero interior design skill and just a few minutes to upgrade your existing hardware. Unscrew dated brass cabinet pulls and boring wooden doorknobs. Repaint them yourself or invest a few dollars in new hardware in pastel or candy shades. For tall dressers and other pieces with a lot of drawers, create an ombre or rainbow effect with hardware in different bright colors. (If you're renting, save all the original hardware in labeled bags so you can return it before moving out.)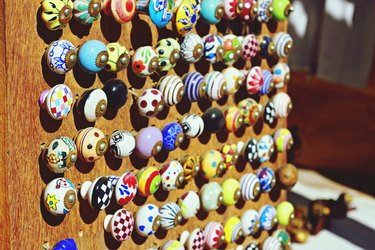 Tip
​The 5 Core Colors of Danish Pastel Style:​
Pale pink
Lilac
Buttery yellow
Sky blue
Mint green
5. Put Up Temporary Wallpaper
You're into Danish interior design today, but you might be into something completely different a few years from now. Change your wall color without committing to a full paint job or gluing up wallpaper. The invention of temporary wallpaper was a game changer for home decor lovers. Create an accent wall of mint green in a pale gray room or add stripes of various pastel hues to create a cheerful rainbow effect on the plain white walls of your home office. Temporary wallpaper can be an especially useful asset for renters, who may not be allowed to make permanent changes to wall colors.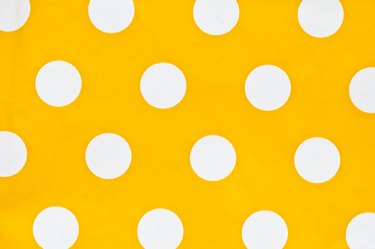 6. Use Everyday Centerpieces
Why save centerpieces for special holidays? Keep them in your dining room and on your living room coffee table as cheerful focal points all year. Start with a mint green or baby blue vase and fill it with silk flowers in shades of pinks and purples. Scour antique stores for small bud vases in a variety of colors and cluster them together. Put painted branches, faux baby's breath or sprigs of greenery cut from your neighborhood trees in each vase. Think beyond plants too. A wide glass bowl filled with small balls of candy-colored yarn or pastel sea glass could also make a lovely centerpiece.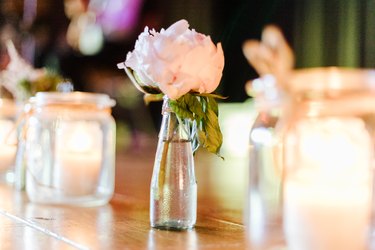 7. DIY a Watercolor Wall Piece
Are you ready to let out your inner artist? Creating abstract wall art using watercolors requires no real artistic talent, and it's the perfect way to create cheap art that's customized to your exact color scheme. Practice on scrap paper first to get familiar with the kinds of shapes you can make with watercolors and to experiment with using different amounts of water and blending colors. Then, paint on canvas or fine art paper to put in frames.
Wall art doesn't have to be made by a professional or have some significant backstory to be aesthetically pleasing. Why not bring more color into your space by framing pieces of beautiful wallpaper or a large square of vintage fabric? Or, you can make a gallery of canvases painted solid colors of different shades all in the same pastel color palette. Mat and frame them to make them look like modern art pieces, or try your hand at embroidery and display your colorful works in hoops on the wall.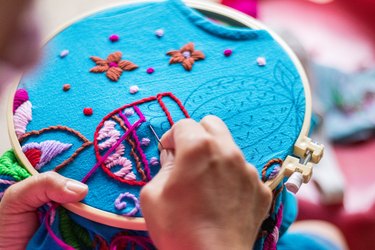 9. Make Your Own Bendy Candles
Thank TikTok for the rise of the bendy candle trend. It's a quick, fun craft project that's perfect for pastel room decor and costs next to nothing. All you need are taper candles in a variety of pastel shades and a plugged sink or large bowl full of water that's warm verging on hot. Soak the candles in the water for about 15 minutes and then gently bend and curve each one into a slightly different shape. Be mindful to bend them into shapes that will stand up on their own without a stand and keep the wick pointing straight up. Let them cool at room temperature and cluster several together as table decor.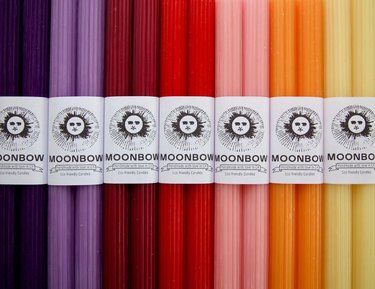 10. Recover a Cozy Chair (or Two)
An armchair that has good bones but ugly upholstery still has some life in it. Make it modern by covering it with a luxe fabric. You can buy stretch-to-fit covers that fit many shapes of chairs or invest a little in your future home decor by having chairs professionally recovered. Pastel colors, like pale blue or pale green, are classic, so you can easily change out throw pillows as your style changes over the coming years. That said, if you feel like a bright pink chair is something you'll never outgrow, go for it!