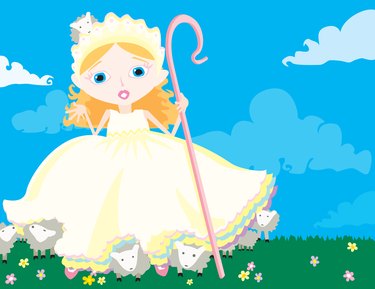 The classic Mother Goose poem "Little Bo Peep" has inspired children's and adult's costumes since its first publication in 1805. Modern versions of her outfit include Bo Peep cosplay costumes based on the "Toy Story" movies. Depending on your interpretation, you can dress yourself or a child in a fluffy dress with petticoats or a gussied-up T-shirt and capris with a few added accessories and, of course, a sheep.
The classic Little Bo Peep costume features a white skirt, often with pink polka dots, and a pink shirt or bodice with a lace front in pale blue or white. Fluffy petticoats peeking out under the skirt and simple bloomers or light blue, fleece-lined leggings help keep your legs warm on a cold Halloween night. A pink and blue sleep bonnet or a straw hat lined with satin fabric top off the outfit.
If you're dressing a toddler or baby as Bo Peep, consider a long-sleeved, ruffled onesie or body suit combined with matching leggings or flare-leg stretch pants. Cover the leggings or pants with a ruffled diaper cover to help provide the adorable effect while keeping the baby warm. Maintain the Bo Peep color scheme with your favorite combination of white, pink and blue plus plenty of ruffles and lace.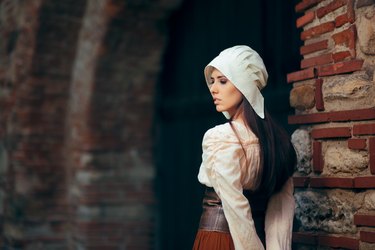 The movie version of Bo Peep has evolved from the classic vision in "Toy Story 1" to a more energetic, capri-pants-clad shepherdess with a dark blue cape by "Toy Story 4." Put on light blue capri pants with or without ruffles on the bottom, a light blue round or square neck, a short-sleeved or sleeveless T-shirt or blouse and black ballet flats. Include a panel of white lace hand-stitched or ironed on with iron-on hem tape on the front of your shirt. Add a dark blue cape and you're almost there.
Accessories for the Costume
In addition to a bonnet or hat, you'll need a shepherd's crook. A medium to large plastic Christmas candy cane spray painted white or baby blue makes a lightweight crook. It will probably need at least two coats to cover the red stripes.
If you're cosplaying, you may want to attach the curved end of your candy cane to a long dowel with tape and glue before painting the entire crook in a blue that matches your outfit. Add a large pink bow to the crook and a second pink bow for your hair along with a pink sash for your waist.
Bo Peep is a young girl or teen, so keep your makeup light and fresh. A little foundation and powder, light eye shadow and mascara, a bit of blush and clear or complementary lip gloss provides a youthful effect. For a glossy porcelain appearance when putting together a Bo Peep cosplay, select an appropriate shade of highlighter and concealer to brighten your complexion.
Don't forget your hair. While Bo Peep is blonde, you can pull your own hair into an updo ponytail with or without bangs to avoid changing your hair color. Alternatively, a blonde wig makes it easy to recreate the Bo Peep hairstyle.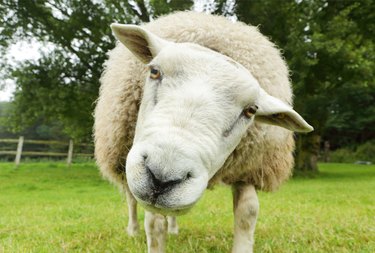 You'll need a sheep, of course, to complete the Bo Peep costume. A stuffed sheep is easy to carry or tuck into the stroller with a baby or toddler dressed in a Little Bo Peep baby costume.
If you're taking a group of little ones on a trek through the neighborhood, you might consider dressing up as Bo Peep with all of the children as the sheep. Turn white or pastel sweatpants and a matching hoodie inside out for a fuzzy look and then add ears to the hood and pin on a tail with a large safety pin. Black or dark brown shoes, gloves and tails add contrast to the light-colored outfit while keeping your flock of sheep easy to see at night.