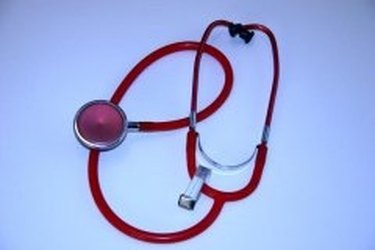 While the surgeons of Seattle Grace/Grey Sloan Memorial bring plenty of unrealistic drama to the halls of the hospital, their clothes are pretty reflective of what real doctors wear to work every day. That means putting together an accurate Meredith Grey Halloween costume can be really easy. But without some special props, people might just assume you're dressed as a regular doctor – not one who has survived a near drowning, a plane crash, a bomb and the arrival of multiple surprise half-sisters (all before the end of season 10).
Basic "Grey's Anatomy" Halloween Costume
Here's the great thing about "Grey's Anatomy" Halloween costumes: They're really comfortable, readily available and can be transitioned into your pajama drawer starting on November 1st. The majority of the show's action takes place within the walls of the hospital, so all the main characters spend most of their time wearing scrubs.
Getting the color of your scrubs right is important for accuracy. The show's main surgeons always wear blue scrubs in one of two shades. Interns and residents wear light blue, and transition to navy blue scrubs when they become attending surgeons. This means that many of the show's long-running characters (including Meredith, Cristina Yang and Alex Karev) have worn scrubs in both shades of blue, so either choice is appropriate if you're dressing as one of those characters. Loop a stethoscope around your neck and wear comfortable sneakers.
You may or may not decide to add a lab coat to your costume; characters wear them often while they're in patients' rooms. Wear a plain white coat, or buy a lab coat embroidered with either a Seattle Grace or Grey Sloan Memorial logo. (The hospital's name changed midway through the series.) Or, you can dress like the doctors do while they're actually performing surgery: Cover your scrubs with a blue surgical gown and wear a surgical mask, blue scrub cap and gloves.
Meredith Grey Halloween Costume
As the titular star of the show, Meredith Grey is probably the most popular choice for a "Grey's Anatomy" Halloween costume. She wears the same blue scrubs as her coworkers, and generally wears her long light-brown hair either down or up in a ponytail. Even if you style your hair or wear a wig to look like Meredith, your basic costume might not be recognizable.
There are a few ways to make your Meredith Grey Halloween costume more obvious. For one, make a fake name badge with her name and picture to clip to the pocket of your scrub top. Another option is to wear a scrub cap made of fabric with a ferry boat pattern; Meredith famously started wearing her husband's favorite ferry-boat cap after he left the show. Or you can be a little more obvious by putting a sign on your shirt with Meredith's most-quoted line: "Pick me, choose me, love me."
More "Grey's Anatomy" Costume Ideas
Because the show has such a large ensemble cast, "Grey's Anatomy" costume ideas are perfect for couple or group costumes. Best friends can dress up as Meredith and Cristina, or Meredith and Alex. (You're definitely going to want to wear name tags since, again, these characters all dress the same.) Couples can also dress as Meredith and Derek Shepherd. The person dressing as Derek should wear navy scrubs and the ferry-boat scrub cap, or take a shortcut and just wear a shirt with Derek's most famous quote: "It's a beautiful day to save lives."
If you don't want to wear scrubs, there are a few other "Grey's Anatomy" costume ideas to consider. Characters have worn a few memorable costumes outside of their work clothes. Izzie Stevens wore a pink strapless ball gown in some of her most famous scenes. Or, you can copy the outfit Meredith wore for all of the "Meredith's beach" scenes during the season when the character was hospitalized with COVID-19 and seeing visions of her deceased loved ones. She wore a white tank top under a button-down white shirt, with light-colored jeans rolled up to mid-calf for all of those scenes.