Things You'll Need
Medical scrubs (real or fake)

Homemade nametag supplies

Stethoscope (real or fake)

Surgical cap (real or fake)

Miscellaneous items to add personal touch to costume (such as wig or blood)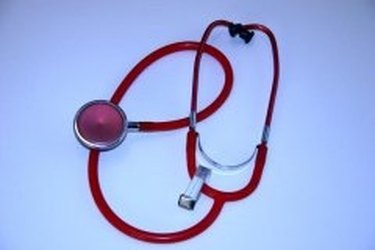 ABC's hit television medical drama, Grey's Anatomy, features surgeons, surgical residents and surgical interns and the trials and victories of their lives. Because the show has such a talented ensemble cast that focuses strongly on character development, a fan can easily find a character to emulate for Halloween or she can create her own based on her own personality.
Step 1
Get the scrubs. Depending on the budget, you may purchase a set of scrubs at a Halloween or party store, Wal-Mart or a medical uniform retailer. Some outlet stores deal specifically in scrubs, which come in a variety of colors and prints. To make a Grey's Anatomy costume for Halloween, stick to solid colors. Surgeons such as Derek Shepherd wear dark blue and residents and interns wear light blue. Also purchase a scrub cap, which can either match the scrubs or can reflect you or your favorite character's personal style.
Step 2
Fashioning a Grey's Anatomy costume for Halloween requires picking a character (or creating one), then accessorizing accordingly. Resident Izzie Stevens wears a pink stethoscope. Former surgeon Preston Burke had a lucky scrub cap that was dark blue with a multicolored pattern. By tapping into each character's individual style, you can fashion a costume based on accessories.
Step 3
Make the nametag. From a stick-on "Hello My Name Is" nametag to the more professional ones found in office supply stores, the appearance of the nametag depends completely on the tone of the costume. For example, for a low-brow, create-a-character approach, one who likes to drink could purchase a stick-on tag and write "Dr. McTipsy" with black marker. Alternatively, a professional nametag can be made out of a tag-making kit. Use stick-on lettering found in the scrapbooking aisle for a professional Grey's Anatomy Halloween costume.
Step 4
Add a personal touch. For a scary costume, one may prefer to purchase a chainsaw and splatter blood all over the scrubs. The nametag could read "007" in reference to George O'Malley after he almost killed a patient. Or in the season finale of the second season of Grey's Anatomy, Christina Yang's character was completely covered in blood on the front side of her uniform. Alternatively, one could purchase a bombshell blonde wig and don a pink stethoscope for the character of Izzie Stevens. In the third season, a Halloween episode featured a dead Meredith Grey. This Grey's Anatomy costume could be achieved by wearing light blue scrubs and zombie make-up.
Step 5
Give it a test run. Walk around and make sure the costume fits. Sit down, stand up and make sure there nothing's too loose or tight. Any makeup should look like a zombie and not a clown.