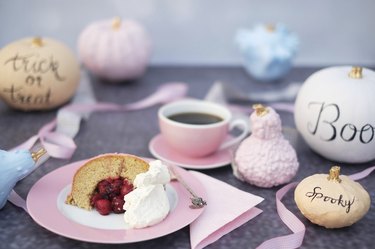 Once October rolls around, there are a few items you'll need to add to your to-do list. Come up with a creative Halloween costume? Check. Put "Hocus Pocus" on repeat? Check. Routinely have a dozen cupcakes baking in the oven? Check. You'll also want to bring the Halloween spirit into your home too, with decor of all kinds, from table runners to spider webs to jack-o'-lanterns.
If you'd rather not be the haunted house on the block though, don't worry. Are you less goth and gore, more lighthearted and whimsical? Opt for a pastel color scheme instead of spooky decor, putting orange and black to rest for this year. Instead, display home decor with a soft color palette of purples, pinks, greens, blues and yellows. It's not only pretty, but it's pretty far from being spooky—great if you have sensitive kids in your house, or aren't so much into the creepy spiders and scary skeleton hands. There are plenty of pastel Halloween decorations out there, and we shopped for the best of them.
What To Consider When Purchasing Pastel Halloween Decor
​Reusability:​ Many of the pastel Halloween decor items on the market, including ones on our favorites list, double as party decorations. Before you throw down any amount of money, have an idea as to whether or not you'll be able to reuse these decor pieces Halloween after Halloween. That way you can be conscientious as to how you hang and store the decorations, so you're careful not to ruin them.
​Kid-Friendliness:​ If you're veering towards a pastel color theme because it's a softer, less scary palette for little ones in your life, great. (Though, even if you're an adults-only household, pastels are still great!) That might make the decor tempting to play with though. Keep in mind that decor rarely doubles as toys unless it involves a friendly pillow fight with a seasonal throw pillow or harmless little figurines. Either keep the decor far away from little fingers or, if the kids are older, have a chat with them about what they can and can't play with.
​Color Combinations:​ As long as you're going outside of the box with your color scheme this Halloween, have fun with it! Every pastel hue, whether a pale blue, blush pink or otherwise, pairs with every other pastel, so mix and match to your heart's desire. Pastel colors also complement any neutral shade too, like, say, a white couch. Or, you could boldly go monochromatic, sticking solely with pink (for example), and decorating exclusively in varying shades of pretty pastel pink.
Inspired to design your own festive pastel home? Read on for our 10 favorite pieces of pastel Halloween decor that'll have you ditching good ol' orange and black. (At least for this year.)
While "boo" is generally meant to spook, this pastel knit wire sign is anything but scary. That makes it a perfect addition to a kiddo's room this Halloween season, or anywhere you want to add some pastel color to your decor. (Though, warning: While kid-friendly in appeal, don't let little ones think this is a toy, since it's made with wire.) Each order comes with a set of nails, but there's no need to get out the hammer if you don't want to; you can simply prop this against the wall on a shelf instead of putting a hole in the wall.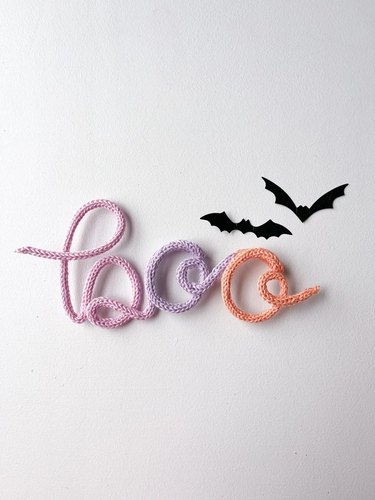 2. Pastel Halloween Stitched Streamer
Whether you're hosting a pastel Halloween party, or simply celebrating the spooky season all October long, this pastel stitched streamer from Meri Meri via Target is a must. This crepe paper garland is crafted from orange, shiny silver and peach paper that's been stitched together with white thread. It's oh-so Halloweeny yet slightly unexpected color-wise. String this in front of a buffet table, over your fireplace mantle or from your ceiling. We have a feeling anywhere you put it would be a crowd pleaser.
3. Pink Halloween Spooky Party Shower Curtain
It's easy to leave bathrooms out of the holiday decorating fun, but there's no reason to! Switch out your everyday shower curtain for a seasonal one, like this pink party scene featuring ghosts, bats, a haunted house and spiderwebs. It would instantly add a dose of color and energy to your bathroom. The design is by artist Dana Du Design and the shower curtain has 12 button holes for easy hanging. Just keep in mind that it doesn't include hooks, a liner or a curtain rod. And yes, it's machine-washable—a must so you can give it a good clean before packing it away until next October.
4. Pastel Pumpkin Dish Towel
We insist you bring a little holiday spirit into your kitchen too! The easiest and most practical way to do that is with a fresh dish towel. This pastel pumpkin tea towel is barely discernible as Halloween-y and that's partially why we love it. This one would bring color into your kitchen all fall long, until the Christmas decorations are ready to come out. Washing dishes suddenly seems not so dreadful.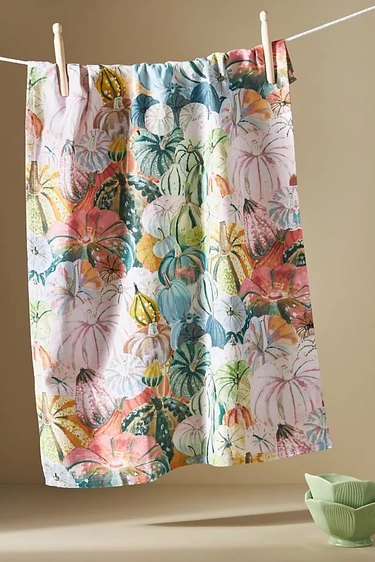 5. Pink Pastel Halloween Digital Download
It can be easy to let your wall decor get a little stale, but we're here to give you a nudge to mix it up! Switch out one of your art frames with this print, which you buy as a digital file. You will need a printer, color ink, high-quality paper and a frame on hand, but if you have all of those items, printing this art at home is a quick, effortless way to switch up your pastel Halloween decor for just a few dollars and a few minutes. Hang this in a nursery or entryway or prop it on any open shelving to bring a graphic pop of color to your decor.
6. Pastel Halloween Garland
Whether you're stocking up on Halloween party decorations or are looking for a festive garland to hang on your fireplace, let us introduce you to this cutie. This one features friendly ghosts, pumpkins, skulls, bats, moons and stars in sweet pastel colors and is ready to hang, no assembly needed. Discreetly adhere it to your mantle and voila! Decorating done easy.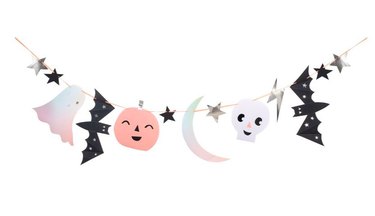 7. Halloween Balloon Arch Garland Kit
Few things scream "Happy Halloween!" quite like an oversize, jubilant balloon garland. This set doesn't mess around and comes with 100 pieces including 20 pink balloons, 20 orange balloons, 10 white balloons with a skull print, 10 bat balloons, the "boo" foil balloons and many (many) more. Highlight it in any archway, or, if the weather allows on Halloween itself, hang it outside of your front door to lure all the trick-or-treaters your way. This balloon garland would also make for a perfect addition to an October birthday party without being overkill on the Halloween theme. Do yourself a favor though: Buy yourself a balloon pump. We wouldn't want you passing out before you can enjoy the spoils of your own Halloween candy bowl.
8. Artificial Pink Pumpkins
Mother Nature may not make pink pumpkins, but that doesn't mean you can't indulge in a little bit of magical thinking with these pastel pretties. This pack of seven foam pumpkins comes in assorted sizes and would bring joy and a delightful dose of color to anywhere in your home this Halloween season. Use them as tabletop decor, fireplace mantle decor, or not as Halloween decorations at all—they'd make for charming baby shower decor too.
Look at these little cuties! We want to adopt a whole pack of them. Bravo to this Etsy artist (BaileysBranchesShop), who laser cuts, sands and paints each one of these adorable wood ghosts in various pastel colors. They come in a variety of sizes —five, four and three inches tall—as well as a handful of soft colors, like baby blue, coral and purple. The faces on the ghosts are painted at random, so some will be smiling and others will be shocked, but they'll all be cute as can be. These could spark imagination for little ones, and could potentially be played with as long as slivers aren't an issue, or be delightful decor for grown-ups.
Bats, even paper ones, have never been so adorable. These cardstock cutout bats are the pastel take on the ones that have become so popular to hang on doors and in entryways. They're shipped scored and flat, so once you receive them, simply fold the wings up along the score line and hang with the mounting method of your choosing. They come in a variety of color options, but we'd go for the mixed set, which includes five black bats, 15 dark pink bats, 15 blush pink bats and 15 pale pink bats.