Who knew "dashing through the snow" could be so much fun? This season, trim your tree with these "make and shake" personalized ornaments with fun winter scenes. Add photos of your favorite people or pets, mini trees, mini sleds and Epsom salt "snow" to a clear plastic globe for decorations that are sure to bring a smile to everyone who visits. These little snow globe ornaments are simple enough to put together that even kids will love making them for grandparents, aunts, uncles, teachers and friends. After designing a few of these, your whole family will be singing, "Oh, what fun it is to make a photo ornament. Hey!"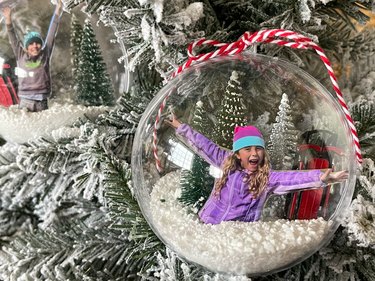 Things You'll Need
Photos of pets or people


Sharp scissors

Hot glue gun

Epsom salt

Ribbon

Hook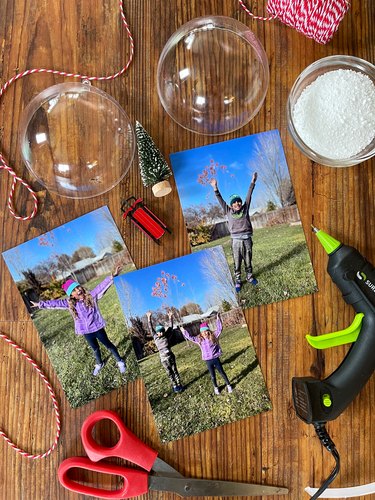 Step 1
Take several photos of loved ones in active poses, such as jumping or raising their arms. If possible, have the people wear winter clothing so it will look more realistic inside the snow globe. Carefully cut around your subject with a sharp pair of scissors to remove the background. Leave the space between their legs intact so you have a solid base when gluing the photo to the inside of the globe.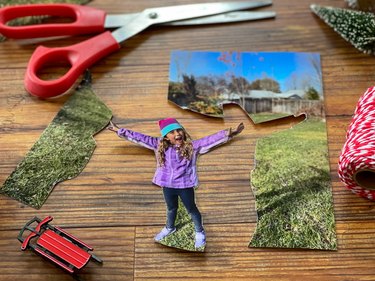 Step 2
Fold the bottom of the photo back. Use a hot glue gun to adhere it to the bottom of the inside edge of the front half of the snow globe. You'll only be putting glue on the bottom of the fold.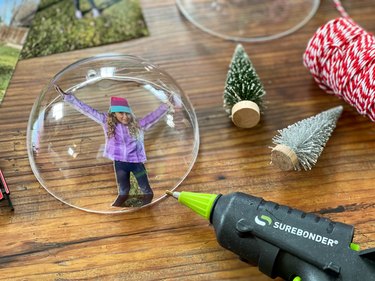 Step 3
Use the glue gun to adhere the mini trees and a sled to the inside back half of the snow globe. After the glue dries, fill the back half of the snow globe with 1/2 cup of Epsom salt. Don't worry about the "snow" getting all over the trees; it will shake down. Plus, it will look more realistic if there is some "snow" in the trees.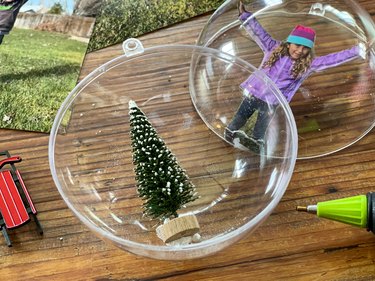 Step 4
Carefully put the two halves of the snow globe together. If you're concerned about the snow globe coming apart when shaken, you can add a few drops of hot glue when you put the two halves together. Shake the Epsom salt to the bottom of the globe. Attach a colorful ribbon and a hook to the top of the globe.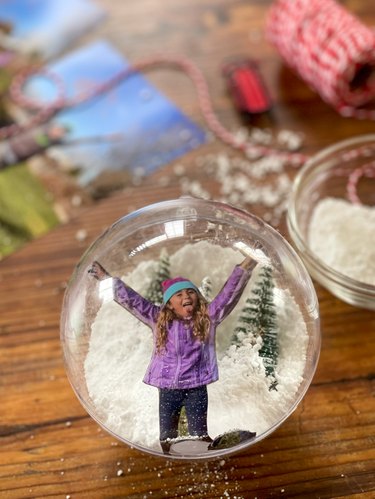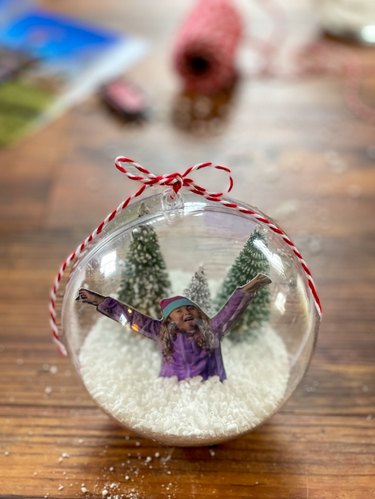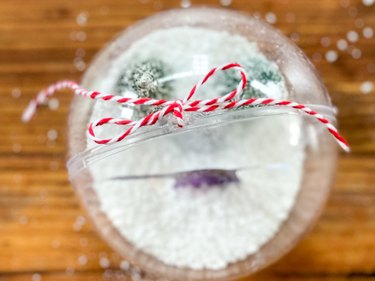 Add these fun three-dimensional mementos to your tree and enjoy!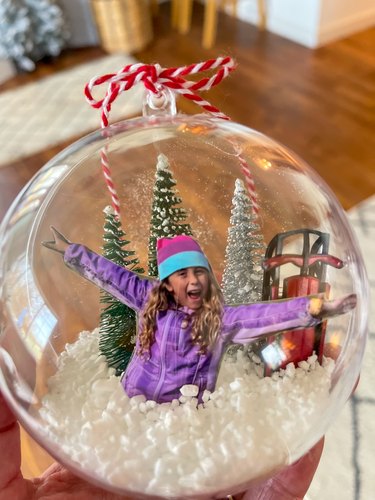 Oh, what fun it is to make a photo ornament. Hey!