The holiday season is the perfect time to get crafty and put your DIY skills to the test. What better way than with one-of-a-kind gift wrap? Make your presents stand out beneath the Christmas tree with these ingenious gift wrapping ideas.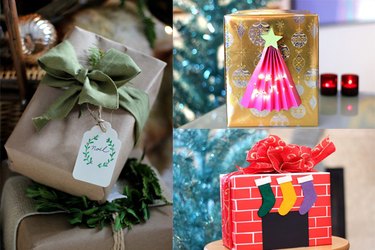 Snow Globe Gift Wrap
Santa Suit Gift Wrap
Give your gift a look that everyone will recognize. This adorable Santa suit gift wrap approximates Old Saint Nick's red coat, black belt and white fur collar and trim.
Frozen-Inspired Gift Wrap
Fireplace Mantel Gift Wrap
Why not create wrapping that embodies one of the most beloved lines of the classic poem "'Twas the Night Before Christmas?" This fireplace mantel gift wrapping idea calls for red wrapping paper, felt and a few other supplies to illustrate "the stockings all hung by the chimney with care."
Illuminated Christmas Tree Gift Wrap
For a package that shines in every sense of the word, try adding an illuminated Christmas tree with fairy lights. If any little ones sneak a peek under the tree before the sun comes up, this special gift will stand out in the dark.
Fusible Bead Gift Topper
Add a pop of color to any present with fusible beads transformed into a hang tag. This nostalgic craft can be ironed into the shape of a snowflake, a candy cane or a snowman. Use holiday-themed colors or a mix of your favorite hues.
Watercolor Christmas Tags
Carving Stamps for Paper Bag Holiday Wrap
Before you go out and buy a generic roll of wrapping paper, give this DIY project a try. Upcycling old paper bags, it puts an original spin on your gift-giving with custom-made rubber stamps.
Snowflake Wrapping Paper
DIY Wrapping Paper Station