This fun image transfer method is easy and extremely versatile. You can choose any image you wish to transfer, in color or black and white. It allows you to create very large pieces to display on your walls, or smaller pieces like these beautiful reindeer ornaments.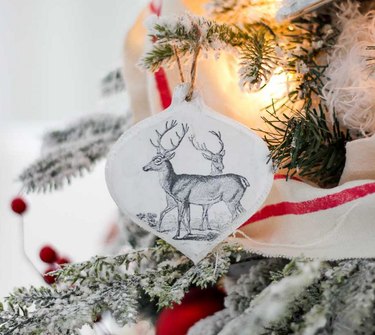 Things You'll Need
Wood ornaments or wood slices for a rustic look


Craft paint

Paintbrush

White printer paper, preferably lightweight

Printer

Image to transfer (reversed using photo editing software)


Scissors

Acrylic gel medium or decoupage medium


Credit card or popsicle stick


Sponge or towel


Dish or tray

Tip
Laser printed images on lightweight printer paper work best for this transfer method.
Step 1
Paint the wood ornament (optional) and let it dry overnight. Print out the image you would like to apply to your ornament on regular or lightweight white paper. Cut and trim the image to the size of the ornament.
Step 2
Apply the acrylic gel medium or decoupage medium with the paintbrush directly onto the front of the images as well as to your wood ornament, ensuring you cover the entire surface area of each evenly.
Tip
Apply gel medium evenly; not too thick, but not too thin.
While the gel is still wet, place the image (facing down) onto the wooden surface. Lightly press the image down with your fingers so that the paper sticks to the surface.
With a credit card or popsicle stick, lightly burnish the surface with smooth, even pressure. Set aside and allow to dry completely.
Tip
Make sure you burnish with steady pressure -- not so lightly that the gel doesn't adhere to the paper, but not so hard that the gel is pushed out from underneath to the edges.
Step 3
When the gel or decoupage medium is completely dry (we recommend waiting overnight), dip a sponge or a towel in water and press over the image. This will reveal the image and start to remove the paper backing.
Step 4
Use your finger to gently rub the paper pulp off the transferred image. Continue the moistening and rubbing process until most of the paper has been removed.
Step 5
Wipe off any additional paper residue with a clean paper towel.
Step 6
Apply a light coat of decoupage medium or sealant on top to protect your transferred image.
Tip
For a frosted windowpane look, use a stencil brush to stipple white paint around the edges of your ornament on top of the decoupage medium or sealant. Watch our video above to view the process.
With this transfer method, you can customize your tree with images in any style or color.