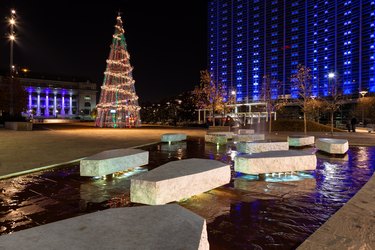 There is not a single best way to light up a fountain for the holiday. When setting up lights of this kind, always use waterproof lights designed for this purpose.
You can make a beautifully decorated outdoor fountain. One example includes lights set up around the base and suspended beneath two tiers. You should always use waterproof lights that are designed for pools and ponds. These are usually battery powered, and many have remote controls to turn them on and off and change the colors. Another option is to use floating lights, which are frequently solar-powered and have no wires at all.
After you have placed all the lights, stand at a distance (it is easiest to do this in the dark) and see how the fountain looks. If you are satisfied, you can move on to the next steps.
You can decorate the fountain with greenery or garlands attached with surgical or waterproof tape. Thick red ribbons and ornaments can also be connected to the fountain, but remember that these can be damaged by water or snow. Look for decorations that are waterproof and shatter-resistant.
Christmas Lights That Look Like Water
If you don't have a real fountain, you can make a faux one out of a bush, rope Christmas lights and sturdy wire. Unroll all the Christmas lights and start wrapping the bottom of the bush in tight, uniform circles to create the illusion of a base. Keep going until the bush is covered with solid colored lights. The shape does not matter overmuch, as long as it is uniform and not lumpy. The goal is to make the plant look like a structure, so it is best to use just one color of lights for the base.
Take a dozen pieces of 24-inch wire and gently bend each one. To make Christmas lights that look like water, wrap clear-colored lights around each wire, and attach them with clips or zip ties. Insert these into the top of the bush at equal intervals. You can vary the heights to make it look authentic, and be sure to connect everything with extension cords as you are working. Use more zip ties to tighten things up as you finish.
If it is too cold out to run the water in your fountain, you might want to try buying Christmas icicle lights. These can make it look as though ice is dripping from the fountain. Be sure to put safety first when hanging up Christmas lights. All light strings and extension cords should be in good shape; no broken sockets, exposed wires or other safety hazards are acceptable.
Do not use more than three standard length light strings per extension cord, and keep those cords away from water, snow and tripping hazards. The amperage of the lights should match that of the extension cords. You should ask another adult to help you when you hang the lights, especially if you plan to use a ladder.