You love your kids. You really, really do. But being stuck indoors for days at a time can lead to boredom quickly. When you and your brood need a new idea for creative, screen-free fun at home, try one of these DIY options to keep them engaged and entertained.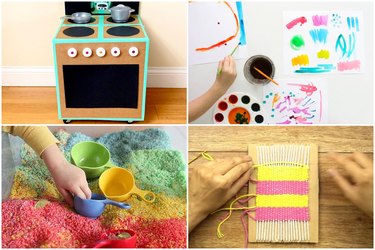 1. Cardboard Kitchen Play Set
Adults know that cooking isn't all smiles — hello, sink full of burned pans — but for kids, getting to play at cooking is endless fun. You don't need one of those pricy wooden or plastic toy kitchens in order for your kids to play restaurant. Make a group project out of creating your own play kitchen from a big cardboard box. Even little kids can help with most of the steps.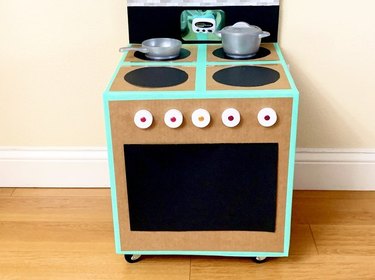 How long has it been since you tried a paint by numbers kit? It might surprise you just how soothing these projects can be. It's also an easy way for even the artistically challenged to create beautiful pieces. With this paint by numbers project, you can use your home printer to turn an image of your choice into a paintable canvas.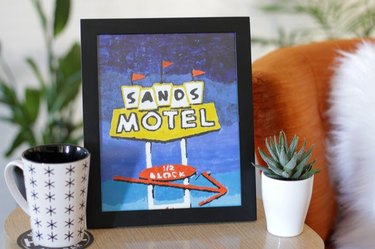 It's such a simple thing, but the promise of bubbles can be enough to entice bored kids out of the house and into the fresh air. Chasing bubbles is also guaranteed to get kids moving their bodies, which is important when you're stuck at home. Instead of stocking up on tons of tiny plastic containers of bubbles, keep a huge batch of bubble solution in a bubble dispenser made from a laundry bottle. Kids can refill their bottles easily and keep playing.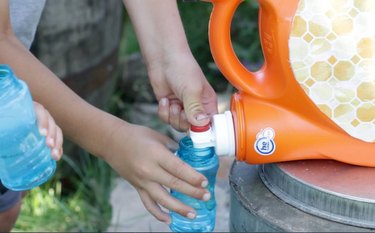 "I Spy" is a classic road-trip game for a reason. It keeps kids entertained for a long time when they're stuck in one place. Create a portable version of the game using small random items from around your house and a plastic container filled with dry rice. As kids move the bottle, different items are revealed.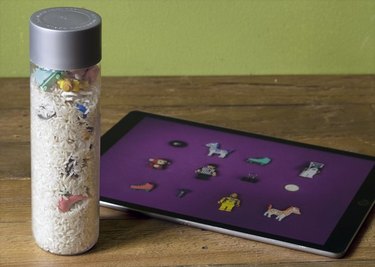 Sidewalk chalk is fun, but it's nothing new for most kids. So it can be tough to motivate kids to get outdoors and get creative if all you're offering is a bucket full of that same-old chalk. Instead, whip up a super-simple batch of sidewalk squirt chalk using cornstarch, water and food coloring. Using squirt bottles to "paint" with is half the fun.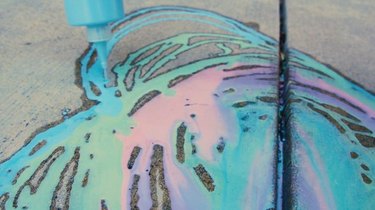 If you're going to be stuck at home for a bit, making a sensory box is a good investment of your time and money. Once made, it can be used over and over again to keep kids entertained and engaged. Try tinting some rice with food coloring to make a version of this DIY rainbow sensory box. It's fun to both play with and look at.
No matter what's happening outdoors, kids can make their own weather in the kitchen — specifically, a rainstorm in a jar or glass measuring cup. It's a simple activity that combines art and science, and challenges their critical thinking skills. Plus, it's pretty simple to set up.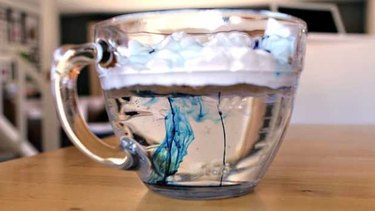 This is one craft project that anyone from preschoolers to teens can get into. They can weave their own coasters or small art pieces using little more than yarn, cardboard and scissors. This super-simple cardboard loom project starts with cutting slits in the edges of a piece of cardboard. Once kids get the hang of it, they can spend hours crafting their own woven projects.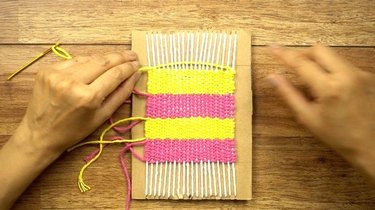 Watercolor painting is a tried-and-true way to keep kids busy... but wow, do those little plastic trays run out quickly. When you run out of watercolor paints, gather the kids and make a DIY substitute. Create these homemade watercolors using baking soda, vinegar, corn syrup and food coloring. Kids can craft their perfect shades by experimenting with the coloring.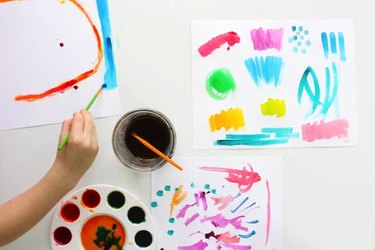 Seemingly every kid goes through at least one spin art phase. When they discover how fun and easy it is to make these splattered pictures, they want to make a dozen. If you don't have a spin art kit at home, and you're handy with tools and willing to sacrifice an old salad spinner, you can make kids their very own spin art machine. Once made, it'll provide hours of (messy) fun.