There's no denying that children are artists and scientists: they love to imagine and explore, and they always have questions at the ready. Bring out both sides of their creative personalities and help them paint a colorful masterpiece using homemade watercolors. Your little ones are going to love making their own paints just as much as they'll enjoy using the paints themselves!
Things You'll Need
1 1/2 cup of baking soda

1/3 cup of vinegar

1 tablespoon of corn syrup

Food coloring

Paint palette

Toothpick

Paintbrush

Paper
Step 1: Mix the Ingredients Together
Slowly add the vinegar to the baking soda, little by little. The chemical reaction between the vinegar and baking soda will fizz, exciting your little scientists. Next, pour in the corn syrup and mix well.
Tip
The baking soda tends to settle quickly, so continue to stir the mixture throughout the entire process.
Step 2: Carefully Fill the Palette With the Mixture
Now that the mixture is ready, carefully add it to each of the circular spaces on the paint palette. You can use a spoon, a syringe or a small baster to do so.
Step 3: Add Color to the Mixture With Food Coloring
Add one drop of food coloring to each circular space around the paint palette. This is a great opportunity to talk about color mixing with your kids, such as how blending red and yellow together makes orange. Let your young scientists explore and create a unique color palette through experimentation.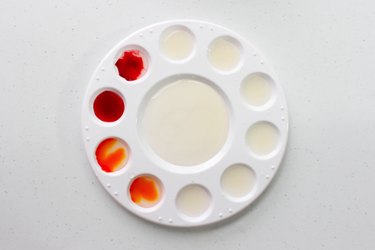 Step 4: Mix the Colors Together and Set Aside
Use a toothpick to work the colors all the way into the base mixture. Then, set the palette aside for about 24 hours while the colors harden.
Step 5: Dip a Paintbrush Into Your Finished Palette
Once the watercolors are stiff to the touch, they are ready to use. Dip a paintbrush into water, and then into the palette, and have fun creating paintings with your scientific artists!