Buying new toys can quickly strain a budget. Luckily, some of the toys that children enjoy most are ones they make themselves. You can assist your child in making a car out of a shoe box. This type of activity not only results in a toy that is fun to play with, but it also allows your child to express his creativity during the process of making the car.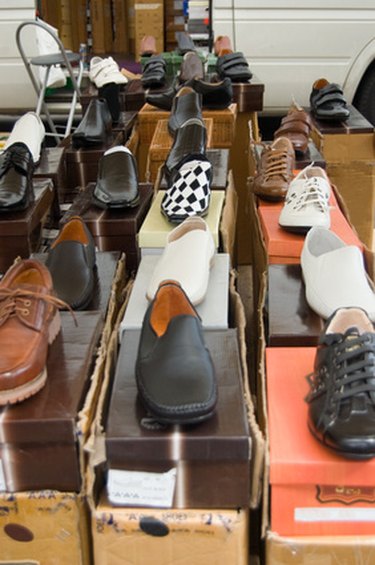 Things You'll Need
Tape

Pencil

Paintbrushes

Markers

Scissors

Construction Paper

Glue

Nickel

4 Milk Jug Caps

Aluminum Foil

Plastic Cup

Shoe Box

Stickers

Paints
Step 1
Remove the lid of the shoe box and discard it. Turn the box upside down so that the opening is facing your work surface.
Step 2
Cover the box with construction paper. Use whatever color your child wants the car to be primarily. Secure the paper to the box with glue or tape.
Step 3
Color four milk jug caps with black permanent markers and glue the caps to the sides of the box as wheels.
Step 4
Cut a small, clear plastic cup in half from top to bottom. The cup should be about 4 to 6 ounces in size.
Step 5
Turn the cup halves upside down and glue them on the top of the box toward one end as the windshield. Center the cups and place them side by side with the curved edges facing the front of the car.
Step 6
Trace two circles on yellow construction paper using a nickel. Cut out the circles and glue them to the front end of the box as headlights.
Step 7
Cut a strip of aluminum foil that is about 1 inch wide and as long as the width of the front of the shoe box. Glue this strip to the front as the grille of the car.
Step 8
Cut small circles (about the size of nickels) out of the aluminum foil and glue them to the milk jug caps as the center of each tire.
Step 9
Decorate the rest of the car's body with markers, paint or stickers.