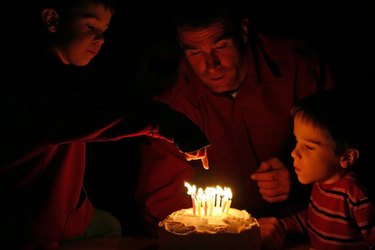 The 40th birthday is a milestone many men approach with mixed feelings. Some look forward to experiencing this new chapter in their life, while others are filled with anxiety at the thought of growing older. Whether your loved one is looking forward to his 40th birthday or is brimming with apprehension, there are ways to make the event a memorable occasion.
Birthday Party
Birthday parties are one of the most common ways to celebrate a birthday. Invite his friends and family to a special themed birthday bash thrown in his honor. The theme of the party can reflect his age, personality or interests. Some ideas include a theme of the decade he was born, favorite sports theme, costume party, casino night, black-and-white theme, movie theme or a "This is Your Life" theme.
Vacation
Since many men in their 40s have families and often spend a lot of time working, he may enjoy going on a vacation for his birthday. Depending on your budget you can treat him to a weekend getaway to a place like New York City or Las Vegas, or pay for him to go to Europe, Mexico or on a Caribbean cruise for a week.
Sporting Event
If he loves sports, by the time he is 40 he is likely to have a favorite sports team. Give him two tickets for him and a buddy to see his favorite team play. If it is in your budget, you may consider giving him season passes he can enjoy all season long. If he is a golf fan, he may also enjoy weekend golf lessons.
Experience Gift
If he is the active and spontaneous type, keep him feeling young by giving him an experience gift that offers action and adventure. Some options include extreme activities such as bungee jumping, bull riding, skydiving, indoor rock climbing, kayaking or stock car driving, or less extreme activities such as a winery tour, guided cave exploration, scuba diving, sunset dune tour, deep-sea fishing, sailing or group paintball.
Generous Gift
By the time he is 40 he probably owns all the ties, hats and razors he will ever need. Buy him a generous gift he will enjoy for years to come. A generous gift can be something that is expensive such as a designer watch, wine or meat of the month club, LCD TV, gym membership, DVDs of his favorite series, digital video recorder or electric grill; or meaningful such as a scrapbook or memory box filled with special moments, large family portrait, wedding band alteration/engraving or a homemade CD or DVD.