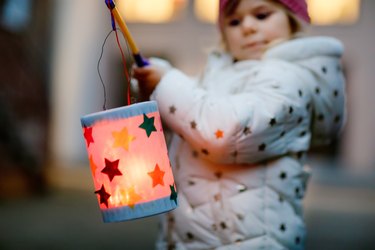 When it's time to build your group's float for the annual Christmas parade, put to rest visions of Disney animatronics and Macy's monstrous balloons. You don't need expensive and complicated wizardry to create a beautiful and interesting float. Simple props, costumes, maybe some music and definitely some willing volunteers are all you need to make your Christmas parade float a success. Begin with a basic base for the float the easy way by hooking up a flatbed trailer to a truck. Sketch out a basic layout of the float before you begin building to make the project go more smoothly.
Simple Props for DIY Christmas Parade Floats
For a basic DIY Christmas parade float, use simple props to jazz up the space. Place evergreen trees or decorated Christmas trees throughout the float. Cover the base in quilt batting or a white bedspread to look like snow. For extra effect, wrap boxes with gift wrap and place them under a decorated Christmas tree. Add other props such as a fireplace with stockings, a train track or a bed with sleeping children to complete the theme or story you're trying to show.
Dress Up in Seasonal and Themed Costumes
To fill up a relatively blank Christmas parade float, have friends and family dress up in Christmas costumes and stand or sit on the float. Showcase Santa Claus by himself or create a whole float of elves to serve as Santa's helpers, as well as Mrs. Claus. Other Christmas costume choices include a star, a Christmas tree or a present. If a more religious theme is appropriate, turn the float into a living nativity scene, complete with the three wise men, Mary, Joseph and baby Jesus.
For an easy twist to a standard Christmas parade float, give it a touch of Charles Dickens. Place a bed in the middle of the float and have someone dressed up as Ebenezer Scrooge sleeping in it. Have other float riders dress up as Marley, Tiny Tim or the three ghosts from "A Christmas Carol:" the Ghost of Christmas Past, the Ghost of Christmas Present and the Ghost of Christmas Future. Add Halloween decorations and quilt batting to create a graveyard at the other end of the float to represent the graveyard the Ghost of Christmas Future shows Scrooge.
To make the float a little more festive, add music. Hide a compact disc player under snowy quilt batting or place it under the tree. Play a compact disc of Christmas favorites, or set it up to have a single song repeat, such as "Rockin' Around the Christmas Tree," to emphasize a float theme. Other Christmas music-inspired float themes include "Frosty the Snowman," "Rudolph the Red-Nosed Reindeer," "White Christmas" and "Winter Wonderland."
Focus the crowd's attention on your float as it passes by adding a few simple extras. Give out candy, such as peppermints, Christmas M&Ms or candy canes. Embellish the float with battery-operated Christmas lights to brighten a Christmas tree or tableau, and place finishing touches, like stockings, little presents, a Christmas book or a copy of "A Christmas Carol," around the float to complete the look.