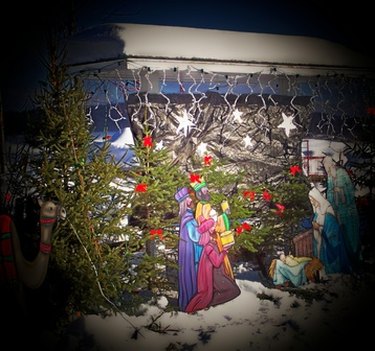 Christmas parades have become tradition in many communities. As a church, you can use the route to share your message about the true meaning of Christmas. Your float can act as a billboard for all the spectators to see. With so many miracles to share, use your church float to spread the word.
Live Nativity Scene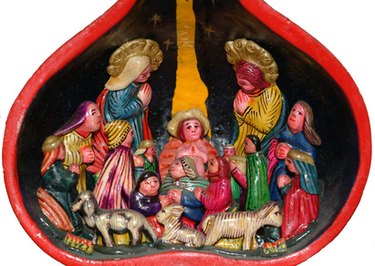 Stabilize your trailer and use festooning or fringe as an apron along the sides. Build a small structure to mimic the manger where baby Jesus was born. Use hay bales and straw to cover the bed of the trailer and have the people riding on the float dress in character. You will need a Mary, Joseph, three wise men, baby Jesus, an angel and shepherds. If you have access to tame farm animals and a handler include a donkey or two, some goats, sheep and a cow. Be sure the animals are safe and will not get spooked during the parade.
Sing Christmas Hymns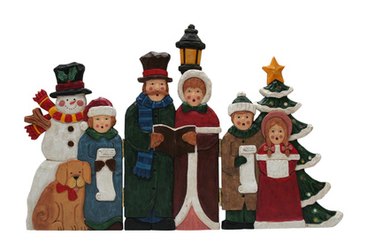 Place hay bales, bleachers or risers on your float. Have your church choir don their matching robes and carry electric candles or flashlights. They can sing Christmas church hymns throughout the parade route. Some popular hymns include: "Silent Night, Holy Night," "O Holy Night," and "Away in a Manger." If there is room on the float, include your bell choir or other live music.
Let it Shine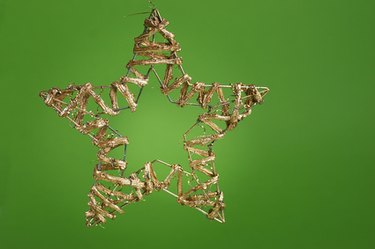 Wrap the trailer in black. Paint all supporting props black, too. Create a large star out of cardboard or plywood, then either spray paint it with metallic paint or cover it with a foil wrap. Place it high on your float and direct several lights on it so it glows. This "North Star" will be a guiding light for members of your congregation to follow as they walk behind the float. They could also ride on it dressed in shepherd costumes.