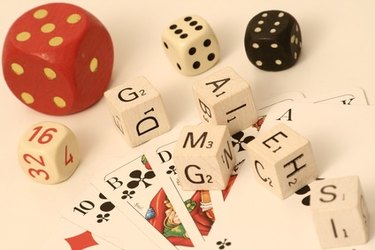 If you have a large family on your Christmas list, it can be much more economical to buy one large gift that the whole clan can enjoy rather than smaller gifts for each member of the family. There is often a considerable range of ages to consider, so give some thought to how the family likes to spend its time together, and choose something that can be appreciated and used by every generation.
Movies
Many families watch movies together, and a title that appeals to toddlers and grandparents alike is a treasure indeed. Pick films that are rated G or PG if there are young children in the home. Find out what sort of player the family has--VCR, DVD or Blu-Ray--and choose newer titles like "Wall-E," "Up" or "Toy Story 3" or classics such as "The Wizard of Oz" or "E.T." You also can give a collection of Christmas movies that can be brought out and re-watched every year; try "A Christmas Story," "How the Grinch Stole Christmas" and "A Charlie Brown Christmas."
Food
One thing you can be certain of in a large family: food is always welcome. You can either send a pre-packaged selection from a catalog or website that specializes in food gifts or provide the ham, turkey or other main course for their holiday feast. A large selection of candies--from peppermint candy canes to Belgian chocolates--also will be well-received. Homemade food gifts are good too, especially if the family does a lot of entertaining; give fruit, breads, jams, cookies, peanut brittle and fudge. You can even give an assortment of "kits" by mixing together the dry ingredients for cookies in a clear glass jar, adding a copy of the recipe and topping it with a bow. This will be nice for the family to have on hand.
Games
An assortment of family-friendly games ensures that they will be able to have something to do when they've gotten together for the holidays. Select board games that can be adapted to a variety of ages and skill levels, such as checkers, Monopoly and Cranium. Chutes and Ladders or Candyland are appropriate for families with very young children, while Apples to Apples and a relevant edition of Trivial Pursuit works with older kids. There are also video games that are fun for the whole family to play, such as Guitar Hero or Wii Fit. Be sure you buy a game that is compatible with the family's existing gaming system--unless, of course, you are buying them a new system, too.