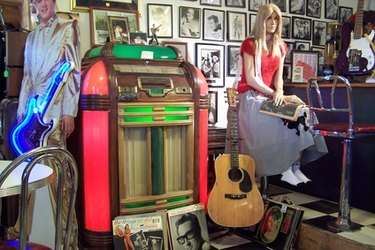 When thinking about the 1950s, "Grease" is often one of the first movies that comes to mind. Planning a "Grease"-themed party can involve something as basic as hanging a few 50s-inspired decorations and playing the soundtrack from the movie, or you can go all out and have your guests come dressed in 50s attire. "Grease" is a wonderful party theme, as the movie is full of dancing, music, humor and games.
Food and Drink
Prepare food that a drive-in style diner would serve, such as burgers, fries, hot dogs, onion rings, toaster sandwiches and pizza. Serve sundaes, shortcakes, root beer floats and milk shakes as dessert. To save time, you can purchase some of the food from a local fast food restaurant. Rent or borrow a popcorn machine to use at the party.
Decorations
Hang old records from the ceiling and on the walls. Records are available at most secondhand stores and at many garage sales, and they're usually inexpensive. Use hot pink, turquoise, black and white as the main theme colors for the party. Decorate with musical note balloons, a real or inflatable jukebox and hanging inflatable guitars. Find "Grease" movie posters and other 50s-themed posters to hang on the walls. Create flower arrangements by using tall sundae glasses and carnations. Use old-fashioned ketchup bottles and napkin holders on all tables at the party.
Costumes
Have your guests dress up like characters from "Grease" for the party. For people who show up not wearing any 50s attire, have a box of clothes and accessories from which they can select a few items. Provide such garments as poodle skirts, bobby socks, black leather jackets, cuffed jeans, sunglasses, bowling shirts, saddle shoes, button up blouses and scarves. Some of these clothes are available at second-hand stores for reasonable prices. You might also find some of the clothes at a costume shop for purchase or for rent. If you're up for an ambitious sewing project, get some bargain fabric and a poodle skirt pattern, and make a collection of skirts. While you're at it, you can craft some patches for the clothes to represent the two main groups from the movie--"Pink Ladies" for the girls and "T-Birds" for the guys.
Games
Play games such as "Pin the Cherry on the Sundae" or have a bubble gum blowing contest. Have a dance contest and see which guest can do the hop, the twist and the hand jive the best. Use a karaoke machine so guests can sing and dance along to their favorite 50s songs or to selections from the "Grease" soundtrack. Other games to play include a hula-hoop contest, limbo dance and a "Grease" trivia game.
Party Favors
Hand out party favors such as rock & roll tattoos, candy necklaces, atomic fireballs, paddleballs, key chains, fuzzy dice and jump ropes. Put the party favors in a record-shaped favor bag or old fashion lunch boxes. Alternatively, give your guests a copy of the "Grease" DVD or soundtrack.