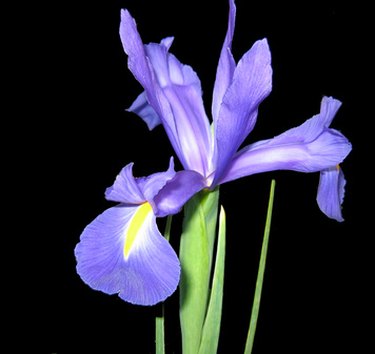 If you and your spouse are celebrating 25 years of marriage, you certainly want to celebrate this milestone. Flowers are a traditional way to recognize an anniversary, and these days men can enjoy getting them as much as women. If you and your husband enjoy gardening, consider giving each other plants or bulbs that symbolize your 25 years together. That way you can remember this anniversary for years to come. Another way to make the celebration last is presenting each other with flowers throughout your silver-anniversary year.
Rose
Roses are most commonly associated with love, and many couples present them on milestone anniversaries. Red roses are a symbol of romance, but it is also appropriate to give your sweetie white roses, because they represent pure and undying love. Yellow roses can be added to your bouquet, too, because they are a sign of friendship, and your spouse has likely been the person you could trust with your most intimate thoughts over the years. It's also a great idea to give your spouse roses in the colors that were used at your wedding. They will bring back fond memories of the day you joined your lives together.
Iris
The iris is associated with the 25th wedding anniversary. This flower has a pleasant purple color, and the name of the bloom comes from Iris the Greek goddess of the rainbow. The flowers have a nice aroma and are often used in perfumes. Irises are a sign of good news, making them fitting for a 25th anniversary. A marriage of 25 years is definitely news to celebrate.
Bluebells
Bluebells are in the same color family as the iris, and many people use the flowers in their wedding, making them significant for the 25th wedding anniversary. The bluebell is a flower that means consistency or love that lasts forever. It serves as a symbol that you're looking forward to 25 more years of marriage. It's a good idea to add small flowers like baby's breath to a bouquet of bluebells, because baby's breath has a slightly silver hue, and silver is the color associated with the 25 anniversary.