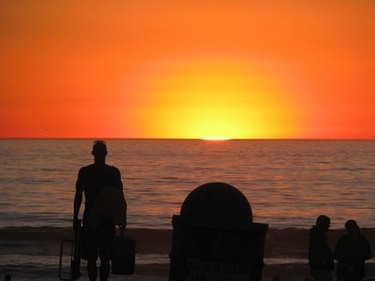 Southern California is a great place to ring in your new year, whether you call it home or are on vacation. The main event in the region, and one of the most prominent New Year's Day celebrations in the country, is the Rose Parade and Rose Bowl football game. But there are other ways to welcome the new year, whether you want to dive right in with outdoor activity, or take the day to reflect and resolve. Between Santa Barbara and San Diego, you have many options to celebrate the first day of the year.
Cold Water Swims
The weather is famously warm and sunny in Southern California, but that doesn't mean it's beach weather in January. Still, swim clubs in the area organize cold-water swimming events, so you can set the tone for the new year with a blast of cold water. The Venice Penguin Swim Club--and other hardy volunteers--rush into the Pacific Ocean every Jan. 1. Race to be crowned penguin prince or princess in a 500-meter race around a buoy, then go warm up and enjoy your year.
On Huntington Beach, the annual "Polar Plunge" challenges swimmers to brave the frigid waves for charity. A relatively young tradition, the swim and pancake breakfast benefit Lion's Club Charities, including the Huntington Beach Surf Museum.
Venice City Beach Venice, CA 90291 310-390-5700 swim.net
Huntington Beach Plunge hbplunge.com
San Diego Cruise
Ease into the new year with a cruise on San Diego Bay. A buffet brunch with unlimited complimentary champagne and beverages will keep you nourished as you contemplate your resolutions from the deck and observe the coastline. This two-hour cruise is available for a flat fee of about $50, not including tax.
Hornblower Cruises and Events Sales Office The Abbey 2825 Fifth Ave. San Diego, CA 92103 619-686-8715 hornblower.com
Urban Campout
The Urban Campout is a bold and fun way to spend New Year's Eve, and you'll wake up amid the action of Pasadena's famous Rose Parade, which is the prelude to the Rose Bowl football game later in the day. The main section of this five-and-a-half mile parade takes the impressive floats, bands and spectacles down Colorado Boulevard. Urban campers stake out this road for a curbside seat at this national New Years Day celebration. You'll spend the day with locals of all ages who experience the parade from street level. The parade begins at 8 a.m. Jan. 1. The earlier you show up and stake your space, the better.
Tournament of Roses 391 S. Orange Grove Blvd. Pasadena, CA 91184 626-449-4100 tournamentofroses.com