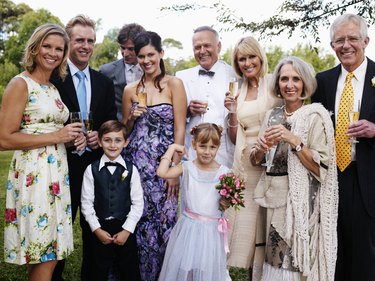 Making it to the church on time is one thing, but keeping the etiquette queens in your good graces is quite another. Wedding couples often want the full experience of what is many people's sole chance to host a formal affair -- so tricky or not, guests need to meet the expectation. Prepare to get fancy with a little formal wedding 101.
White Tie
White tie weddings call for highly specific, restricted garb, and are your chance to go red-carpet chic in real life. That means tuxedos for the man-- real tuxedos, with black tailcoat and trousers, white gloves, bow tie, white vest, cuff links and black opera shoes. For women, break out that silk and satin sass with a floor-length ball gown in classic neutrals like black, gray and navy, or go with metallic neutrals like bronze and gunmetal. Accessorize with your most striking formal jewelry, closed-toe shoes and an elegant handbag to complement your dress.
Black Tie
Climb down a rung on the formality ladder to get to this traditional wedding look. Men, a tuxedo with a black tie and black vest is a safe option, but you can also go a little less rigid with an evening jacket and trousers with a cummerbund and suspenders. For summer weddings, substitute a white dinner jacket and black trousers. Women can opt for an evening gown, long dress or cocktail dress, still in neutrals. Dress length may be debatable, so contact the wedding party for details.
Formal
No tuxedos necessary for this level of fancy -- typically, at least -- but you should still strive to look formal. Men may don a dark suit, white shirt and tie for day or night weddings, or can put on a tux if they really dig the look. For women, a long dress, pantsuit or other separates in dark colors look best at a night wedding, while a dark cocktail or afternoon dress is more appropriate for day. You've got some leeway with dress color -- avoid the wedding party's colors, but go glam with dark jewel tones, earth tones, metallics and more.
Formal Leeway
If your invitation says "Creative Black Tie" or "Festive Attire," feel free to add a little color to your outfit, man or woman -- that means brightly colored shirts and playful accessories, not traditional dark suits. Similarly, "Beach Formal," doesn't mean evening gowns, but you won't be donning flip-flops and shorts unless otherwise stated on the invite. Men should opt for a summer suit in a lightweight fabric, while women can choose either a formal sundress or a tea-length dress in bright colors and breezy fabrics like chiffon. Given the terrain, sandals are appropriate on everyone.