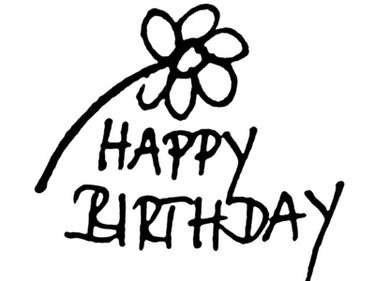 A 60th birthday may be a joyful and lively affair but will still likely be different than the celebrations of a 21 year old birthday. Keep in mind the personality, energy level and health of the birthday individual as well as that of the majority of guests. Choose music, refreshments and activities that will be enjoyed by the group as a whole and in particular the person celebrating the birthday.
Time Frame
While a 60 year old will likely not be typically heading to bed around five or six in the evening, a party that does not start until after 10:00PM will likely not be appropriate either. Discuss the typical schedule of the birthday individual with him prior to planning the party. Planning a party that does not coincide with his normal routine that he outlines for you will be considered in poor taste. A safe time frame to plan around is approximately 6:00PM until 11:00PM.
Dress Code
While dressing up in party or slightly more formal attire would be appropriate for a milestone birthday party, do not cross the line into nightclub attire. The location of the party itself will be your best indicator of dress if it is not specifically addressed on the invitation. If the party is at a restaurant, a business casual dress will likely be appropriate. A barbecue or garden party will dictate a more casual and laid-back style.
Toasts
A toast to the person celebrating 60 years of life will be appropriate and fitting for the occasion. While the individual will likely have many years worth of memories and achievements to reminisce about and highlight, be sure to keep the stories appropriate. Even if many years have passed, telling old tales about getting into trouble at school, old girlfriends or old family feuds will likely not go over well. Refrain from embarrassing the birthday individual or bringing up topics that will cause discomfort or tension.
Activities
Dancing is a popular activity for birthday parties however, with a birthday in the golden years of life, keep the dancing appropriate and away from club-style dancing and grinding. While the birthday individual may be an avid dancer and loves moving on the dance floor, keep the dance music and moves relative to the age and taste of those at the party. Beatles classics, Frank Sinatra and popular wedding songs like "Shout" and "We are Family," are lively and appropriate choices.
Alcohol Consumption
Since the bulk of the birthday individuals friends, family, coworkers and acquaintances will be of the legal drinking age, expect there to be adult beverages available at the party. This does not mean they should be consumed irresponsibly, however. Just because individuals have a great deal of life experience does not mean they can necessarily handle their alcohol better than anyone else. Becoming intoxicated at the party could lead to embarrassing spectacles later so keep conscious of your limit and be sure to cut yourself off when you feel you may be on the verge of becoming drunk.